Hi everyone!  I hope you're having a great week so far!

It's Wednesday again!  Time to party!!! 
For this week's WIAW party, I'd like to show our eats from yesterday (Tuesday).  Thanks as always to our gorgeous girl Jenn over at Peas and Crayons for being such a great host.
Breakfast
- Hot lemon and water (pre school run)
- Post school run: Large bowl of muesli made with spelt flakes, barley flakes, oats, ground linseed, chopped brazil nuts, hazelnuts, pecans, dates, goji berries, and a splash of Alpro Almond Milk.  This milk is really sweet so I didn't need to any other sweetener to the muesli. 
I love home-made muesli so much!  There's something really satisfying about making it yourself.  I mix the grains together and store them in a container. We then use our 'pick and mix' jars of nuts and dried fruits to create our own favourite muesli combinations

Lunch
We all had pasties for lunch today.  Since the sun briefly came out at lunch time, I took the opportunity to sit in the garden.  The timing was perfect as, an hour later, we had a thunder storm and hail stones!
The peonies have just opened.  Aren't they beautiful?
We've also got lots of Forget-me-nots growing all over the place.  The bees love it!
Snacks & Drinks
Pistachios when we got in from school (one of Lil' L's favourite snacks)
Nettle tea, 1 black coffee, water, apple juice, chocolate banana chia smoothie (with lettuce hidden inside it

)
Dinner
For dinner, I made a Thai curry from scratch.  Last Friday, we'd been to one of our favourite restaurants in Bath – Thai Basil - and we had the most amazing banquet of veggie dishes, including a beautiful Mussaman curry.  It was a touch too hot for Lil' L, so I though I'd attempt to make my own, milder version.  It turned out really well and Lil' L absolutely loved it!  He even asked if we could have it again tonight!  I think we have another winner

Unfortunately, I didn't get a chance to photograph it but I'll make it again soon and post the recipe.
Instead, I'll show you another of our favourites dinners… so nice that we've eaten it twice in the past week…
home-made veggie burgers and baked butternut fries
Veggie burgers are SO easy to make!  You can use all different types of beans, nuts and veggies in them, but the recipe below is our all-time favourite.
Black Eye Bean Burgers 

Make 5 burgers (I often double the recipe and freeze half the burgers)

Hands on time: 15 minutes
Chill time: 30 minutes (can be left overnight)
Cooking time: 20-30 minutes

Ingredients
1 tbsp olive oil
1 large onion, finely chopped
2 garlic cloves, crushed
1 tsp smoked paprika
1 tsp ground cumin
½ tsp cayenne pepper
70g/ 2½oz / 1 cup finely chopped mushrooms
400g / 14oz can black eye beans, drained and rinsed
1 tsp Dijon mustard
2 tbsp crunchy peanut butter
1 tbsp tahini
50g / 1¾ oz / ½ cup rolled oats
½ tsp sea salt

Method
Brush the bottom of a frying pan (skillet) with oil and sauté the onions for 3 minutes. Add the garlic, spices and mushrooms. Cook on until the liquid from the mushrooms has evaporated.
Meanwhile, roughly mash the beans in a large bowl. Mix in the mustard, peanut butter, tahini, salt and oats. Add the onion and mushroom mixture and thoroughly combine. Chill the mixture in the refrigerator for at least 30 minutes to firm it up (can be left overnight).
Preheat the oven to 190C (170 fan) / 370F / Gas 4. Lightly grease a large baking tray. Form the mixture into burger shapes using your hands or a burger press. Bake for 20-30 minutes, turning once half way through the cooking time. Alternatively, place in a lightly oiled frying pan (skillet) on a medium heat and cook for 6 minutes or so on each side until heated through and lightly browned. 
We love to serve these burgers in buns with relish, and a portion of baked butternut squash fries and crispy kale on the side.
Butternut Fries
These are a healthier, nutrient-rich alternative to regular fries.  Since reading Jenn's tips on how she bakes them, I've started to do the same.  
We coat our fries with a little olive oil (1 tsp) and season with salt and smoked paprika.  The fries are placed on the wire rack that sits on the grill/broiler tray with foil placed in the tray, and then baked in a preheated oven at 230C (210 fan) / 450F for about 30 minutes.
Jenn's instructions and pics are really great, so do check them out. 
Dessert
Strawberry 'Fro Yo' which I made by blending a cup of frozen, chopped, organic strawberries and Alpro plain soya yoghurt.  The immersion (stick) blender works best for this job, as the strawberries just bounce around in the jug blender!
The fro yo was topped with goji berries and pecan nuts, and a drizzle of maple syrup.  Totally delish!  And Lil' L loves it… even though he tells me he doesn't like strawberries

Well, that's me done for another WIAW!

  Time to head over to Jenn's and get inspired!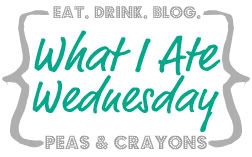 Happy Wednesday everyone! xx