Today, I am delighted to share my first post for the Suma Blogger's Network ♥ I'm sure a lot of you will have already heard of Suma or seen their products in your local health food stores. Suma are the UK's largest independent wholefood wholesalers of vegetarian, vegan, fair trade, natural and organic produce.  Suma operates as a workers' cooperative which means that the business is jointly owned and managed by the staff. Everyone is paid the same and they collectively do all the jobs that need doing, whatever they happen to be.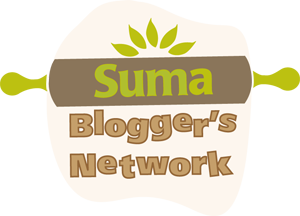 I love everything that Suma stands for, so when they invited me to become one of the first twelve bloggers in their new network, I was more than delighted to accept! Intrigued to find out who else is involved? Click on this page to check out their profiles (you'll see I'm in good company!)
Every other month we'll be sharing a recipe using one or more products from Suma's product range. We'll post the recipes on our blogs, and share them via Facebook, Twitter and a dedicated Pinterest board.
This month, I'm sharing a recipe using one of my all-time favourite ingredients and 'super' foods…. Blackstrap Molasses!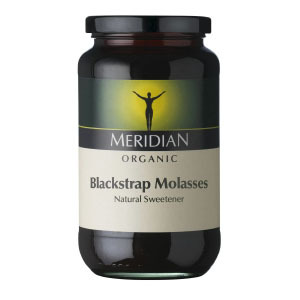 As you might know, Blackstrap is the dark, thick liquid that remains after sugar cane is processed to make refined sugar. While the end product – white sugar – has no nutritional value whatsoever, the molasses that gets left behind after extraction is literally brimming with nutrients. It's rich in vitamin B6 and minerals, including calcium, iron, magnesium, potassium, manganese and selenium. Historically, this byproduct of sugar production has been used to feed livestock, while humans consume the empty calorie, unhealthy white sugar. Crazy eh?
Flavour-wise, Blackstrap is rich and bittersweet. To me, it has a liquorice-like flavour which, I guess, is one of those flavours that you either love or hate. If you have Blackstrap lurking at the back of your cupboard, then this recipe might just tempt you to dust off the jar and give it another try. The Blackstrap adds a wonderful depth of flavour and colour to these ginger cookies, but it's not overpowering at all.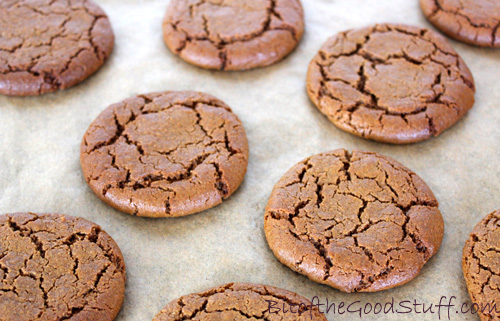 For the dry sweetener, you can use unrefined caster sugar or coconut sugar. I prefer the latter as it's low GI (which helps to keep blood sugar levels balanced), plus it contains B vitamins and a range of minerals, including potassium, magnesium, zinc and iron. I also love its caramel-like flavour.
Feel free though to choose whatever sweetener suits your personal tastes and preferences. I prefer the coconut sugar cookies, 'M' prefers the cane sugar ones (which are slightly sweeter), and Lil' L says he can't really tell the difference and loves both!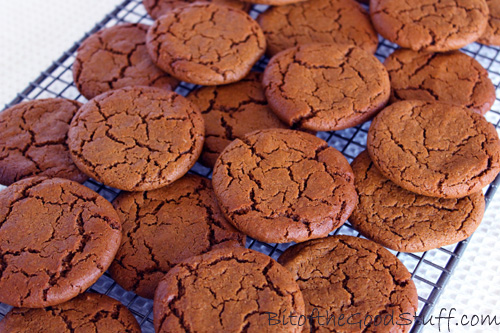 These cookies have been tried and tested many times over with my family and friends, and they've received a big thumbs up from everyone. I've been asked numerous times for the recipe and my standard reply is 'sure, I'll post it on the blog'. Well, it's high time I kept my promise! Here it is…
Makes 13 cookies (a baker's dozen)
Hands-on time: 15 minutes Cooking time: 9 minutes Ready in: 30 minutes
Ingredients
60g / 2 oz / 6 TBSP coconut sugar (or unrefined caster sugar)
70g / 2½ oz / 3 TBSP Blackstrap molasses
50ml / 1¾ oz / 4 TBSP organic rapeseed (canola) oil (or other neutral flavoured oil)
1 TBSP non dairy milk
½ tsp vanilla extract
120g / 4¼ oz / ¾ cup & 2 TBSP fine wholemeal (wholewheat pastry) or chapatti flour (I use the latter)
1½ tsp ground ginger
½ tsp ground cinnamon
pinch of nutmeg
¼ tsp baking powder
¼ tsp bicarbonate of soda (baking soda)
¼ tsp salt
Method
Preheat the oven to 180C / 350F. Line two baking sheets with non stick baking paper.
Place the sugar, Blackstrap molasses, oil, milk and vanilla extract in a bowl and whisk with a strong fork until smooth and fully combined (about 2 minutes).
Place the flour, spices, baking powder, bicarbonate of soda and salt in a separate bowl and stir to combine. Sift the dry ingredients into the wet ingredient bowl and stir to form a firm dough. With damp hands, scoop a tablespoon of dough, roll into a ball, place on the prepared baking sheets and flatten slightly. Repeat with the remaining dough, placing the cookies about 4cm / 1½ inches apart.
Bake for 9 minutes, or until the edges are starting to brown and the tops of the cookies feel dry when touched. The cookies will still be very soft, but they firm up quickly as they cool. Leave the cookies on the baking sheets for 5-10 minutes, then transfer to a wire rack.
When completely cool, store the cookies in a loose covered container (this prevents them from going hard). Alternatively, arrange them in a single layer in a freezer bag and store in the freezer, where they will keep for weeks.
Notes
Freshly baked, the cookies should be lightly crisp on the outside with a soft, chewy centre. They go softer and chewier over time, but are just as delicious!
I did a few trials with different quantities of Blackstrap. If you add more, the flavour is still amazing but the cookies spread a lot on the baking sheet and are flatter ('M' calls them 'ginger coasters'!)
If you have any black treacle (aka molasses) leftover from Christmas cakes and puddings, you can use it in these cookies instead of the Blackstrap.
All TBSP mentioned in the recipe are level tablespoons.
I just need to work out how to make a gluten-free version now, so no one misses out! Any tips from the GF experts would be greatly appreciated! 😉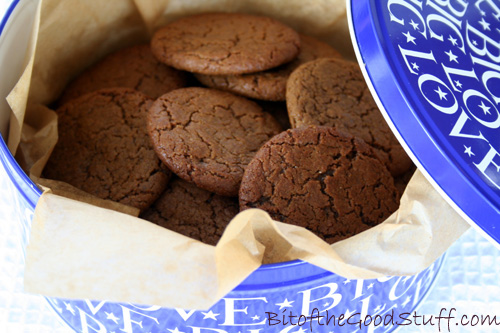 Enjoy! xx

Are you a fan of Blackstrap molasses? If so, what's your favourite way to use it?
Disclaimer: I received some Suma's products to use for recipe development but, as always, all opinions expressed are my own.