We've had a glorious summer here in the UK ♥
This week, there's been a change in the air. It's cooling off, the rain's returned and the evenings are drawing in.
But before we officially say goodbye to summer, I'm going to enjoy one last weekend of summer dishes, rounded off with a slice or two of this sunshine-filled Pina Colada 'Cheesecake'. Cheesecake was my favourite childhood dessert, but I love this dairy-free version even more!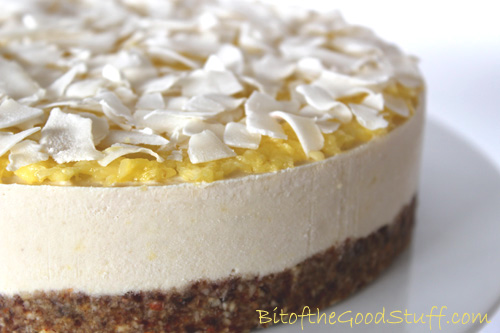 In this version, the dairy's been replaced with delicious pineapple and coconut-flavoured cashew cream, gently sweetened with maple syrup. Instead of a biscuit base, we use crushed almonds and pecans for crunch, and dates for sweetness. The cake is then dressed with a layer of crushed pineapple and finished with a sprinkling of coconut flakes.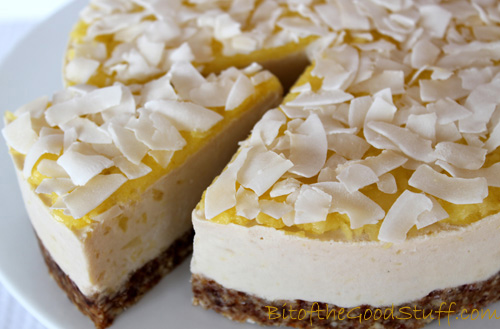 While cheesecakes aren't usually considered to be a healthy option, this version is packed with goodness, including lots of minerals, vitamins, antioxidants and heart-healthy fats. Like regular cheesecake, it is pretty calorie-intensive, but you'll find that even the thinnest of slices will leave you feel satiated. Once the cake has firmed up, I slice it then pop it back in the freezer. That way, we can pull out a slice whenever we fancy one.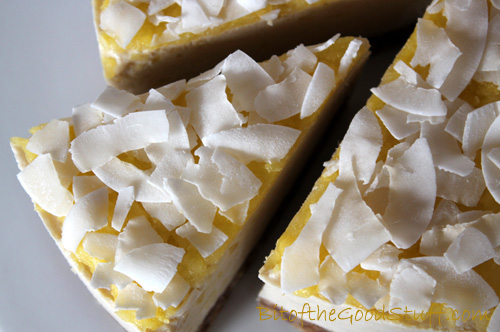 This recipe first appeared in Issue 3 of the fab e-magazine Fresh Vegan. One of my lovely readers has already made the cheesecake and I was thrilled to hear how much her family enjoyed it. It's one of my family's all-time favourite desserts and I hope you enjoy it as much as we do ♥
This dessert is bursting with the colours and flavours of my two favourite summer ingredients. If I can't be sitting on a Caribbean beach sipping Pina Coladas, then tucking into a slice of this scrumptious dessert is definitely the next best thing. It's incredibly easy to make. You simply need to blend and freeze. No baking required!
Serves: 12
Hands on time: 30 minutes   Cooking time: 15 minutes
Freezing time: 2 hours
Ingredients
Crust
112g / 4 oz / ¾ cup almonds, walnuts or pecans (or a mix)
55g / 2 oz / ½ cup desiccated coconut
170g / 6 oz / 1 cup soft pitted dates
1 TBSP maple syrup (or agave nectar)
1 tsp vanilla extract
pinch of salt
Filling
170g / 6 oz / 1 cup fresh pineapple, diced
280g / 10 oz / 2 cups cashews
160ml / 5½ fl oz / ½ cup maple syrup (or agave nectar)
4 TBSP freshly squeezed lemon juice
4 TBSP water
1 tsp vanilla extract
100g / 3½ oz / ½ cup virgin coconut oil, liquefied
Suggested toppings
170g / 6 oz / 1 cup fresh pineapple, crushed
4-5 TBSP coconut flakes
Method
Get prepared:
– Soften the cashews by boiling them for 15 minutes. Drain and set to one side.
– If your dates are hard, soak them in hot water for a couple of minutes then drain completely.
– Pulse the pineapple in a food processor to crush it. Place in a sieve over a bowl to allow the excess juice to drain off.
– Grease a loose-bottomed 18-20 cm (7-8 inch) tin and line the bottom with non-stick baking paper.
Ready, set, go!
Place the almonds/pecans in a food processor and process into crumbs. Add the remaining crust ingredients and pulse until combined. Test the crumbs by pressing a small amount between your thumb and finger. If they stick together, they're ready. Tip the crumbs into the prepared tin and press down firmly.
Place the drained cashews in a food processor or powerful high speed blender along with the syrup, lemon juice, water and vanilla extract. Process for a few minutes, until the cashews are ground into a creamy mixture. Pause now and then to scrape down the bowl. Add the liquefied coconut oil and continue processing until the mixture is completely smooth (taste test to check for smoothness). Tip into a bowl and stir in the drained, crushed pineapple.
Spoon the filling onto the crust. Tap the tin on the work counter to remove any air bubbles. Place in the freezer for at least 2 hours, until it has firmed up. When ready to serve, top with some crushed pineapple (first drained to remove excess juice) and a sprinkling of coconut flakes.
If you are not planning to eat all of the cheesecake in one go, it is best to store it in the freezer, where it will keep for weeks. When it has firmed up, slice into portions and return it to the freezer. Allow about 30 minutes to thaw before serving.
Products used in this recipe
Aasani cashews and almonds, found on the world food aisle in Tesco (best value nuts I've found so far – £6.50 for 750g)
Clarks Original Maple Syrup
Optima Organic Raw Virgin Coconut Oil
Magimix 3200 Food Processor
Do you have anything special planned for this last weekend of August? I've got lots of jobs to tackle this weekend… like my jungle of a garden & school uniform buying (as usual I've left the latter to the last minute!) Once the jobs are out the way, I'm looking forward to heading out on my bike in the beautiful English countryside.
Whatever you're up to, have a great weekend everyone! xx