Know any peanut butter lovers?
If so, I have the perfect treat you can gift them on Valentine's Day.
Check out my Valentine's twist on the classic peanut butter cup…
huge chocolate peanut butter hearts!
These treats are so simple to make but definitely have the 'wow' factor. They're giant in size so perfect for sharing with your loved ones ♥
I made the chocolates in these silicone heart moulds, purchased from Marks & Spencer a few years ago. They were definitely a worthwhile purchase as I've made all kinds of Valentines treats with them, including these Raspberry Lemon 'Cheesecake' Hearts and Chocolate Crunch Hearts.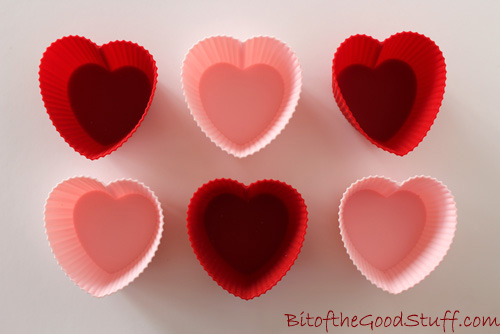 Reese's are probably the most famous peanut butter cup brand, but have you ever checked out their ingredients? Not only they contain a whole bunch of ingredients that I've never heard of, but they also contain genetically modified sugar beets, corn and soya beans. These are ingredients that I definitely don't want to be sharing with my loved ones.
But we don't have to buy the commercial brands, as it's so easy to make your own. It's literally a case of melting some chocolate, stirring together the filling ingredients, then popping them into your moulds.
By making your own, you can also make them dairy-free, so suitable for sharing with your vegan and dairy-intolerant loved ones. They also happen to be gluten free too.
You know I told you they're big enough to share? Well once you start on one of these, you might find it extremely hard to give away half (I'm speaking from experience!) But no worries, the recipe makes six, so plenty to go round.
These chocolates make the perfect gift for peanut butter lovers. They're incredibly easy to make, yet look so professional that they're bound to impress.
The coconut oil is optional. Without the oil, the chocolate has a 'snap' to it. The addition of oil makes it slightly softer and creamier. I love them both ways! I use a silicone heart mould 7cm / 2½  inches in size. If you don't have one, you can always use round silicone cake moulds or even paper cases. If you use paper cases, pop them in a muffin tray to help keep their shape.
Makes: 6 large hearts (7cm / 2½ inches)
Hands on time: 30 minutes    Ready in: 60 minutes
Ingredients
200g / 7 oz 70% dark chocolate, chopped into small pieces
1 TBSP virgin coconut oil, divided (optional)
70g / 2½ oz / ¼ cup quality smooth peanut butter (100% nuts; no sugar or salt added. I use Meridian)
2 TBSP powdered sugar (I use ground coconut sugar; icing/confectioners sugar will work too)
½ tsp pure vanilla extract
¼ tsp sea salt
Method
Place half of the chocolate pieces (and ½ TBSP coconut oil, if using) in a heat proof bowl over a pan containing about 5cm / 2 inches of water. Gently heat until the chocolate has fully melted. Spoon the melted chocolate into the moulds to a thickness of about 0.4cm / 0.16 inches. (I use 3 tsp of chocolate per mould). You may not use all the chocolate, but that's fine. Just leave it in the bowl.
Tilt the moulds so that the chocolate coats the sides to a height of about 1 cm / just under ½ inch. Pop the moulds in the fridge until the chocolate is solid (about 8 minutes).
In a small bowl, mix together the peanut butter, sugar, vanilla extract and sea salt. Taste test and add more sweetener or salt if desired.
Melt the remaining half of the chocolate pieces (and ½ TBSP coconut oil, if using) in the same heat proof bowl.
When the chocolate base is set, spoon a small amount of peanut butter filling into the centre of each mould (I use 1-1½ tsp per mould). Spread to level, but leave a gap round all sides. Spoon melted chocolate on top and swirl to fill in the sides. Pop back in the fridge until completely solid.
To remove the chocolates from the moulds, gently wiggle the sides of the mould to release, then push them out by pressing on the bottom of the mould. Store in the fridge, where they will keep for weeks.
If you have any chocolate left over, pour it onto a piece of non stick baking paper to create a chocolate 'pool'. You can keep this in the fridge for another recipe. Any leftover peanut butter is delicious spread on toast or apple slices.
If you make this recipe, I would love to see your creations! Do post them on my Facebook page, tag me on Twitter or use #BitoftheGoodStuff.
This is my February entry for the Suma Blogger's Network. Want to see what the other Suma bloggers have been up to? Check out this Pinterest board to see all their amazing vegan and veggie creations.
Products used in this recipe from Suma:
Meridian Smooth Peanut Butter
Suma Organic Coconut Sugar
Nielsen Massey Pure Vanilla Extract
Cornish Sea Salt
Happy Valentine's Day everyone! xx