When I spotted the front cover of Issue 13 of Vegan Life magazine, it reminded me that I've yet to publish a single frittata recipe on the blog. This needed remedying at once!
In contrast to egg frittatas which I've never been able to bear (I can't stand the 'eggy' flavour or texture), I absolutely adore their vegan counterpart. They've proven to be hugely popular with the rest of the family too. While they don't share my egg aversion, the boys much prefer these egg-free frittatas to the original kind.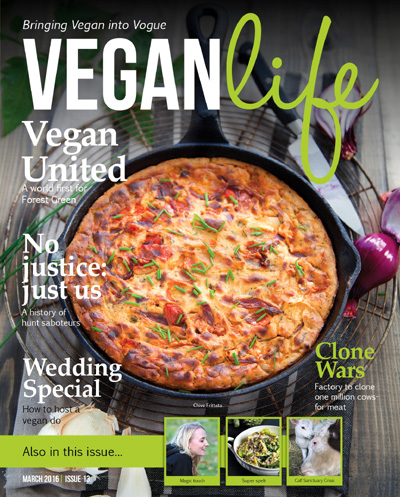 The recipe I'm sharing in today's post is for a tasty Chive, Onion and Sun-Dried Tomato Frittata. The addition of chives was inspired by the recipe in Vegan Life. (I love how pretty they look sprinkled on top of the frittata!) Rather than using the recipe featured in Vegan Life (which calls for ingredients that I don't have on hand, like lupin flour) I used my ole' faithful vegan frittata recipe which always comes out perfect for me (and I hope it will for you too!)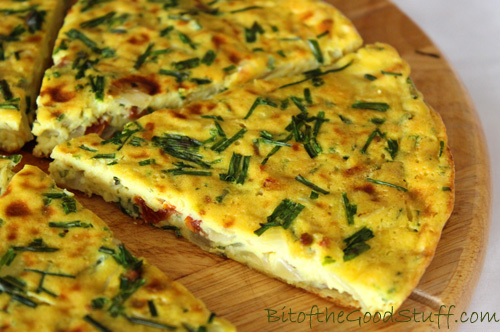 As an egg replacement in frittatas, I use a mixture of gram flour (aka 'chickpea', 'garbanzo bean' or 'besan' flour) and silken tofu. Gram flour is usually found on the world food aisles in supermarkets (in the Indian section). It's gluten free and really high in protein and iron. Silken tofu is the one that comes in tetra paks and is also typically found on the world food aisles (in the Japanese section). I most often use the Clearspring organic silken tofu.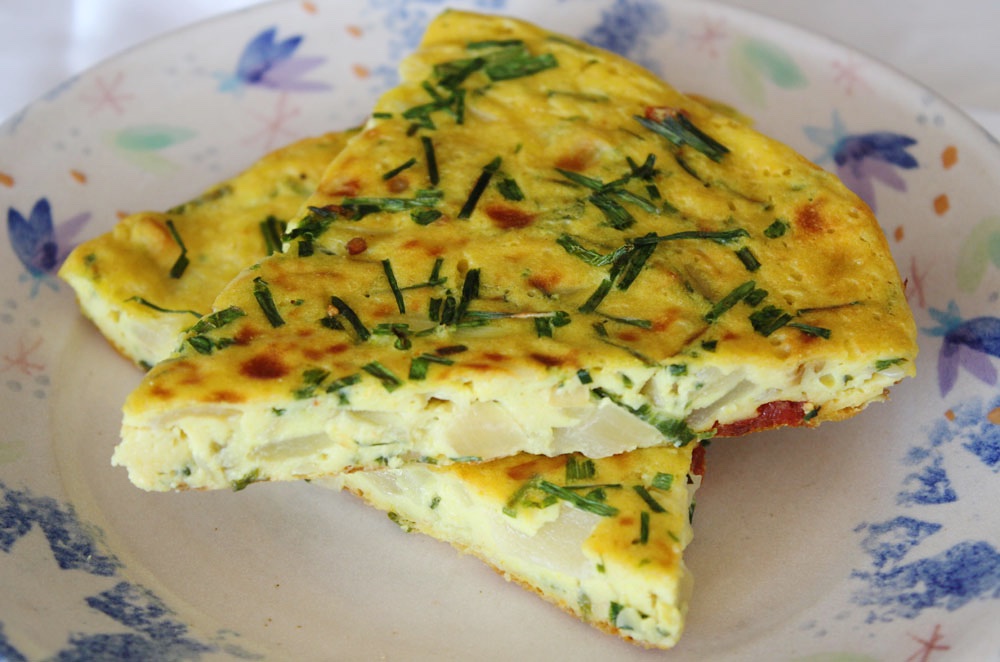 This frittata makes a great lunch or dinner option. We love to serve it with mixed salad leaves and a dollop of hummus or vegan mayonnaise. As a main meal, we will also add a portion of baked beans or sweet potato fries. The frittata can easily be made in advance. Simply pop it back into the pan and gently warm through on both sides before serving. It's also delicious cold, and any leftovers make a great addition to lunch boxes.
Serves 3-4
Hands on time: 20 minutes   Ready in: 35 minutes
Ingredients
Olive oil
2 medium onions, finely chopped
1-2 garlic cloves, minced or pressed
60ml / ¼ cup soya milk
300g / 10½ oz silken tofu (e.g. Clearspring), drained
1-2 tsp Dijon mustard
1 TBSP tahini
45g / ⅓ cup gram flour (aka chickpea, garbanzo bean, besan)
2 TBSP nutritional yeast flakes (e.g. Marigold Engevita)
2 TBSP corn flour (corn starch)
¼ tsp ground turmeric
½ tsp salt (use Black salt if you like the 'eggy' taste)
6-8 sun-dried tomatoes in olive oil, drained
1 small bunch chives
Freshly ground black pepper, optional
Method
Gently heat ½ TBSP oil in a non-stick oven-proof frying pan (skillet). Add the onions and cook for four minutes or so, until they start to soften. Add the garlic and cook for a further minute, then remove from the heat.
Finely chop the sun-dried tomatoes and chives. (I find the easiest way to chop chives is to snip them with kitchen scissors).
Place the milk, tofu, mustard, tahini and 1 TBSP olive oil in a mixing bowl and blend smooth using a hand blender (alternatively use a jug blender). Add the gram flour, nutritional yeast flakes, corn flour, turmeric and salt and blend to combine. Fold in the cooked onions and garlic, sun-dried tomatoes and most of the chives (reserve a small handful for the garnish). Stir through to combine.
Coat the bottom of the frying pan with ½ TBSP oil and pour in the frittata mixture. Use a spatula to distribute the mixture evenly in the pan. Sprinkle the reserved chives on top and lightly press down. Cook for 15 minutes on medium-low heat, or until the edges start to firm up.
Towards the end of the cooking time, preheat the grill (broiler). Place the frying pan under the grill (with the handle sticking out) until the frittata is lightly browned  (about 3 minutes). Keep a watch on it as it can burn quickly. Using an oven glove, remove the pan from the grill. Leave to rest for at least 5 minutes (it will firm up as it cools), then loosen with a slotted turner and slide onto a chopping board, slice into segments and serve.
We love to serve this frittata with mixed baby salad leaves and hummus or vegan mayonnaise. We add baked beans if serving as a main meal.
Any leftover frittata can be stored in the fridge for up to 3 days.
Notes
As a variation, we love to use a handful or two of finely chopped basil instead of chives.
Earlier this month (as a Mother's Day treat to myself!) I purchased a GreenPan frying pan ('skillet' to our overseas friends). I'd been wanting to try a ceramic pan for ages, so when I spotted one in TK Maxx for just £11, I snapped it up. It had a few tiny chips on it but, for that price, it didn't bother me.
As well as being super non stick (at the moment… ) it's also oven proof which means it's perfect for finishing off frittatas. Before I had this pan, I used to slide the frittata onto an oiled plate, place the frying pan over the top, then carefully flip it over to brown the other side; but popping the pan under the grill (broiler) for a couple of minutes is much less of a faff!
In future, I will always make sure I buy oven-proof frying pans. It's most definitely worth it!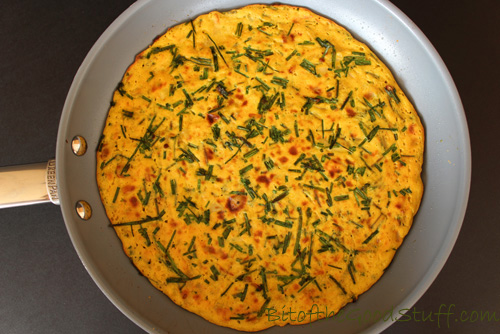 Unfortunately, since purchasing the GreenPan, I've read lots of negative reviews online. People are saying that, in their experience, these pans are super non stick to begin with then, after a short while, they start to stick badly. Uh oh! Doesn't sound great but we'll see how it goes. I'll report back in a few months. If the GreenPan starts to stick, I'm thinking of investing in a pre-seasoned cast iron skillet.
What kind of frying pan (skillet) do you use? I'd love to hear any recommendations!