Hello everyone! I hope your preparations for the festive holiday are going well. Hopefully you've been a bit more organised than me. As usual, I've left a lot of shopping and food preparation to the last minute, so today – Christmas Eve – is going to be one very busy day for me! However, before I crack on with the preparations, I thought I would share one last recipe on the blog before 2017 comes to a close. The recipe is for a giant-sized mince pie, which is just perfect for sharing with friends and family this season. I've already made three of these pies in the past week, and no doubt I will making more in the lead up to the New Year.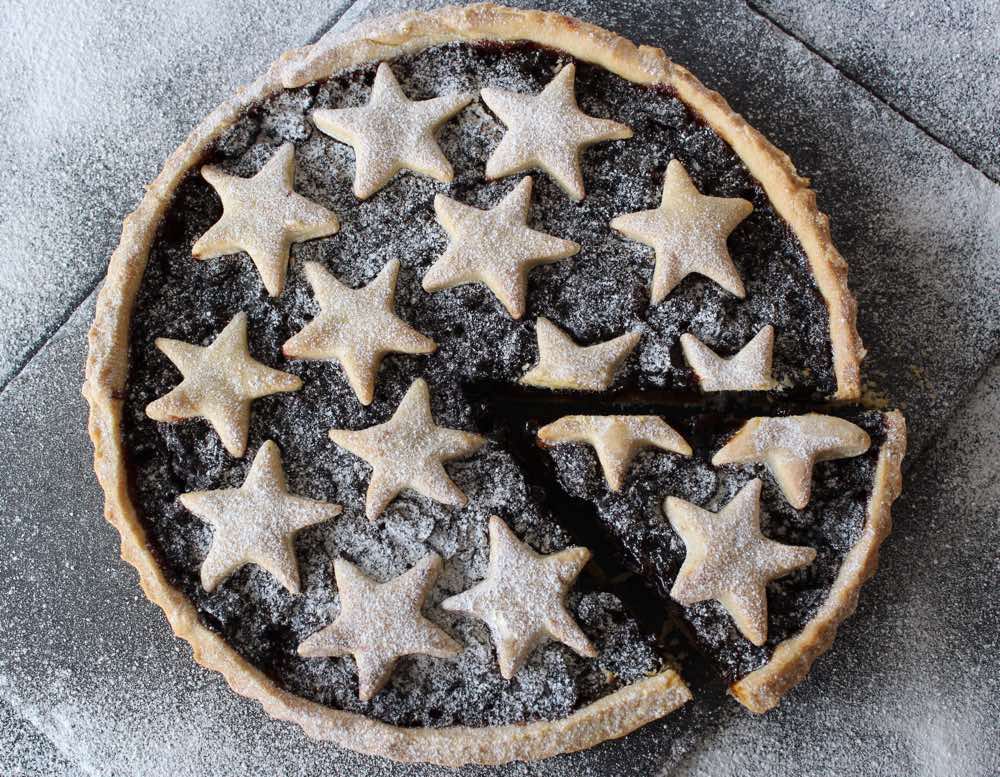 During the festive season, my family loves to have home-made mince pies for dessert, drizzled in custard or cream. However, while they taste delicious, individual mince pies do tend to look a bit lost on dessert plates and aren't what I would consider 'special enough' to serve to dinner guests. To resolve this, I've played around with my favourite mince pie recipe and created a family-sized pie instead, which can be sliced and served on a plate with a more appealing presentation.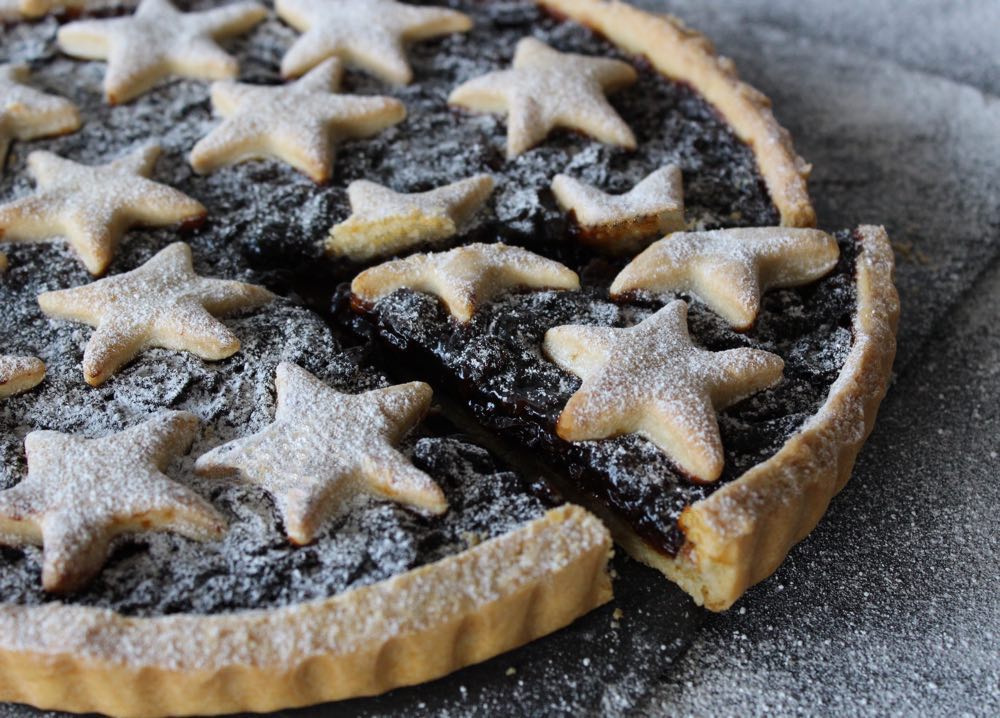 It took a couple of attempts with different pastry quantities and baking methods, but I'm really pleased with how it finally turned out. The pastry is lovely and crisp; it's robust enough to slice without crumbling and, most importantly, it has been given the thumbs up from the recipe testers in my house.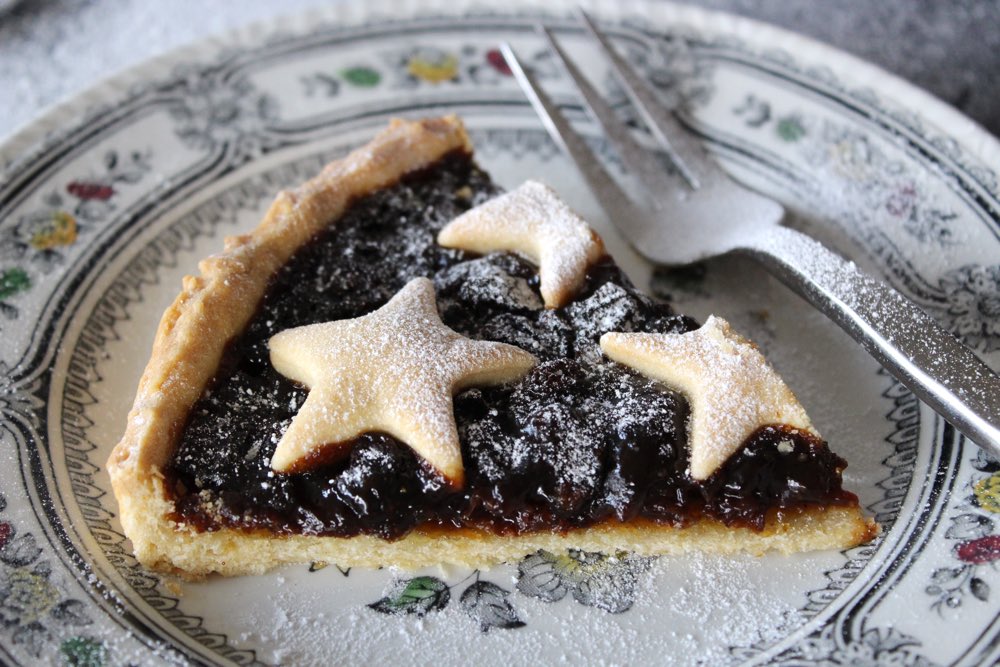 I used my favourite organic mincemeat for this pie, which is made by Meridian. For the flour, I used Doves Organic White Spelt flour. For a while now, spelt has been my flour of choice for pastry-making. Personally, I find it gives pastry a nicer taste and texture compared to plain (all purpose) flour. As an added bonus, I find that some of my friends that generally avoid gluten/wheat, can actually tolerate spelt. It does make me wonder whether it's specifically modern wheat that's causing tummy issues for a lot of people.
This tart is perfect for serving to friends and family in the festive season. It's easy to prepare, even when making the pastry from scratch. Of course, you're welcome to buy ready-made short-crust pastry if you wish but, I promise, making pastry from scratch is way easier than it may seem.
Serves: 8
Hands on time: 15 minutes    Ready in: 80 minutes
Ingredients
Short crust pastry*
250g / 1¾ cups white spelt flour (or substitute with plain (all purpose) flour)
100g / ½ cup dairy-free spread/vegan butter or aroma-free coconut butter
20g / 2 TBSP icing (confectioner's) sugar
pinch of salt
1 – 4½ TBSP chilled orange juice
*Alternatively, use shop-bought short-crust pastry (Jus-Rol is suitable for vegans)
410g / 1 cup mincemeat (suitable for vegans)
soya milk, for glaze (optional)
Suggested accompaniments
Dairy-free custard or cream
Method
1. Place the flour, dairy-free spread/vegan butter/coconut butter, icing sugar and salt in a food processor and whiz to combine. Add the orange juice through the funnel, ½ tablespoon at a time, until the mixture just starts to come together. (The amount needed will vary depending on the type of flour and butter used. I find that I need about 1-2 TBSP of juice when using dairy-free spread and about 3½-4½ TBSP when using coconut butter).
2. Scoop the dough together and press into a ball. Cover in cling film (plastic wrap) and rest in the fridge for 30 minutes.
3. Grease a 20cm / 8 inch loose-bottomed tart or quiche tin. Preheat the oven to 190c (170c fan) / 375F.
4. Once the dough has rested, break off a small chunk (about a fifth) and set to one side (this will be used for the star decoration). Place the remaining dough on a lightly floured surface. Arrange the cling film/plastic wrap on top and roll the dough to a thickness of about 0.3cm / ⅛ inch. Transfer the dough to the prepared tin and press into the edges and up the sides to a height of 2.5cm / 1 inch. Trim off the excess and place with the reserved dough for the stars.
5. Prick the dough in the base of the tin all over with a fork. Place in the pre-heated oven and bake for 20 minutes.
6. Five minutes before the pastry is cooked, roll out the reserved dough and cut out about 16 mini stars using a metal cutter (re-rolling the dough scraps as needed).
7. When the pastry case is cooked, distribute the mincemeat evenly on top, followed by the stars. Brush the stars with soya milk (if you'd like them to brown). Place in the centre of the oven and bake for 20 minutes, or until the stars are dry to the touch.
8. Leave to cool slightly before slicing (the pastry will firm up as it cools). Sprinkle with sieved icing sugar before serving. This tart is delicious served on its own, or with a drizzle of vegan cream or custard. Stored in an airtight container in the fridge, the tart will keep for five days.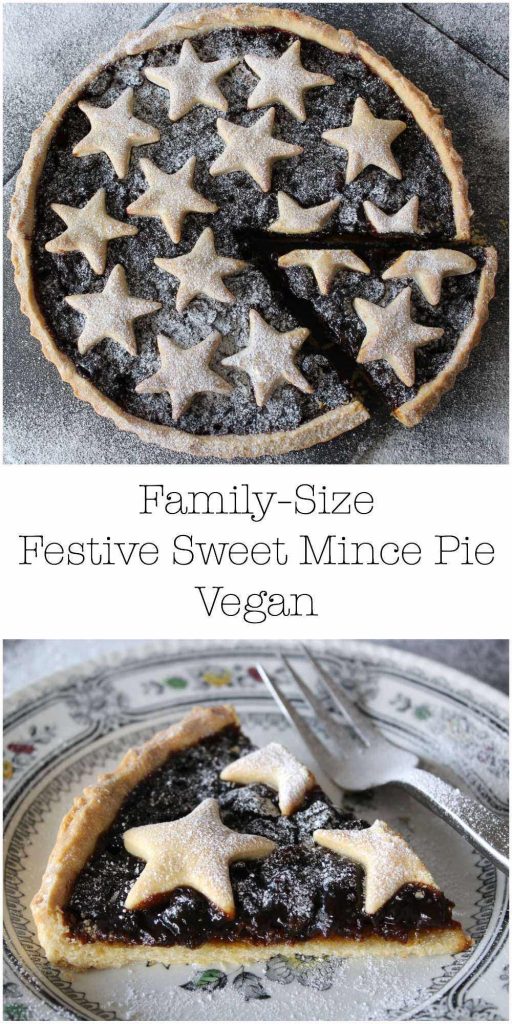 I'm sharing this recipe with the Suma Blogger's Network. Big thank you to Suma for supplying some of my favourite ingredients, which I used to create this recipe:
Meridian Organic Mince Pie Filling
Doves Organic White Spelt Flour
Tiana Organic Aroma-Free Coconut Butter
Happy holidays everyone! I'll be back in the New Year. Here's wishing you all a healthy, peaceful, joy-filled 2018 ❤️

SaveSave
SaveSave
SaveSave
SaveSave
SaveSave
SaveSave
SaveSave
SaveSave