Hello everybody!  Hope you're having a great Wednesday!
Lil' L was jumping up and down with excitement this morning when he realised that it was Wednesday.  Apparently, it's the best school day ever! 🙂  It begins with a computer session in the morning; followed by pizza for lunch (with some vegetables on the side, he tells me 😉 ), and an afternoon of Wednesday Workshops.  This term he's got table tennis, followed by my Buddhist meditation, story and art workshop.  Doesn't sound like a bad way to spend a Wednesday does it?
Wednesdays are special for me too, as I get to spend the afternoon with an amazing group of children, doing something that I love doing 🙂
For this Wednesday's WIAW party, I thought I would share what I ate yesterday.  It was quite an unusual day of eats, involving a plant that I've never eaten before in my life and cooking a dinner that I never actually got round to eating. 🙁  Before I begin, I'd like to send a big 'thank  you' to our lovely host, Jenn @ Peas&Crayons.  I can't wait to see what she's bringing to the party this week. 🙂
So, here's what I ate yesterday…
Breakfast
Hot lemon and water gulped down quickly before the school run.
On my return home, I had a cup of nettle tea and a huge bowl of cocoa porridge made with Flahavan's organic jumbo oats.  Into the porridge, I added some chopped brazil nuts, walnuts, almonds, goji berries, ground linseed, a teaspoon of raw cocoa powder and some organic cherry & berry spread as a sweetener.  It was totally delish!  I am so loving cocoa porridge at the moment!
Lunch
For lunch today, I decided to make an Indian-style Bhajee… with a twist.  Guess what I decided to use as the main ingredient….
Here's a clue…
Yep, it was stinging nettles from the garden!!  I've been meaning to try nettles for ages and yesterday I finally did it!  I loved the taste and texture of this dish.  After eating it, I felt like I was "zinging" with vitamins 🙂  I also found it incredibly filling.
Here's how I made the Bhajee:
Ingredients
1 carrier bag of nettles (approx 300g)
1 tbsp olive oil
1 onion
2 garlic cloves, crushed
1 piece fresh or frozen root ginger, grated
spices – 2tsp cumin seeds, 1 tsp garam masala, 1 tsp mustard seeds, 1/2 tsp chilli powder, 1/2 tsp turmeric
1  can chopped tomatoes
5 mushrooms, chopped
1 cup vegetable stock
handful each of almonds (lightly toasted) and hempseeds
Method
Wearing rubber gloves, pull the nettle leaves off the main stalk.  Carefully remove any insects, rinse the leaves under the tap, then roughly chop.
Heat the oil in a large saucepan and cook the onions for 2-3 minutes.  Add the garlic, ginger and spices and gently fry for a further 2 minutes.  Stir in the vegetable stock.  Add the tomatoes, mushrooms and nettle leaves.  Cover with a lid and gently simmer for 15-20 minutes.
Allow to cool slightly then stir in the hempseeds and toasted almonds.
Serve with chapattis and/or rice.
I estimate that this recipe would serve 3-4 people.  I don't think this Bhajee is going to appeal to Lil' L so I might experiment with half the batch and see if I can turn it into a nettle soup that's super delicious.   I'll keep you posted 😉
Snacks and Drinks
Piece of Date & Zucchini Brownie (I made a large tray to take to my evening study class)
1 black coffee
1 soy latte
1 cup peppermint & nettle tea
lots of water with lemon
Evening Meal
For my main meal, I made one of our all-time favourite stir fries…. braised aubergine and tofu with pak choi.  Lil L' absolutely loves this meal!  (I'll post the recipe tomorrow)
Though this meal only takes 20 mins to make, I didn't get time to eat it!  M rang at 5pm to say that he wasn't going to be home in time to look after Lil' L, so I quickly grabbed my coat and bag, dropped Lil' L round at a friend's house and dashed to the bus stop.  Luckily, all the stars were aligned for me yesterday and the bus turned up in perfect time (this RARELY happens) and I made it to my class on time (EVEN RARER!).
M and Lil' L informed me that the stir fry was delish, so I'm looking forward to trying it for myself tonight 🙂
Supper
Fortunately, the nettle bhajee was so filling that I didn't feel any hunger pangs all afternoon or evening!  When I got home at 10.30pm, I did have a small bowl of muesli and Shreddies, just to make sure that I didn't wake up hungry.
Those nettles really did pack some power…  I felt like I was buzzing with energy all afternoon and night!  If I can find some delicious ways of cooking them, then I'll be onto a winner.  Forget growing tomatoes and squashes, I'll be filling the veggie patch with nettles instead 😉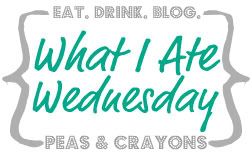 What's the most unlikely food that you've eaten?
-o-o-o-o-o-o-
If you haven't done so already, don't forget to enter my giveaway to win a signed copy of NAKED chocolate.  The closing date is Monday, 21st November.
-o-o-o-o-o-o-