Happy Wednesday everyone!  Hope you all have a great day!  I'm posting early today as we're off to London for part 2 of M's birthday surprise 😉
Thank you for all the kind birthday wishes left on my blog for M (or 'Mr Bit of the Good Stuff', as Candy calls him 😉 ).  On Monday, M turned the ripe old age of 40 and, to mark the occasion, I had 2 great surprises lined up for him (one for Monday and the other for today) 🙂 
Both M and I have got a keen interest in art but unlike me (who hasn't got an artistic bone in her body) M is a dab hand with a pen, pencil or paintbrush.  For a while now, he's been mentioning that he'd like to have a try at stencil graffiti art so, on his birthday, I arranged for Stuart, a graffiti artist, to come to our house and give M a 1-2-1 tutorial. 
As well as being an artist in his own right, Stuart travels all over the UK and internationally to teach individuals and group workshops.  I was so grateful that he was able to stop by Monday to spend a few hours with M.
It rained non stop on Monday, so Stuart and M had to squeeze in our very messy garage.  Both Lil' L and I were fascinated with Stuart's suitcase full of spray cans.  Here's one of many photos that Lil' L took of the suitcase 🙂
Stuart was a great teacher, not only helping M with technique, but also in the development of his creative ideas for the two canvases that he was going to produce.  Here's a shot of M in action (minus his head as he wants to remain anonymous 😉 )
The two pieces of work he produced are already hanging on our living room walls.  They're not bad for a first attempt are they?
He's definitely got the spray painting bug now and can't wait to have another go.  Luckily, I've got another surprise lined up for him today  😉
While the boys were busy being creative in the garage, I decided to get creative in the kitchen and try out a new recipe.  Since I had some ready-made puff pastry sitting in the fridge, I decided to have a go at making Viva's Chestnut Pate En Croute.  It was so simple to make, and ready in less than 30 mins. 
I cut it into four large slices, and gave a slice each to Stuart, M, Lil' L and the last one for myself.  The feedback was very positive, and M suggested that this bake would be great for Boxing Day dinner.  While it was delicious as it was, next time round I may add some chopped chestnuts, pine nuts and porcini mushrooms to make it even more special 🙂
Here's how I made it:[print_this]Chestnut Pate en Croute (based on Viva's recipe)
Serves: 4
Preparation: 10 minutes
Cooking time: 20-30 mins
Ingredients
2 onions, chopped
1 stick of celery, finely chopped
2 tbsp olive oil
2 garlic cloves, crushed
100g / 3 1/2oz button mushrooms, sliced
Half a tin of unsweetened chestnut puree (a full tin is 435g, so you want 215g)
2 tbsp fresh soft breadcrumbs
1 tbsp brandy
salt and pepper
1 sheet of Jus Rol ready-rolled puff pastry (rectangular, not round)
soya milk to glaze
Method
Preheat the oven to 200C / 400F / Gas 6
Fry the onions and celery in the oil in a large saucepan, covered until the onions are transluscent.
Add the garlic and mushrooms, and cook for 2-3 mins.
Mix in the chestnut puree, breadcrumbs, brandy and seasoning until everything is well combined.
Unroll the pastry and place carefully on a lightly-oiled baking sheet.  Pile the chestnut mixture lengthways down the middle third of the pastry.
Make diagonal cuts 1cm / 1/2″ apart on the pastry on either side of the chestnut mixture.  Fold these up alternately to make a lattice covering it.  Brush the pastry with soya milk and bake for 20 mins or so, until browned.
[/print_this]
Viva has produced a fantastic mini guide full of delicious vegan Christmas recipes.  The guide can be accessed online here.  I'm planning to try out a few more of their recipes over the next couple of weeks.
After we'd had lunch and said goodbye to Stuart, we headed into Bath as Lil' L wanted to take his dad to the cinema to see Arthur Christmas in 3D (another birthday treat).  All of us really enjoyed the film.  Arthur is a very sweet, kind hearted guy 🙂
For dinner, we went to one of our all-time favourite restaurants in Bath… The Nepalese 'Yak Yeti Yak'. 
So what do I love about this restaurant?  Basically everything! … The delicious food, the great ambiance, the gorgeous interior, and their stunning dinnerware.  I must get me some of those brass platters and bowls 😉
We opted for the veggie set menu 'Dal Bhat Tarkari' (rice, dal, aloo channa, popadum, fresh stone-ground chutney, dhai, and our choice of individual vegetable dishes – Chyauko Tarkari (stir fried mushrooms), and Aloo Tamar (fermented bamboo shoots stir-fried with new potatoes and black-eye peas).  Between the three of us, we'd soon polished off the lot!
For dessert, I had Kir (coconut creamed rice lightly spiced (with cardamon, I believe), sweetened, sprinkled with toasted shredded coconut and served chilled).  This dessert was totally scrumptious and I can't wait to have a try at making it myself.   
All in all, Monday was a great day of fun-filled activities and eats, and I hope M enjoyed it as much as I did 🙂 
Time to head over now to Jenn's WIAW party and see what my foodie friends are eating.  Hopefully I'll get some inspiration for Christmas.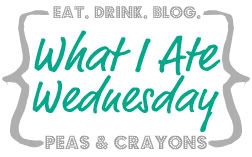 I still have no idea what I'm going to be cooking over Christmas and as I'm hosting this year, I really need to get organised.  At the moment, I've a huge urge to go to the supermarket and buy lots of ready made food and be done with it.  I'd much rather be playing games with the family and watching movies than slaving away in the kitchen.  But, is that too much of a cop out?  What do you think?