Gosh the weather has been rough the last couple of days!  We've had wind, sleet,  and a spell yesterday where it rained 'slush puppy' (Lil' L's words).  I hope you're managing to stay dry and warm.
Today, it was the last Wednesday Workshop of the term so, this morning, I was busy making certificates …
Wrapping little Buddhas to give to the children at Christmas gifts…
and making shortbread stars for them …
I used my Sesame Shortbread Star recipe, but omitted the sesame seeds just in case any of the children had allergies.
I've been spending a fair amount of time in the kitchen over the past few days, and this has given me the opportunity to listen to lots of great tunes and put the finishing touches to my Winter Soundtrack.  The Winter version is way more mellow than the Summer one.  Here are my top 8 tracks (in no particular order).
Winter Soundtrack 2011
1. Joe Goddard ft Valentina  – Gabriel

2. SBTRKT feat. Lil Dragon – Wildfire

3. Emeli Sande – Heaven

4. Drake feat. Rihanna – Take Care

5. Wretch 32 feat. Etta Bond – Forgiveness

6. Coldplay – Paradise

7. Lana del Rey – Video Games

8. Birdy – People Help the People
This is such a beautiful song!  She's only 15!

Wow do I feel chilled after listening to those tunes again!  This is going to be a very laid back WIAW entry this week.  Thanks once again to our lovely host  Jenn @ Peas and Crayons.
Breakfast
Hot lemon and water (before school run)
'Festive' porridge (eaten as soon as I got back from the school run, which was cold, wet and dark.  I wanted to eat this porridge super hot, hence no photo 😉 )
Lunch
2 slices of toast with cashew nut butter, quickly eaten before I had to dash to school
1 orange
Snacks & Drinks
Nettle tea; 1 Black coffee; 1 shortbread star; no way near enough water!
Dinner
Thai-style noodles in coconut milk.  At last a photo!!

This noodle dish is a firm family favourite.  Lil' L loves this meal, providing that I finely chop the peppers and pak choi for him.  I'm not sure why as he normally eats large chunks of pepper but, in this dish, it has to be finely chopped.  Whatever it takes hey? 😉
This shot of the noodles made me realise that there might have been a slight improvement in my photographic skills over the last 6 months.  I first took a photo of this meal back in June and I was really pleased with it.  Having looked at it again today, I've realised that the old photo is totally pants!  I certainly haven't got 'natural' photographic skills, but perseverance seems to pay off 😉
Or maybe it's my cooking presentation skills that have improved?
Or maybe both have improved??
Well, at least things seem to be moving in the right direction!
I'm still not off the 'auto' setting on the camera though.  Every time I try and set the camera myself, the pictures are blurred or over-exposed.  Thank goodness the camera know what it's doing 😉
Dessert
For dessert, we had stewed apples with crunchy coconut croutons (seeded, wholegrain bread cubes coated in coconut oil, Sweet Freedom fruit syrup and dessicated coconut).  It's amazing how Lil' L won't eat a bowl of stewed apples on its own, but add a topping and he scoffs the whole lot and then exclaims 'delicious!'
Well that's me done for another week!  Time to head over to Jenn's, check out all the beautiful foodie photos and get inspired 😉
Oh and don't forget to enter the giveaway to win 10 of my home made raw chocolates!  The closing date is this Friday, 9am GMT x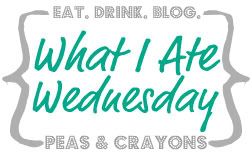 What are you listening to this month?  Do you have a favourite track that sums up this season for you, or perhaps a track that sums up how you're currently feeling?  I'd love to hear from you! x