Hi everyone!  I hope you all had a great weekend!
For the first time in ages, we had a weekend of glorious sunshine here in Bath. This gave us the perfect opportunity to get outside and do some gardening.  Lil' L helped me tackle the weeds, while M took on the monster challenge of mowing the lawn (which looked more like a jungle after all the rain we've had recently).
Since they'd worked so hard, I thought I'd make the boys some veggie pasties for lunch.  While I was making them, I took a few pics and jotted down the recipe so I could share it with you.
I love to use a selection of colourful veggies in the pasties, but you can basically choose whatever veggies you like.  Always include a little onion though, as this helps add flavour.
Until this weekend, I'd always given M the task of rolling out, cutting and folding the pastry as I was convinced that I wouldn't be able to make them neat enough.
It turns out, it isn't hard at all!  And if I can do it, you definitely can!
In fact, I actually really enjoyed pastie making this weekend, though I did combine it with some loud dance music and a boogie round the kitchen.  Anyone else like to boogie in the kitchen?  I find it makes prep & washing up much more fun and far less of a chore.
*Recipe updated June 2017 to bring it in line with the recipe published in the Bit of the Good Stuff cookbook*
 These home-made pasties are packed with goodness. The pastry's made with wholemeal flour and we've crammed as many veggies inside as we could possibly fit. While they are most delicious served freshly baked, they can also be eaten cold and make a tasty treat for lunchboxes and picnics.

Serves: 6
Hand on time: 30 minutes    Ready in: 1 hour 40 minutes

Ingredients
Pastry:
140g / 1 cup fine wholemeal (whole wheat pastry) flour or chapatti flour
140g / 1 cup plain (all purpose) flour or chapatti flour
¼ tsp salt
100g / ½ cup dairy-free spread / vegan butter or aroma-free coconut butter
5-8 TBSP cold water

Filling:
Selection of mixed vegetables (3 packed cups' worth / about 450g / 16 oz), finely diced

One of our favourite combinations is:
1 small onion
1 small sweet potato
1 small carrot
1 small red bell pepper
2 white cabbage leaves
1 large handful of spinach

Flavour the filling with:

2 TBSP parsley, finely chopped
1 tsp each dried thyme, dried oregano
1 tsp vegetable bouillon powder
1 tsp Dijon mustard
¼ tsp salt

Soya milk, for glaze

Method

1  Place the flours, salt and dairy-free spread/butter in a food processor and whiz to combine. Add water through the funnel, a little at a time, until the crumbs start to come together. The amount of water needed will vary depending on the type of flour and butter used. Scoop the dough into a ball, wrap in cling film (plastic wrap) and chill for 30 minutes.

2  Preheat the oven to 190C (170C fan) / 375F. Line a large baking sheet with non-stick baking paper.

3  Mix all the filling ingredients together in a large bowl. If using spinach, first wilt it by placing it in a strainer and pouring boiling water on top. Run under cold water to cool it down, squeeze hard to remove the excess water then roughly chop.

4  Divide the pastry into six balls (I weigh my pastry to divide it equally). On a lightly floured surface, roll each ball into a circle with an 18cm / 7 inch diameter (I use a side plate as a template). Place ½ cup of vegetables on one half of the circle, leaving a small border. Brush the pastry edge with a little milk or water. Fold the pastry over to form a half moon. Crimp the edge using a fork or knife handle, to seal. Repeat for the remaining five pasties.

5  Place the pasties on the prepared baking sheet. Brush the tops with milk and pierce twice to allow the steam to escape. Bake for 40 minutes, or until the pasties are dry to the touch.

6  Stored in an airtight container, these pasties will keep in the refrigerator for five days. They can also be frozen prior to baking.

With the weeding and mowing finished, Lil' L couldn't wait to tuck into his warm pastie.
I sneakily took some pics before he had time to spot me and pull a funny face 😉
Looks like he's really enjoying it 🙂
Uh oh I've been spotted!
Time to go!
Have a wonderful week everyone.  I hope the sun shines wherever you are!

Another pastie on the blog…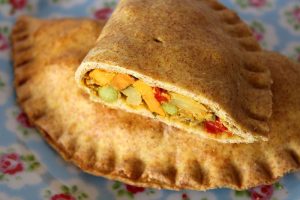 SaveSave
SaveSave
SaveSave
SaveSave
SaveSave
SaveSave
SaveSave
SaveSave
SaveSave