Hi everyone! I hope you're having a great week so far! 🙂
It's Wednesday again, which can only mean one thing in foodie blogging world…. it's WIAW party time!!!  Big thank you to Jenn over at Peas and Crayons for being such a great hostess and all round star! 🙂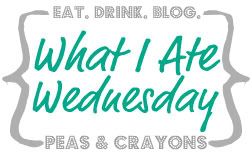 For this week's party, I'm going to share our eats from yesterday (Tuesday).  Here goes…
Breakfast
– Hot lemon and water
– A delicious bowl of warm porridge made with Alpro Soya Milk.  M and I had Mornflake Superfast Oats (which only take 2 minutes to cook!), and Lil' L had Ready Brek.
We topped our porridge with chopped Brazils, pecans, walnuts, flaked almonds, ground flaxseed and goji berries, and a drizzle of Sweet Freedom Fruit Sweetener.
Lunch
We all had different lunches today. 
– Lil' L had first choice of the leftovers from the weekend and took the giant veggie pastie. No surprise there!
– M had pittas filled with falafel, humous and romaine lettuce.
– I chose to make romaine lettuce leaf wraps, filled with sun-dried tomato humous, sun-dried tomatoes and black olives.  I also had a couple of Nairn's sweet red pepper oatcakes.
Yesterday, for what seems like the first time in weeks, it actually stopped raining and the sun came out!  I grabbed the opportunity to eat a quick lunch in the garden. It was so nice! 
With all this rain, the garden's looking a bit like a jungle, but there's lots of pretty flowers that are popping up amongst the weeds.
We're back to rain again today, so who knows when I'll get a chance to sit out in the garden again!
Drinks & Snacks
nettle tea, 1 black coffee, water
no snacks today (wasn't hungry!)
Dinner
For dinner, I  made another of our favourite family meals… vegetable crumble.  I used oats, nuts, seeds, yeast flakes and mustard powder in the crumble topping, which made it really tasty and crunchy. 
I promise to post the recipe very soon!
Dessert
A strawberry & banana smoothie made with fresh organic strawberries, 1 banana, Kara Coconut Milk, 2 tbsp Alpro Soya Yoghurt, chia seeds (for an omega 3 boost) and a dash of Sweet Freedom sweetener. 
Plus a goji berry & choc chip granola bar
Each week, I make a couple of trays of granola bars for lunch boxes and my Tuesday night study class.  They're so quick to make and I find them much easier to bake than cakes and muffins!
I use agave syrup as the sweetener to make them low GI, and I use only a small amount of oil, so they're much lower in calories than your usual flapjack/ granola bars.
 Here's the recipe:
Goji Berry & Choc Chip Granola Bars

Preparation: 10 minutes.  Cooking time: 20 minutes.  Makes: 12 bars

Ingredients
235g / 8¼ oz / 2½ cups rolled oats
26g / 1 oz / ¼ cup rolled oats, ground in a food processor or mini chopper to make oat flour
½ tsp salt
½ tsp baking soda
1 tsp pure vanilla extract
4 tbsp rapeseed (canola) oil
115ml / 4¼ oz / 1/3 cup agave syrup
1/3 cup (approx. 45g / 1½oz) goji berries
3 tbsp dark choc chips (add more if you wish)

Method
Preheat the oven to 180C (160 fan) / 350F / Gas 4. Line a shallow oblong tin (approx 17cm x 26cm / 6 1/2" x 10") with non stick baking paper.
 Combine the dry ingredients in a large bowl. Mix in the wet ingredients. Stir in the dried fruits and choc chips.
Tip the mixture into the prepared tin and pressed down (I use the back of a metal spoon, lightly sprayed with oil which prevents it from sticking).
Cook for 20 minutes, until lightly browned. Leave to cool completely before cutting into bars.
Time to head over to Jenn's and check out all the gorgeous eats 🙂
Happy Wednesday everyone!  xx