Hi everyone! I hope you're having a great week so far!
Firstly, I'd like to say a big THANK YOU for all your kind birthday wishes. They really made me smile 🙂  Well, I've been 40 for a week and a half now and I'm glad to report that I'm still feeling as young as ever. Long may it continue!
Secondly, HAPPY BELATED FATHER'S DAY to all the Dads out there.  I hope you all had lots of fun on Sunday!  
I thought it only right that M should decide how he'd like to spend Father's Day.  After all, the day was 'his' 😉 Here's what he chose to do….
– Mountain bike ride in the morning… followed by a lunch of creamy spiced parsnip soup
– Trip to an open day at Crofton Pumping Station to see the oldest beam engine in the world in action (such a boy thing to do!)
– Visit to the market town of Marlborough for coffees and a browse round the Oxfam shop (we all bought a little something ;))
– Art session with Lil' L where he taught Lil' L how to stencil and spray paint (it was his first time!)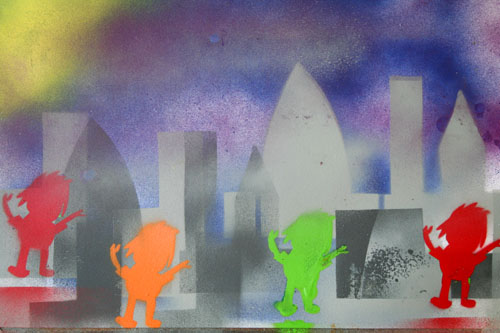 – And, to finish off the day …  an evening meal at our favourite Indian restaurant, Rajpoot.  
Even though we did lots of activities, the day was really chilled and M said he loved it … and that's the most important thing!
WIAW – Time I got partying!
Yesterday, I actually managed to photograph a days' worth of meals.  That hasn't happened in a while!  It's WIAW time 🙂  Let's get partying!
Breakfast
On warm days, such as yesterday, we're enjoying a simple bowl of cold oats, made with Alpro Almond or Soya milk, and a sprinkling of chopped nuts, linseed and goji berries.  We've been using the Mornflake Superfast Oats which are so fine that they can be served straight away, without the need to soak them in milk overnight. 
I was surprised how enthusiastic Lil' L is about this simple breakfast.  For the past couple of weeks, he's asked for it most mornings!
Lunch
For their packed lunches, M and Lil' L had seeded bagels filled with bean pate and some slices of red pepper on the side.  The lunch looked so good that I decided to have it myself too 🙂
I rarely buy shop-bought pate but this Redwood Beanfeast Pate is absolutely delicious!  It contains 7 different types of bean and 4 different types of seed, so it's packed full of goodness.  It's available from Holland & Barratt and Asda, and also online from Redwood and Goodness Direct.  It costs around £1.58 and will easily serve us for 4-6 lunches, so a pretty good value purchase!
Dinner
For dinner, we had one of our absolute all-time favourite meals… roasted squash and black bean enchiladas in a lightly spiced tomato sauce.  Such a simple meal to make and so tasty!
This meal is delicious served warm or cold, and Lil' L loves to take the leftovers for his lunch the next day.  Recipe coming soon!
Dessert
– Creamy strawberry banana chia smoothie
– Piece of orange and almond cake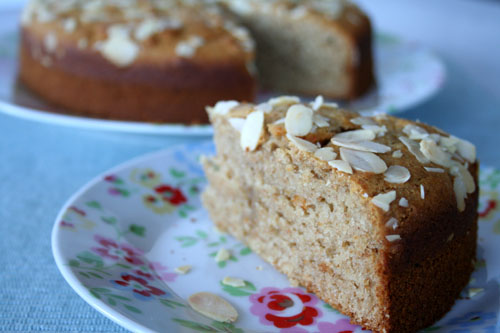 Drinks
Me: Hot lemon & water, Clipper organic nettle tea, Twinings cherry & cinnamon tea, apple & mango juice, 1 black coffee, lots of water
Lil' L: Innocent apple & mango juice, Innocent apple juice carton, water
Snacks
No snacks for me today. 
Lil L: sesame rice cakes with manuka honey; oatmeal & raisin cookie 
I always make sure that Lil' L has two snacks available each day – one for morning playtime and one when he gets in from school.  I always try and give him tasty, nutritious snacks that are going to nourish him and give him lots of slow release energy.  Since June is the WIAW month of 'Sensible Snacking', next week I'll give a rundown of some of Lil L's current favourite snacks.
Have a great week everyone! xx
This time a year ago…. Samosas and St Catherines