The school summer holidays officially start for us today. I can't believe that another school year has finished already. These years are flying by! I'm really looking forward to spending some quality time with Lil' L over the next six weeks. However, as I'm not working at the moment, I need to make sure that we keep spending to a minimum.  We did lots of great free/ low cost activities last summer that we're hoping to repeat or improve on this year. Here's what we've come up with so far…
– Bike Rides
Inspired by the Tour de France, we're going to devise our own
'Tour de Bath'
where we explore different areas of the city by bike and record our 'stages' on a map, noting the distance and time.
– Hiking
There's so much local countryside that we've yet to explore.  We're going to pack some sandwiches, binoculars, a map, and waterproofs, and hike along footpaths and bridleways in the hills around Bath. Luckily my 'smartphone' has got GPS, just in case we get lost 😉
– Photography
Lil' L loved the challenge I set him over the Jubilee weekend of photographing red, white and blue images. This summer I'm going to set him some more photographic challenges and show him how to edit photos and make online albums.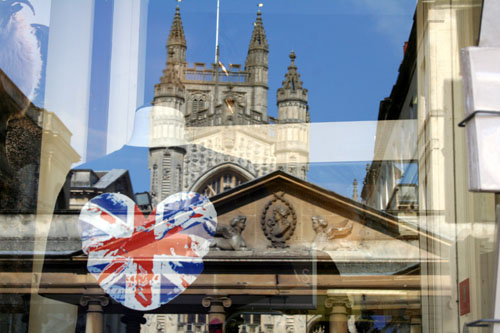 – Creating in the kitchen
Lil' L has already devised a list of 15 new smoothies and milkshakes that he'd like to try making. During the holidays, we'll work our way through his list, photograph the successes and blog about them. I'm also really looking forward to teaching him how to make other treats, such as granola bars, chocolates, ice cream sundaes and so forth.  
– Summer Reading Challenge
Last weekend, the children's summer reading challenge was launched in Bath by Olympic Gold Medallist Amy Williams. It was such a pleasure to meet her! I didn't get to hold the Olympic torch (like my mum did!) but I have now held an Olympic Gold Medal. It was beautiful… and way bigger and heavier than I imagined it would be!
The library reading challenge has really fired up Lil' L. The first thing he wanted to do when he broke up from school today was to go to the library and borrow some more books!
– Maths Challenge
To keep our 'maths brains' ticking over, we're going to take part in Carol Vorderman's Online
Maths Factor Summer School
(I need this as much as Lil' L 😉 ). The school costs £15 but is
so
worth it. Carol Vorderman has got to be the ultimate Maths teacher. Not only is she fantastic at explaining maths, but she actually makes maths fun. Her online schools are perfect for kids like Lil' L who are yet to develop a passion for numbers.
– Summer Diary Writing
Lil' L has recently started to get interested in writing and his stories are way more creative than anything I've ever written! I'd love to encourage him to keep writing over the holidays, maybe in the form of a summer diary or scrap book. As well as writing, he could add photos, ticket stubs, drawings and so forth.
– Family Activities at Local Museums and Galleries
There are lots of drop-in activities on offer at the museums and galleries in Bath which are free for residents, and I'm planning to make the most of them!  Does anyone fancy investigating Roman gods and goddesses and making Minerva's wise owl? Or how about learning some Roman language and make a Roman book mark? I know I do! 🙂  If you're planning to be in the Bath area over the school holidays, you must check out the family activity programme. Here's the
link
.     
[Source]
– Play Dates
It's really important that I arrange some play dates for Lil' L so he gets to spend time with his friends during the summer. I need to do this ASAP as I know diaries get filled really quick.
– Quality time with grandparents
Lil' L rarely gets to have one-to-one time with his grandparents and this is something that he mentioned he would really like this summer. Next week, he's going to spend a couple of nights with his nan and her two dogs in Dorset and he's really excited about it! Hopefully, at some point during the summer, he'll be able to have some one-to-one time with his other grandparents too.
– Family quality time
The three of us (me, M and Lil' L) are really looking forward to spending a couple of weeks' of quality time together during the school hols, which means switching all the gadgets off (phones, computers, etc) and giving each other our full attention. We really value our quality family time. For me, it's priceless 🙂
– Buddhist Festivals and Daily Meditation
There's lots of Buddhist festivals in the UK this summer, and I'm hoping that we'll be able to attend at least a couple. As well as inspiring teachings and meditation sessions, there's always lots of fun activities arranged for the kids. Lil' L made some great friends at the festivals last year and hopefully they'll meet up again this summer.
I'm also hoping that we'll get into the habit of daily meditation, even if it's just for 10 minutes. With Lil' L's help, I'll set up a dedicated 'meditation space' upstairs. We'll make it cosy with cushions and blankets, and light incense and candles. It'll be great 🙂
 So that's just a few ideas of what we'll be able to do this summer on my shoe-string budget.  I can't wait to get started! I wish you all a wonderful summer. 🙂 xx p.s. If anyone's got a bit of sunshine to spare, we would really appreciate it if you could send it over here. Thank you 🙂