The other day, M arrived home from work with the most incredible bounty of berries and currants that he'd acquired from Cobbs Farm in Hungerford. There were punnets galore of strawberries, raspberries, blackberries and red currants.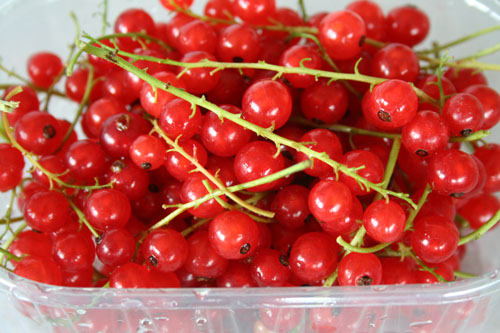 Not only did they look amazing, but they smelt incredible too. Within a couple of minutes of arriving home, the whole house was filled with the smell of sweet berries. I couldn't wait to tuck in 🙂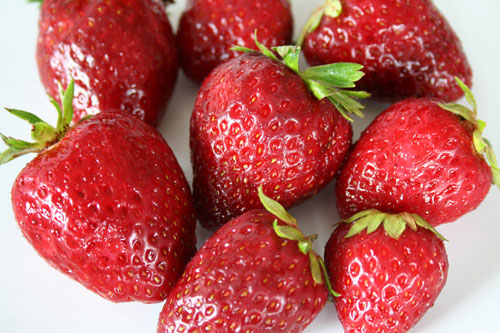 And the taste? Oh my word. They are so good. The strawberries in particular blew me away. They are, without doubt, the tastiest strawberries I've ever come across. I wish you could try them too!
Since berries don't keep for very long, I froze the majority of the fruit, but I did keep a couple of punnets in the fridge for us to enjoy over the next day or two.
The following day, Lil' L and I set to work making some berry jelly (jello).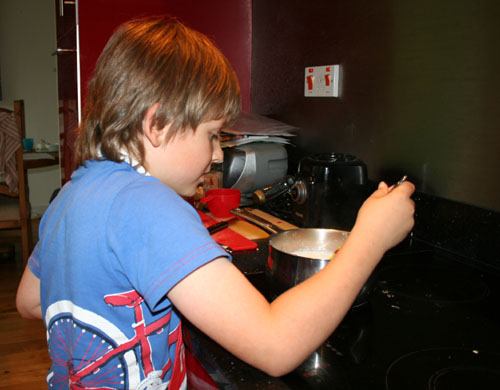 Instead of using gelatine (which is a slaughterhouse by-product), we use agar-agar flakes, which are made from a nutrient-rich sea vegetable.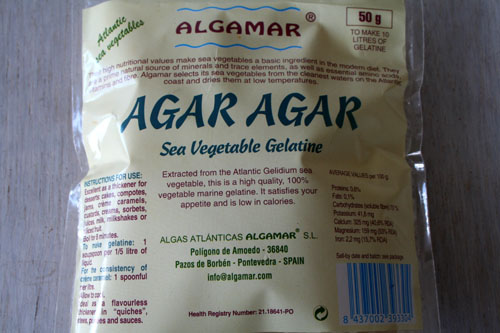 I bought mine from our local health food store (Harvest on Walcot St), but it's also available from Waitrose.
While shop-bought jelly tends to be laden with refined sugar, artificial colouring and very little (if any) nutritional value, our home-made jellies are made with fresh fruit and fruit juice. These jellies are brimming with antioxidants and vitamins and taste totally lush. They make a great dessert or treat for adults and children alike (Lil L loves them!)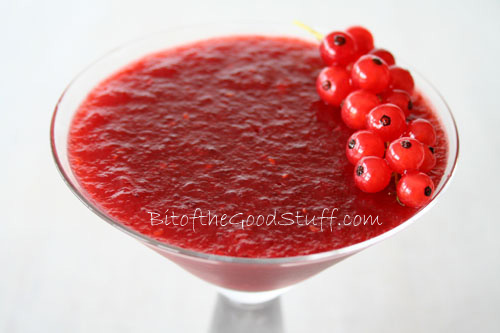 They're super easy to make too.
Here's how we make them…
[print_this]
Fresh Berry Jelly (Jello) (Vegan / Sugar Free)
Serves: 3-4
Hands-on time: 10 minutes (+ chilling time) 
Ingredients
1½ TBSP agar agar flakes
120ml / 4 fl oz / ½ cup water
240 ml / 8 fl oz / 1 cup apple juice
160g / 5½ oz / 1 cup chopped berries
2 TBSP maple syrup or other liquid sweetener, to taste

Method
Whizz the fruit juice and berries in a blender until smooth. Pour through a fine mesh sieve into a jug and discard the pips.


Heat the water and agar agar flakes in pan. Bring to the boil, reduce the heat and simmer for 3 minutes or so, stirring constantly until the flakes have dissolved. Whisk in the blended fruit juice and syrup. Bring back to the boil, then reduce the heat again and simmer for a couple of minutes or so, stirring continuously until the agar agar flakes have completely dissolved. To check this, scoop up a spoonful or two of the mixture and pour it back into the pan – if the flakes aren't fully dissolved, you'll see them sticking to the spoon.

Once ready, remove from the heat and leave to cool slightly. Taste test and add more sweetener if desired. 

Pour into small glasses or ramekins and refrigerate until set (about 1 hour).
Variations
– To make a simple fruit juice jelly, replace the cup of berries with another cup of fruit juice.
-If you wish, you can add whole fruits or fruit slices (e.g fresh raspberries or peach slices) to the jelly. I've heard that kiwi and pineapple contain enzymes that prevent the agar agar from setting, so best to avoid these fruits.
[/print_this]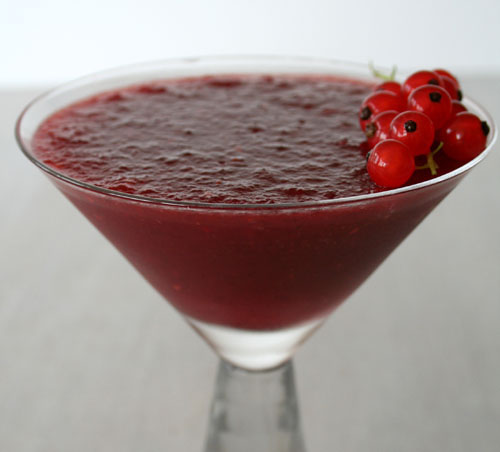 We're also using the berries to make Triple Berry Milk Shakes. They are so lush! Into the blender goes…
– 1 cup of almond or soya milk
– 1 cup berries (blueberries, blackberries, raspberries) (I tend to use a mix of fresh and frozen berries so that the shakes are nice and cool)
– 2 tbsp plain soya yoghurt (I use Alpro)
– 1 tbsp chia seeds (for a nutrient boost)
– drizzle of maple or agave syrup
For a breakfast smoothies, we'll also add in 2 tbsp fine oats or some ground almonds.
We pulse the ingredients for a few seconds to break up the fruit, then whizz them on high speed for a couple of minutes.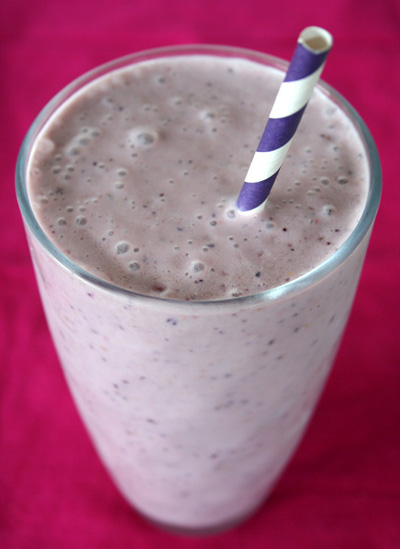 Lately, we've also made lots of fresh fruit (dairy free) ice cream, frozen yoghurt, and fresh fruit jelly sweets (recipes and photographs coming soon). All yummy, healthy desserts and treats 🙂
I was so impressed with the fruit from Cobbs Farm and I'm really looking forward to visiting the farm in person.  I read on their website that you can either buy the fruits from their farm shop or go and pick your own. They also have a deli, vineyard and a cafe that serves coffees, cakes, cream teas and Sunday lunches.  Sounds like a great place to spend a Sunday!
I hope you're all having a great summer so far.  The Olympics have been fantastic haven't they? Are you inspired to take up any new sport? I fancy trying beach volleyball … but I'm wondering whether the skimpy knickers are compulsory. I'm way too old to rock that look 😉