It's Wednesday!
It's WIAW party time!
Thanks, as always, to our glamorous hostess, Jenn from Peas and Crayons.
For this week's party, I'd like to share my eats and a couple of great recipes from Monday.
Breakfast
Delicious, warming bowl of porridge made with Alpro almond milk and a sprinkling of mixed spice (so yummy with the added spice!). On top, I sprinkled some flaked almonds, chopped walnuts, ground linseed and goji berries and a drizzle of agave syrup.
Post Run Smoothie Milkshake
Today's smoothie was made with Kara coconut milk, a large handful of frozen raspberries, redcurrants and banana slices, 1/4 cup oats, 1 tbsp ground almonds, 1 tbsp chia seeds and a couple of drops of almond extract.  It was really yum! I made a double batch and saved half for Lil' L's post school snack.
Lunch
For lunch I had the leftovers from Saturday night's dinner, which was Angela from Oh She Glows' Butternut Squash Mac N Cheeze. I've been meaning to try this for ages! I didn't get round to photographing it, but Angela's pics are way better than anything I could take, so do check out her post.
It was simple to make and totally delish! I love the recipe because not only is it vegan, but unlike traditional macaroni cheese, it's low fat and packed with goodness thanks to the addition of butternut squash and nutritional yeast.  1 cup of the roasted squash gets blended into the 'cheeze' sauce. I found the easiest way to do this was to tip the squash into the sauce pan and blend it until smooth using my stick blender. I also added in some finely chopped spinach, which went really well! Lil' L loved it so I'll definitely be making this again.
Post School Snack
Lil' L had a berry smoothie, I had a black coffee, and we both had a slice of this chocolate brownie. It was so good that we shared another slice!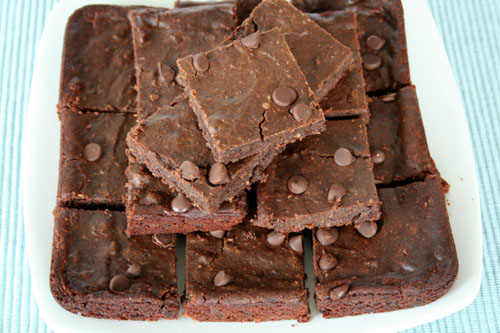 It's CCK's No Flour Black Bean Brownie. It's dairy free and can easily be made gluten free. It's unbelievably good! I wrote about it yesterday, in this post.
p.s. I wish I hadn't told Lil' L that it has black beans in it as it's still grossing him out… not enough to stop him eating it though 😉
Dinner
For dinner I made a creamy Channa Dal with Cauliflower & Peas, which we served with brown rice and chapattis.
This is one of our all-time favourite lentil dishes. It's creamy and lightly spiced, perfect for adults and kids alike.  The recipe's in my head at the moment, but I'll write it up this week and post it on Friday.
Dessert
Lil' L wanted to save dessert for when he got back from Cubs (at 8.30pm!) When he arrived home, we shared a tin of sliced peaches between the three of us, and topped it with some raw date & nut cobbler and a drizzle of Alpro fresh soya cream. It was lush! Both Lil' L and M had seconds.
And finally, to finish, I'd just like to share a couple of my favourite Autumnal shots from this week. It might be cold outside, but it sure is beautiful!
Enjoy the rest of the week everyone! xx