This month I promised I'd share some of all-time favourite one pot meals. After all that meal prepping, cooking and pot washing in December, I need a few weeks of simple meals. Easy, quick prep, cheap, healthy meals that leave only one pot to wash up. Now we're talking 😉
I'm going to begin with one of my absolute favourite one pot meals – Veggie Paella. This dish is typically made with shellfish, but I've used colourful veggies and nutrient-rich nuts instead 🙂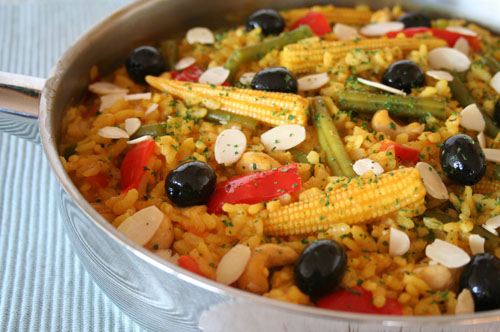 Here's how I make it…
[print_this]
Serves 4    Hands-on time: 15 minutes    Cooking time: 30 minutes
Ingredients
1 TBSP olive oil
1 large onion, finely diced
2-3 garlic cloves, minced
1 red bell pepper, deseeded and diced
1 tsp ground cumin
1 tsp sweet paprika
300g / 10½ oz / 1⅓ cups Spanish Paella rice
pinch of saffron*
1 medium tomato, diced
1 litre / 34 fl oz / 4 cups hot vegetable stock (broth)
handful fine green beans, trimmed and halved (use fresh or frozen)
6-8 baby corn
80g / ½ cup cashews
salt, to taste
ground black or cayenne pepper, to taste
16 black pitted olives
sprinkling of green nori flakes or dried parsley
35g / ¼ cup toasted flaked almonds
* Saffron is the spice that gives Paella its distinctive yellow colour and creamy, nutty flavour. It is very expensive though. For a budget-friendly alternative, use ground turmeric (½ tsp)
Method
Infuse the saffron in a little hot water and prepare the vegetable stock.
Gently heat the oil in a large heavy-bottomed frying pan (skillet) and cook the onion until it starts to soften. Meanwhile chop the remaining vegetables.
Add the garlic, bell pepper, cumin and paprika to the pan, and cook for a minute or so. If it starts to stick, add a splash of water to loosen it. Stir in the rice and saffron (or turmeric). Add the tomato and vegetable stock to the pan. Bring to the boil, then reduce the heat and simmer for 10 minutes, uncovered.
Add the beans, baby corn and cashews, and cook for a further 10 minutes. Stir regularly towards the end of the cooking time. If the pan starts to dry out, add a little more stock or water.
When the rice is tender yet retains a bite, remove the pan from the heat. Season with salt and pepper, to taste. Serve on warm plates with a sprinkling of olives, nori flakes/dried parsley and toasted flaked almonds.
Any leftovers can be stored in the fridge for 24 hours. As with any rice dish, make sure the leftover rice is cooled quickly and refrigerated within an hour.
This paella is delicious served on its own, however Lil' L suggested that children may prefer it served with segments of toasted tortilla (like he does 😉 ) When the paella is nearly ready, simply place the tortillas under the grill and lightly brown on both sides.  This makes them nice and crunchy!
N.B. For a super child-friendly paella, use frozen peas and sweet corn instead of green beans and baby corn. Simply add them to the pan 5 minutes before the end of the cooking time.
[/print_this]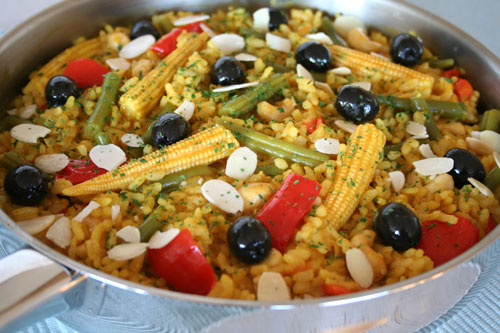 Enjoy! xx
This recipe has been submitted to Ricki Heller's #WellnessWeekend