WIAW Party Time!
Thanks, as always, to Jenn over at Peas and Crayons for hosting our virtual foodie feast. Jenn wrote an awesome post last Friday on the Glorification of Sugar, which really is worth a read.  I'm loving her Play with your Produce Pinterest board.  I can't imagine how any kiddie would be able to resist veggies when displayed in such fun and attractive ways 😉
Right time to get with my submission for this week's WIAW party (I'm already so late!)  This week, I thought I'd share our eats from Sunday.
Breakfast
As per usual on a Sunday, Lil' L asked whether we could have a 'special' breakfast.  As a change from pancakes, he asked whether we could have Apple & Cinnamon Monkey Bread.  We used to eat this a lot as a 'treat' breakfast, but I'd totally forgot all about it!  I remember taking this shot last time we ate it … back in September!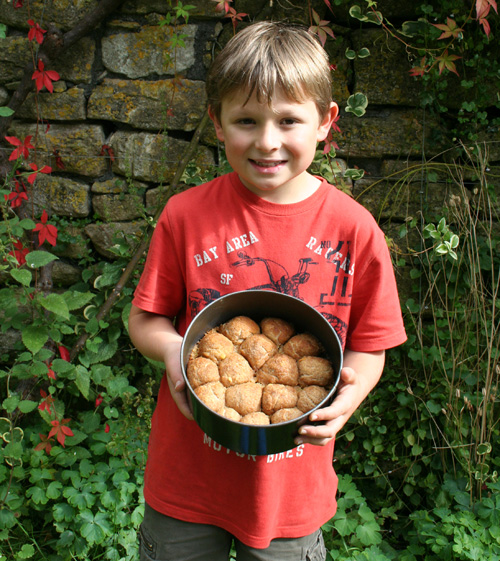 These little apple cinnamon bread balls really are delicious, and a great breakfast/brunch treat to make with the kids.  I'll type up the recipe and post it on Friday.

Lunch
For lunch, we  had Thai Vegetable Curry, leftover from Thursday evening.  This is one of our absolute favourite home-made curries.
I make my own Thai curry paste, so that it's mild enough for Lil' L (I also prefer it to the shop-bought pastes AND there's no waste as I freeze it in portions 😉 )   This time round, I doubled the quantities and I'm planning to use the second portion next week to make Thai Sweet Potato Soup.
After lunch, we had a hot chocolate made with Alpro Hazelnut Drink.  It's the first time I've used hazelnut milk in hot chocolate and it was delicious!  I also blended in some ground almonds and chia seeds to add protein and other yummy goodness.  I'll definitely be making this one again 🙂
In the afternoon, we munched on pretzels whilst watching Monster House on DVD (a very bizarre film IMO!)
Dinner
For our main meal, I made a Fruit and Nut Pullao Rice.   I was amazed to discover that the last time I made this dish was in 2011!!!
With its fragrant flavours, fruit and nuttiness, M and I love this dish… unfortunately Lil' L isn't so keen.  I thought I'd try again but alas no, it was still a thumbs down 🙁  He just doesn't like fruit flavours in his savoury dishes.
I had the leftovers today for lunch and it confirmed for me how much I like this dish.  Perhaps, when I try again in the future, I'll just add the fruits after I've taken out Lil' L's portion. That might work 😉
I know it says on my blog that all recipes are road-tested and approved by Lil' L, but I thought I'd publish this one anyhow.  I'm sure he'll approve of it one day 😉
Here's how I made it…
Serves 4
Hands on time: 15 minutes    Cooking time: 35 minutes
Ingredients
1 tbsp olive oil
2 cups brown basmati rice, rinsed and soaked for 20 mins – ½ hour
1 tsp ground cumin
3 cardamom pods
1 tsp ground cinnamon
1 tsp ground ginger
4½ cups vegetable stock (divided)
pinch saffron, steeped in a little hot water
juice and zest of 1 orange
3 medium carrots, cut into julienne sticks
handful green beans, trimmed and chopped
12 dried apricots, chopped
42g /  1½ oz / 1/3 cup pistachios
42g / 1½oz / 1/3 cup almond flakes, lightly toasted / dry-fried
1½ tbsp sweetener of choice  (I use Sweet Freedom)
sea salt & ground black pepper, to taste
sprinkling of hemp seeds (optional, for a nutritional boost)
Method
Rinse and drain the rice.  Gently heat the oil in a large saucepan.  Add the rice and spices (except the saffron), and stir until coated in the oil.  Add the saffron, 4 cups of stock, orange juice and zest.  Bring to the boil, and boil rapidly (uncovered) for 10 minutes.  Reduce the heat, cover with a lid and gently simmer for 20 minutes.
Meanwhile, add the remaining ½ cup of stock to a pan.  Add the vegetables, dried fruits and sweetener.  Cover with a lid and gently simmer for about 8 minutes or so, until the veggies are cooked through, but still retain a 'bite'.
When the rice is ready, remove from the heat and allow to stand for 5 minutes, still covered.  Remove the cardamom pods, and mix in the veggies, fruits and nuts.  Add salt and ground black pepper, to taste.  Sprinkle on hemp seeds (if using) and serve in warm bowls.
I'll be back again on Friday with the Monkey Bread recipe and to announce 3 winners of the Good Hemp Seed Giveaway.  The giveaway is open to UK residents until midnight tomorrow (Thursday 28th February 2012) so do make sure you enter if you haven't done so already!
Enjoy the rest of the week everyone! xx