Today, I'd like to share one of Lil' L's all-time favourite breakfasts.
I started making home-made granola about five years ago in response to Lil' L's dislike for the dried fruits that appear in shop-bought granolas.  After a week of picking out the raisins from a granola before serving it to him, I decided that life was far too short to waste time picking out dried fruit and that I would have a try at making my own granola instead!  By making it myself, I would be able to tailor the granola to suit all our tastes.  Lil' L loves nutty granola, I love a mix of nuts and dried fruits, while Mark will eat anything.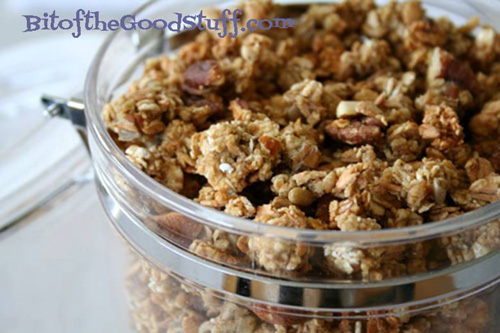 By making our own, we could also omit the refined sugars and oils that are found in shop-bought granolas and replace them with healthy, natural alternatives.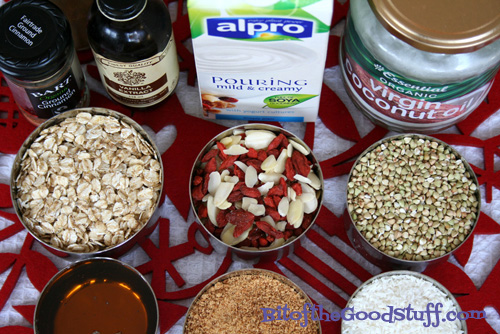 For breakfast, we love serving this granola with non dairy milk or yoghurt.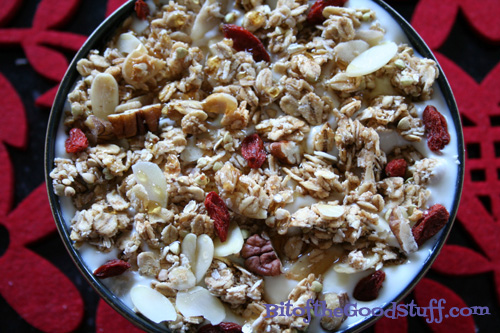 It is also delicious layered with yoghurt and berries in a parfait (we use frozen berries as they turn the yogurt a beautiful colour as they thaw!)  These can be served as breakfast, dessert or even a post-school snack.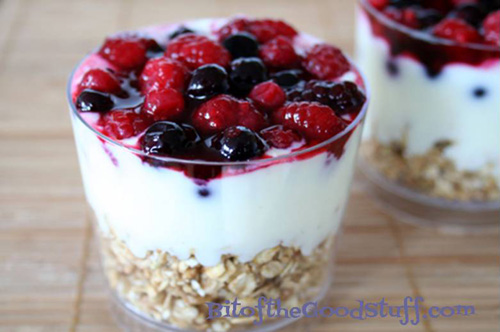 Please note that the recipe below has been updated in 2018 to bring it into line with the recipe that appears in the Bit of the Good Stuff cookbook.
[print_this]
It's so simple to make your own granola. In fact, with very little assistance, the kids could easily make their own! Lil' L prefers his granola to be "chunky cluster" and we've found a simple method of doing this which we've set out below.  
Makes approximately 5 cups (10 servings)
Hands on time: 10 minutes    Ready in: 60 minutes

Ingredients
300g / 3 cups rolled oats (use GF oats, if needed)

100 g / ½ cup buckwheat groats* (washed and drained)
40g / 4 TBSP fine wholemeal (whole wheat pastry) flour, chapatti flour or gluten-free flour
30g / ⅓ cup dessicated coconut

60g / ½ cup pecans, roughly chopped
30g / ¼ cup flaked almonds

30g / 3 TBSP coconut sugar or unrefined caster sugar
½-1 tsp ground cinnamon
pinch of ground nutmeg
¼ tsp sea salt
150ml / ½ cup maple syrup (or other natural liquid sweetener. I use Clarks Original Maple Syrup which is a carob and maple blend)
3 TBSP virgin coconut oil, melted

*I add buckwheat to my granolas as it's a great source of protein and adds another dimension of texture. In the UK, it's available in the wholefoods section of Tesco and from health food stores.  If you can't get hold of buckwheat, you can substitute with another ½ cup of oats or other grain.
 Method
1.  Preheat the oven to 150C (130C fan) / 300F. Line a large baking tray (38 x 26cm / 15 x 10 inches) with non-stick baking paper. If your coconut oil is solid, place it in a heat-proof howl in the oven for a couple of minutes to melt it (be careful when you remove it as the container will be very hot!)
2.  In a large bowl, mix together the oats, buckwheat, dessicated coconut, nuts, sugar, cinnamon, nutmeg and salt. Stir in the maple syrup. Pour in the coconut oil and stir until the grains are thoroughly coated.

3.  Spread the granola out evenly on the prepared baking tray and press down hard so that the mixture sticks together as if you were making a thin granola bar. Bake for 40 minutes, until the granola has lightly browned. Remove from the oven and allow to completely cool (it will firm up as it cools).
4. Break up the granola into clusters. (Don't worry if the pieces from the centre of the tray feel a little soft as I find they firm up over time). Stored in an airtight container in a cool place, the granola will keep for weeks.

5.This granola is delicious served with non-dairy milk or yoghurt, and a sprinkling of your favourite dried fruits, nuts and seeds. I often add a sprinkling of chopped walnuts and ground linseed for an omega-3 boost and goji berries for vitamin C.

[/print_this]
Pin for later ⬇️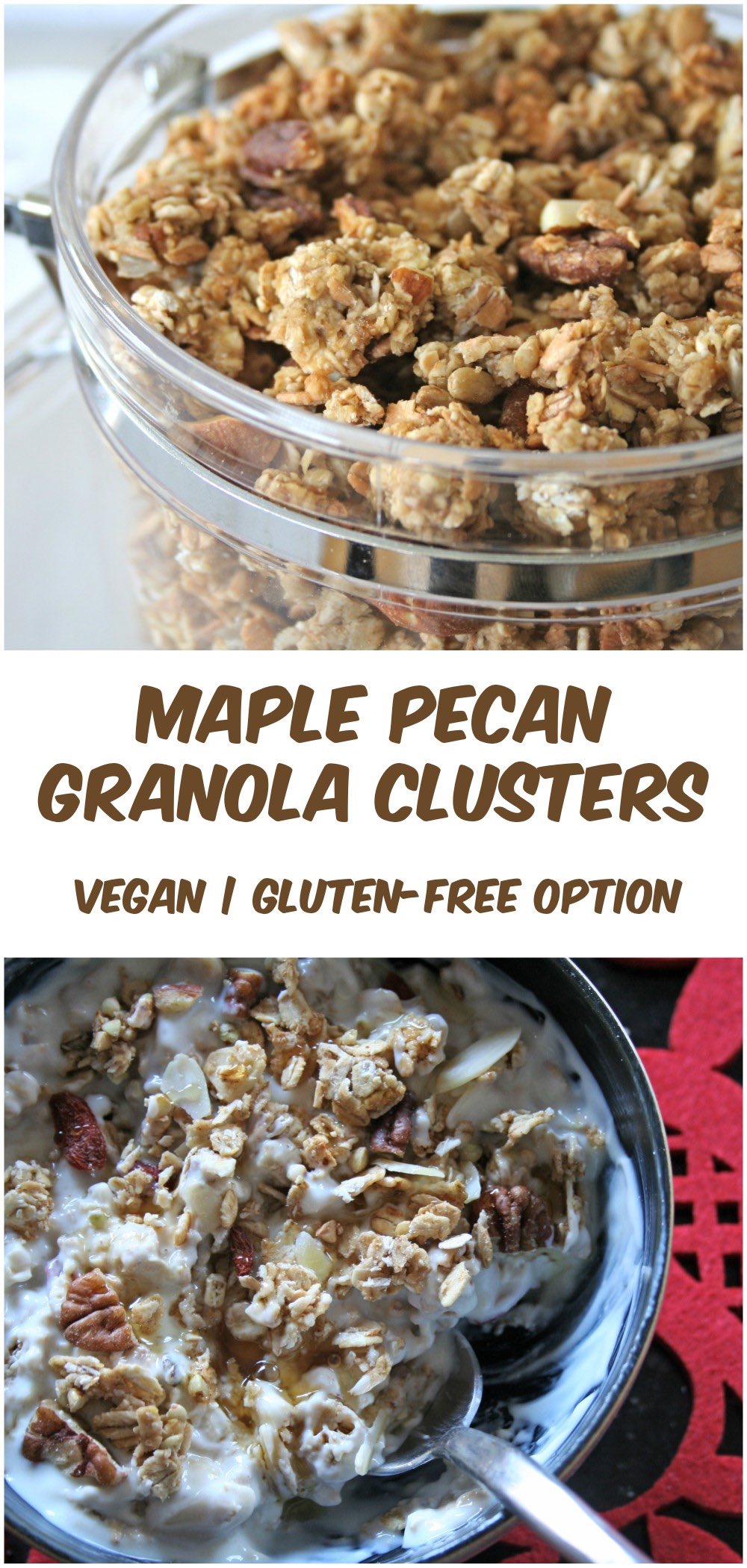 Last Christmas, I thought I'd treat Lil' L to some "luxury" shop-bought granola.  I bought two different brands for him, both of which included a selection of his favourite nuts and no dried fruits.  It turns out he didn't like either of them as they were "way too sugary"!  Instead, he asked whether he could have some of our home-made granola.  Since we'd run out, he was even prepared to postpone his Christmas Day breakfast for 45 minutes until a fresh batch was baked!  I wasn't expecting to be making granola on Christmas morning but I was happy to oblige. Thank goodness it only takes a few minutes to prepare!  We won't be buying shop-bought granolas any more.  Home made is best by a long shot!
And if you like chocolate, how about trying our chocolate clusters? Totally scrumptious and perfect for breakfasts, snacks and desserts 🙂
Have a great weekend everyone xx
Do you make your own granolas?  If so, what is your favourite flavour combination? If you have any published recipes, please do link up below.