I hope all the international mothers had a wonderful day of rest, relaxation and pampering last Sunday 🙂  Unlike the rest of the world, here in the UK we celebrate Mother's Day in March rather than in May but, despite this, last Sunday did feel like Mother's Day as we had lovely day out with my parents' in law at Wisley Gardens.  We even had some Mother's Day gifts for my mother-in-law as we didn't get to her on the UK Mother's Day.
www.rhs.org.uk/Gardens/Wisley/
Funnily enough, M thought it was Mother's Day last Sunday as the date was printed on his works calendar.  Shame I didn't keep my mouth shut otherwise I could have been in for another treat 😉  He said he was going to remind Lil' L to make me a card.   I didn't need another card though as the one I received on our first Mother's Day was perfect.  In fact, I still haven't put it away as it makes me smile every time I re-read it.  Here's what he wrote:
How sweet is that?
He sure knows how to encourage me to keep baking him treats 😉
Since he loves lemon cake so much, I thought I'd treat him (and M) to some lemon poppy seed muffins this week.  I'm happy to report that they turned out really well and received great feedback from the family 🙂  Even though they're made with wholegrain flour, they're light, fluffy and moist.
This is what they look like inside:
They're very easy to make.  Here's how I did it:
[print_this]
Lemon Poppy Seed Muffins (Dairy free, Egg free, Vegan)
Makes: 12 muffins
Hands-on time: 10 minutes    Cooking time: 20-25 minutes
Ingredients
280g / 10 oz / 2 cups fine wholemeal (wholewheat pastry) or chapatti flour (I use the latter)
2 tsp baking powder
1 tsp bicarbonate of soda (baking soda)
¼ tsp sea salt
1½ tbsp poppy seeds
100 ml / 3½ fl oz / ½ cup rapeseed (canola) oil
120g / 4¼ oz / ½ packed cup & 1 TBSP unrefined caster sugar (add up to 4 TBSP more sugar if you prefer sweeter muffins)
3 tbsp agave syrup (or maple syrup)
65 ml / 2¼ fl oz / ¼ cup freshly squeezed lemon juice (roughly 2 lemons)
zest of 2 lemons, finely chopped
185 ml / 6½ fl oz / ¾ cup fortified sweetened soya milk (or other non dairy milk)
1 tsp vanilla extract
2 tsp apple cider vinegar
1½ tbsp unrefined demerara (turbinado) sugar
To make gluten-free muffins, use a gluten-free flour blend, like the ones produced by Doves Farm. You may need to add a little more liquid (see instructions on the packet)
Method
Preheat the oven to 180C / 355 F / Gas 4.  Line a muffin tray with paper liners (or use  silicon moulds)
Sift the flour, baking powder, bicarbonate of soda and salt into a large bowl.  (If the wheat flakes are too large to be sieved, grind them finer using a coffee grinder or mini chopper).  Stir in the poppy seeds.
In a separate bowl, whisk together the oil, sugar, syrup, lemon juice, lemon zest, milk, vanilla extract and vinegar until completely combined.
Fold the wet ingredients into the dry ingredients, until just combined (do not over stir).
Spoon the mixture into the muffin cups, filling each about 3/4 full.  Sprinkle a little demerera sugar on top of each muffin.
Place in the pre-heated oven and bake for 20-25 minutes, until a toothpick inserted into the middle of a muffin comes out clean.  Leave to rest for a few minutes, then transfer to a cooling rack.  Once completely cool, store in an airtight container.  These muffins will last a week in the refrigerator and several weeks in the freezer.
[/print_this]
Here's another of our favourite muffin recipes: Mama Pea's Blueberry Streusel Muffin
And if you like lemon cakes, how about a slice of Vegan Lemon Drizzle Cake?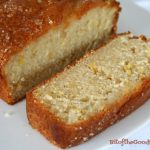 I don't know about you, but I find that muffins are a bit too big for me to eat in one go.  I often slice them and save half in the fridge for another day.  It's my birthday next month and on my wish list is one of these mini muffin trays.  They look so cute and this muffin size would be perfect for me.  They'll also be great for lunchboxes (and waistlines) too!
What's your favourite muffin flavour?  The next two flavours I'd like to try baking are raspberry & coconut, and maple syrup with maple glazed walnuts.  I just need to wait until I have a bit of space in the freezer then I can get recipe testing 🙂
Please note: This post contains an Amazon Affiliate link – if you click on the link and purchase something I will receive a small percentage from Amazon which will goes towards the development of Bit of the Good Stuff. Thanks in advance!