Today I'd like to share another one of my family's all-time favourite dishes – Moroccan Fruity Couscous. This is such a pretty dish, full of flavour and ready in just 20 minutes!
I made this dish for dinner last night, and was intending to blog it in the evening and join in 'Meatless Monday'. However, after a day of thunder, lightening and heavy rain, the weather had finally cleared by 7pm and the three of us were itching to get outside and make the most of the 'best part of the day'. Our short stroll turned into a 6 mile circular walk along the Kennet & Avon Canal & across Bath City centre. It was such a beautiful evening! Everything smelt so fresh after the rainfall, and the late sun was making everything sparkle.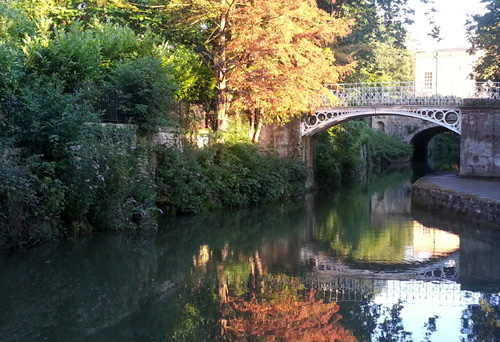 So here's the recipe, a day late but I'm sure you'll forgive me 😉
Serves 4-6
Hands on time: 20 minutes  Cooking time: 10 minutes  Ready in: 20 minutes
This gently spiced, fruity couscous is delicious served warm or cold. As a main meal, we like to serve it with a 'bready' side dish, either strips of warm flat bread, pitta bread, garlic bread or toasted tortilla segments. Any leftovers make great additions to lunchboxes.
I've kept this dish mild so that it's suitable for children, but feel free to spice it up with some chilli, Moroccan dried spices or harissa paste.
Ingredients
225g / 8 oz / 1 1/3 cups whole wheat couscous
6-8 sun-dried tomatoes, sliced
4 TBSP chopped dried apricots
4 TBSP sultanas
480ml / 16 fl oz / 2 cups boiling hot vegetable stock
1 TBSP olive oil, divided
1 red onion, finely chopped
2-3 garlic cloves, minced or pressed
1 small red pepper, finely chopped
1 small green pepper, finely chopped
1 medium courgette (zucchini), finely chopped
¼ – ½ tsp turmeric (use lesser amount for small children)
1 tsp cumin
1 tsp paprika
½ tsp ground cinnamon
¼ tsp ground ginger
2 TBSP fresh coriander or flat leaf parsley, chopped
4 TBSP flaked almonds
2 TBSP sesame seeds
2 TBSP shelled hemp seeds (optional, for a nutritional boost, including omega-3)
salt, to taste
Method
1.   Place the couscous, sun-dried tomatoes, dried apricots and sultanas in a heat-proof bowl. Pour on the boiling hot stock, cover and leave for 7 minutes. When ready, drizzle on a little olive oil (or oil from the jar of sun-dried tomatoes) and fluff up with a fork.
2.   Meanwhile, heat ½ TBSP oil in a large, deep-sided frying pan (skillet) and sauté the onion, garlic, pepper and courgette for 3 minutes. Stir in the dried spices, reduce the heat and continue cooking for 5 minutes. If the vegetables start to stick, add a little water to the pan.
3.   Heat a small frying pan on medium heat and dry fry the almonds and sesame seeds, stirring regularly until they are lightly browned.
4.   Tip the couscous into the large frying pan with the spiced veggies and gently stir until fully combined. Add the fresh herbs, almonds and sesame seeds (reserving a few for a garnish). Remove from the heat and sprinkle in the hemp seeds, if using. Season with salt, to taste. This dish can be stored for two days in the fridge.

In the UK, whole wheat couscous is available from Waitrose and Tesco, as well as from health food stores.
Next time I make this dish, I'd love to try a gluten-free version using home-made 'Cauliflower Couscous'. I've never tried this before but, from what I've seen on the web, it looks pretty easy.  Rather than using the cauliflower raw, I'm going to try steaming it first (until just tender), then whizz it in the food processor until it looks like couscous. I'll then add a touch of oil and combine it with the spiced veggies. Once I've tried it, I let you know how I get on.
Have you ever tried making cauliflower 'rice' or 'couscous'? If so, I'd love to hear how it turned out xx