The sun's shining, it's warm… has summer actually arrived at long last?  Apparently the temperature's going to reach a wopping 28C on Sunday! It would be wonderful if the good weather could hang around for a while but, whatever happens, I'm going to try and make the most of each and every bit of it 😉
Today I thought I'd share one of my all-time favourite summer desserts… Summer Fruits Cashew "Cheese" Cake.  I've decided that these "cheese" cakes are far too nice to reserve for birthdays only, so I've started making one or two a month and store them in the freezer.  Whenever we feel like a treat dessert, I simply remove some slices about 1/2 hour before serving.  Lil' L has been known to sit and stare at his slice waiting in anticipation for it to thaw, while I've just launched straight in and eaten it frozen (no willpower lol!)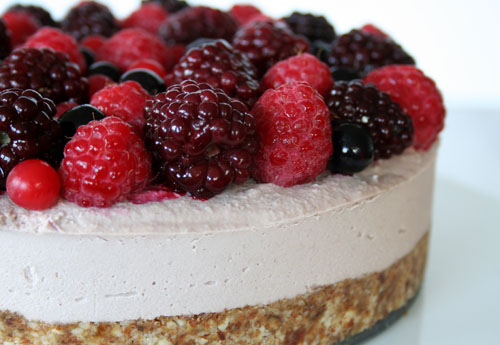 And the great thing is, you can tuck in to this dessert guilt-free as it's super healthy!  It contains no refined sugar or oils, it's filled with heart-healthy "good" fats and is cholesterol-free, making it a great, healthy alternative to regular cheese cake. It's also packed with nutrients, including lots of antioxidants in the form of vitamin C (from the berries) and vitamin E (from the cashews and almonds).
It's also very simple to make.  It's just a case of blending and freezing.
Here's the recipe:
Serves: 12
Hands on time: 20 minutes
Freezing time: 2 hours
Ingredients
Crust
150g / 5¼ oz / 1 cup raw almonds (or use a mix of almonds and pecans)
180g / 6¼ oz / 1 packed cup soft, pitted dates
1 tbsp maple syrup (or other liquid sweetener such as agave syrup)
1 tsp vanilla extract
pinch of salt
Filling
280g / 10 oz / 2 cups unsalted cashews
160ml / 5½ fl oz / ½ cup maple syrup (or agave syrup)
60ml / 2 fl oz / ¼ cup freshly squeezed lemon juice (approximately 2 lemons)
65g / 2¼ oz / ½ cup fresh berries
1 tsp vanilla extract
108g / 4 oz / ½ cup virgin coconut oil, liquefied
Topping
Mixed fresh or frozen summer fruits (e.g. blueberries, raspberries, strawberries, blackcurrants, red currants)
Method
Preparation
1.      Soften the cashews by pre-soaking them in water for 4-6 hours (can be left overnight) or by boiling them for 15 minutes. Drain and set to one side.

2.      Grease a shallow, loose bottom 20-23 cm (8-9 inch) tin and line the bottom with non-stick baking paper.
Crust
3.      Place the almonds in a food processor and process until they are crumbs. Add the remaining ingredients and pulse until combined. Test the crumbs by pressing them between your thumb and finger. If they stick together, they're ready. If not, continue to pulse for a little longer.
4.      Tip the crumbs into the prepared tin. Use the back of a lightly greased metal spoon (or bottom of a glass jar) to firmly press down to form a crust.
"Cheese" Cake Filling
5.      Rinse and drain the soaked cashews. Place them in a food processor or powerful high speed blender along with the liquid sweetener, lemon juice, berries and vanilla extract. Process for a few minutes until the cashews are completely grinded into a creamy mixture, stopping now and then to scrape down the bowl. Add the liquefied coconut oil and continue blending until the mixture is completely smooth. Taste test and add more sweetener, if required.

6.      Tip the mixture on top of the crust and smooth with a knife. Place in the freezer for about 2 hours, until it has firmed up. Decorate with fresh or frozen berries before serving.
7.      This dessert will last up to a week in the refrigerator and weeks in the freezer. If stored in the freezer, allow about 30 minutes to thaw before serving.
Products I used in this dessert:
Clark's Original Maple Syrup – available in all major UK supermarkets
Essential Organic Virgin Coconut Oil – I bought this from my local health food store in Bath, Harvest, but it's also available from a number of online stores, including Amazon.
Natco Cashew Kernals – currently on offer in Tesco £5 for 750g (available in the world food aisle in the larger supermarkets)
These past couple of weeks I've made lots of berry-based desserts.  While Lil' L will still run a mile if you offer him a plate of berries, he'll enthusiastically scoff his way through a big bowl of fresh berry jelly, sorbet, yoghurt or berry-packed smoothies.  To me, it doesn't matter how he eats the berries, as long as he does eat them and, equally importantly, enjoys them.
In addition to the berry "cheese" cakes, here are a couple more of his favourites:
Fresh Berry Jelly  (vegan / sugar-free)
We made this yesterday with strawberries and it was lush!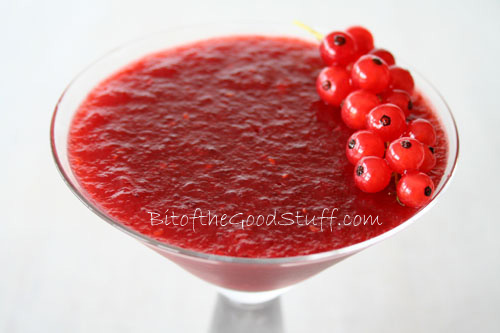 Strawberry Frozen Yoghurt  (vegan / dairy-free)
Simple to make and oh so yum!
 Have you been making any berry desserts lately?  What's your favourite?  If you've posted any recipes, do link up below!
Here's wishing you all a most wonderful weekend ♥
Have fun! xx
Please note: This post contains an Amazon Affiliate link – if you click on the link and purchase something I will receive a small percentage from Amazon which will goes towards the development of Bit of the Good Stuff. Thanks in advance!