One evening last week, M arrived home from work laden with punnets of strawberries, raspberries, tayberries and gooseberries from Cobbs Farm Shop in Hungerford.  I was literally jumping for joy!  Without a shadow of a doubt, the Cobbs Farm berries are the best I've ever tasted.  They are so flavourful and sweet… even the gooseberries can be eaten straight from the punnet without the need for any sweetener at all!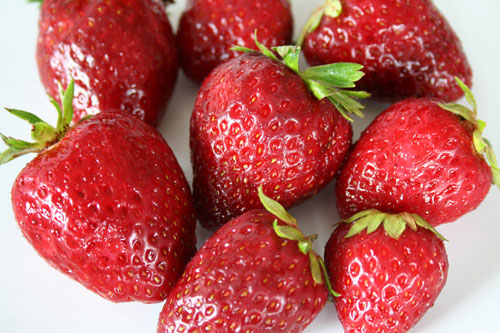 I quickly got to work rinsing and freezing the berries so that we can enjoy them in the months to come (and to save me from devouring them all in one go!)  I did, however, keep back one punnet of strawberries as I had a special dessert in mind for them…
Yes, I made another cashew "cheese" cake! 🙂  This time, I filled it with a vanilla and lemon cashew "cheese", and used the strawberries as decoration round the edge of the cake and on top.
And how was it? Well, it was absolutely delicious! It had a beautiful smooth texture and the flavour was spot on. I had hoped that it would last us at least a couple of weeks (stored in the freezer) but no, within 3 days it was all gone! I guess that's a sign of how much we loved it. It also received great feedback from Lil' L's best friend (another one of my little testers… I'm building up an army of them 😉 )
The cake is really simple to make.  If you'd like to give it a try yourself, here's how I made it:
Serves: 12
Hands on time: 30 minutes
Freezing time: 2 hours
Ingredients
Crust:
150g / 5¼ oz / 1 cup raw almonds (or use a mix of almonds and pecans)
170g / 6 oz / 1 cup soft, pitted dates*
1 TBSP maple syrup (or other liquid sweetener such as agave syrup)
1 tsp vanilla extract
pinch of salt
* If your dates are hard, soak in hot water for a couple of minutes then thoroughly drain
Filling:
280g / 10 oz / 2 cups raw cashews
160ml / 5½ fl oz / ½ cup maple syrup (or agave syrup)
4 TBSP freshly squeezed lemon juice (1-2 lemons)
4 TBSP water
1 tsp vanilla extract
108g / 3¾ oz / ½ cup virgin coconut oil, liquefied

Decoration:
17 medium size strawberries
Method
1.      Soften the cashews by pre-soaking them in water for 4-6 hours (can be left overnight) or by boiling them for 15 minutes. Drain and set to one side.

2.      Grease a shallow, loose bottom 18-20 cm (7-8 inch) tin and line the bottom with non-stick baking paper.
3.      Prepare the crust: Place the almonds/pecans in a food processor and process into crumbs. Add the remaining ingredients and pulse until combined. Test the crumbs by pressing a small amount between your thumb and finger. If they stick together, they're ready. If not, pulse a little longer.  Tip the crumbs into the prepared tin and press down firmly to form a crust.
4.      Place the drained cashews in a food processor or powerful high speed blender along with the syrup, lemon juice, water and vanilla extract. Process for a few minutes until the cashews are ground into a creamy mixture, stopping now and then to scrape down the bowl. Add the liquefied coconut oil and continue blending until the mixture is completely smooth (taste test to check for smoothness). 
5.      Slice 8 strawberries in half and arrange them round the inner edge of the tin, cut side facing out.  Spoon the cashew filling into the pan. Tap the pan on the work counter to remove any air bubbles. Place in the freezer for at least 2 hours, until it has firmed up.

6.      If you are not planning to eat all of the dessert in one go, it is best to store it in the freezer, where it will keep for weeks. When it has firmed up, slice it into portions and return it to the freezer.  Allow about 30 minutes to thaw.  Decorate the top of the cake with fresh berries just before serving. 
Products I used to make this dessert:
– Natco Cashew Kernels – currently on offer in the world food aisle in Tesco
– Aasani Almonds – available from the world food aisle in Tesco
– Essential Organic Virgin Coconut Oil – I bought this from Harvest in Bath, but it's also available from a number of online stores, including Amazon.
– Clarks Original Maple Syrup – available from Tesco, Asda, Sainsbury's supermarkets and from Amazon
– Magimix 3200 Food Processor
This recipe has been submitted to Ricki Hellers #WellnessWeekend and Gluten-Free Cat's Raw Foods Thursdays.
GIVEAWAY WINNERS!
Just before I go, I must announce the results of the Pink Himalayan Salt and Cacao Nib Grinder Giveaway. The entries were placed in chronological order and the winners selected at random, using Random.org.
My five lucky winners are…
2 – Ffion (Chocolate and Blueberries)
4 – Rachel
18 – Jen (@ Blue Kitchen Bakes)
34 – Jemima Carter
35 – Tamzin
Congratulations to you all! Please send me your postal address by Twitter DM (@GoodStuffSharon) or email (Sharon at Bitofthegoodstuff.com) and I'll arrange delivery of your goodies 🙂
Dan at Elements for Life has kindly given me a discount code for any of my readers that would like to purchase the grinders.  Just enter the code BUMPNGRIND at the checkout to receive 15% off during August and September.
Have a great weekend everyone ♥ xx
Please note: This post contains Amazon Affiliate links – if you click on the link and purchase something I will receive a small percentage from Amazon which will goes towards the development of Bit of the Good Stuff. Thanks in advance!