I remember my first attempt at cooking tofu back in the early 90s. I was loving the tofu dishes at my local Chinese restaurant and thought I'd have a try at recreating them at home. Sadly, it was a complete and utter fail!
Back then, I couldn't Google 'how to cook tofu' (it hadn't been invented!) My mum's kind neighbour came to my rescue though and told me that I'd missed out one crucial step – pressing the water out of the tofu. Since then, we've been happily cooking (and devouring!) all manner of tofu dishes at home 🙂
Over the years, I've tried various techniques for pressing tofu. I started out wrapping the tofu in kitchen paper, but wasn't keen on the waste it generated. I then tried wrapping the tofu in tea towels, but wasn't happy leaving soggy towels in the laundry. I finally worked out that you don't need to use paper or towels… you can simply press it between two chopping boards, and catch the water in a tray. It's so easy, and requires very little effort at all!
Here's my quick 'How to Press' Tofu Guide:
First off, you need to make sure you buy the right kind of tofu. You want the firm or extra firm tofu found in  the chiller cabinets (and not the silken tofu found in tetra paks on the shelves). The most common brand we see in our UK supermarkets is Cauldron Foods.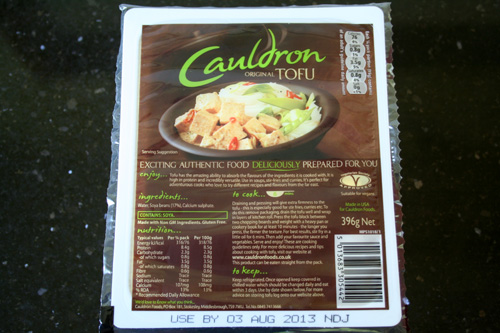 Split the pack open along one edge and drain off the water. Your block of tofu will look something like this: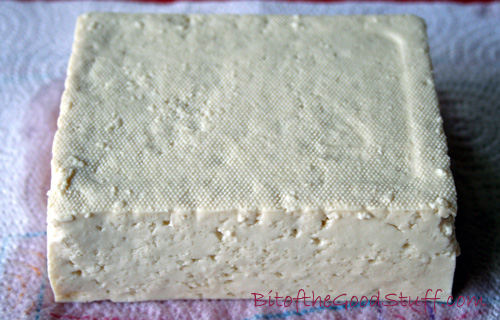 The block's quite thick, so I tend to slice it in half.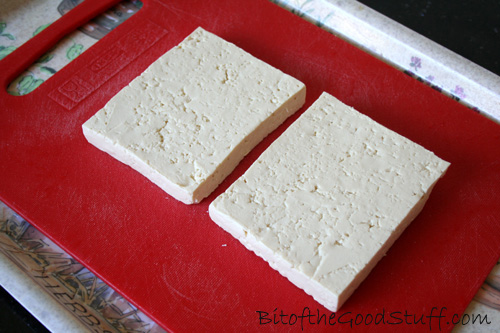 Arrange the tofu on a chopping board and place it on a tea tray or rimmed baking sheet. Place another chopping board on top of the tofu, followed by a heavy object to weigh it down. (* Update June 2015 – you can place the tofu straight on the tea tray/rimmed baking sheet; no need to place a chopping board underneath!)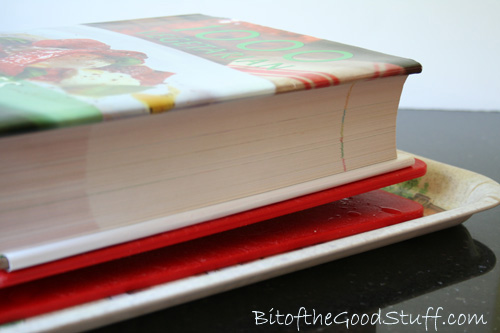 The longer you press the tofu for, the firmer it will become. Ten minutes is a minimum; I tend to leave mine for 30 minutes to an hour.
The water will have collected in a pool round the tofu, so drain it off, then you're good to go!
Sometimes I marinade the tofu in a mix of soy sauce, maple syrup, ginger and garlic then bake it. I find that baked tofu has a firmer, chewier texture to pan-fried tofu.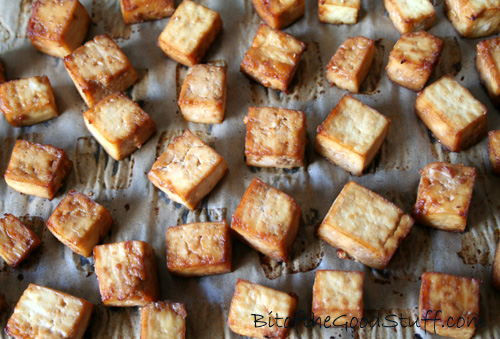 However, for stir-fry dishes that already have a flavourful sauce, I tend to skip the marinading and pan fry the tofu in a little soy sauce and oil. This gives the tofu a lovely, crispy exterior with a softer centre.
In this post, I thought I'd share one of Lil' L's favourite stir fries that uses pan-fried tofu. He's been eating it since he was about five and he still loves it to this day. This dish is rich in calcium thanks to the pak choy and tofu.
(By the way, it you're struggling to get your kids to eat their greens, I highly recommend pak choy as it all but disappears when cooked 😉 )
[print_this]
Serves 4
Preparation: 30 minutes pressing time for the tofu
Hands on time: 30 minutes  Cooking time: 20 minutes  Ready in: 1 hour
Ingredients
1 TBSP rapeseed (canola) oil
1 block extra firm tofu (approx. 350g / 9oz), drained, pressed and cubed
1 large aubergine (egg plant), peeled and cut into bite-size slices ½ cm / ¼ inch thick
1 red onion, chopped
2-3 garlic cloves, crushed
5cm / 2 inch piece of root ginger, peeled and finely grated (use half the amount for small children)
2 TBSP reduced-salt soy sauce (or tamari sauce for a GF option)
1-2 tsp unrefined sugar
1 TBSP rice vinegar
240 ml / 8 fl oz / 1 cup vegetable stock
1 tsp chilli sauce
125g / 4½ oz / 1½ cups chestnut mushrooms, sliced
170g / 6 oz / 2 packed cups pak choi, shredded
250g / 9 oz brown rice udon noodles (n.b. udon noodles contain wheat, so use brown rice or buckwheat noodles for a GF option)
Method
Get prepared:
Chop all the veggies
Prepare the vegetable stock
Prepare a large pan of boiling water

Ready, set, go!
Heat 1 TBSP oil in a large, deep non-stick frying pan (skillet) on a medium-high heat and fry the tofu for about 7-9 minutes, until it's golden brown on all sides (I use a slotted turner to flip the cubes over). Remove the tofu from the pan and set to one side.
Add the aubergine to the pan and stir-fry until it releases some of its liquid. Add the onion, garlic, ginger and soy sauce, and stir-fry for 2 minutes. Add the sugar, vinegar, vegetable stock, chilli sauce, mushrooms, pak choi, and cooked tofu. Gently simmer for 5 minutes.
Meanwhile, add the noodles to a pan of boiling water and cook as per the instructions on the packet. When al denté, drain, rinse in cold water and add to the wok. Stir through so that the noodles are coated in sauce.
Divide the noodles between the bowls and spoon the aubergine and tofu mixture on top. Serve immediately.
[/print_this]
[This recipe has been submitted to Ricki Heller's Wellness Weekend]
If you're rather buy ready-cooked tofu, there are some great options available in the shops. We love the Cauldon Foods Organic Marinated Tofu Pieces and I tend to keep a box or two in the fridge/freezer for quick prep meals and to stuff into pittas & wraps for lunchboxes. Their new Organic Smoked Tofu is really tasty too. It makes a great addition to our Malaysian Coconut Noodle Soup (Laksa). Another recipe I definitely need to share with you! ♥
Just before I go, I know soya has received some bad press lately so, if you're concerned, or would simply like to find out more about soya and its health properties, I highly recommend Viva! Health's 'The Soya Story', which can be downloaded for FREE from here. This guide is packed with useful information, as well as some great recipes!
Do you cook tofu at home? If so, what's your favourite dish? If you've got any great recipes, please do link up below xx