It took me a while to pluck up the courage to trying baking biscotti. I always thought it would be a challenge to achieve the perfect, crunchy texture. However, as soon as I spotted the biscotti recipes in Isa and Terry's Vegan Cookies Invade Your Cookie Jar, I knew it would all work out fine. This amazing little recipe book has never let me down yet.
Baking biscotti is way easier than I ever imagined… even with the double bake aspect to it.  I love experimenting with different flavour and ingredient combinations for the biscotti.  The chocolate and almond version has especially been a hit with everyone that's tried it 🙂
The recipe is based on Isa and Terry's 'Kitchen Sink Chocolate Biscotti' recipe. The ingredient quantities are only given in cups, so I weighed them today for anyone that doesn't use measuring cups (and that includes most of my friends and family!) Cups are readily available in the UK now so, if you do fancy trying more US/Canadian/Australian recipes, I highly recommend buying a set. You'll find them in the larger supermarkets (like Asda-Wal-Mart and Tesco), kitchen shops, as well as Amazon.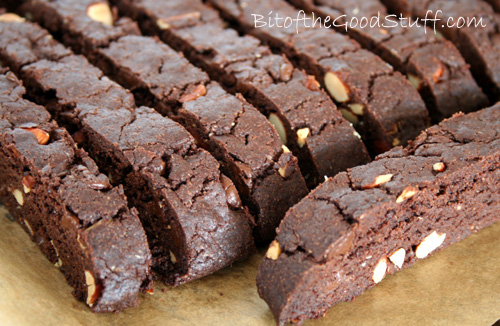 [print_this]
Makes: about 18 biscotti
Hands on time: 15 minutes    Cooking time: 1 hour    Ready in: 2¼ hours
Ingredients
60ml / ¼ cup soya milk
2 TBSP ground linseed (flaxseed)
100ml / ½ cup rapeseed (canola) oil (preferably organic)
200g / scant 1 cup unrefined caster sugar
2 tsp pure vanilla extract
135g / 1 cup plain (all purpose) flour
70g / ½ cup fine wholemeal (wholewheat pastry) or chapatti flour
55g / ½ cup cocoa powder
1¼ tsp baking powder
¼ tsp salt
75g / ½ cup whole almonds, roughly chopped
100g / ½ cup dark choc chips
Method
Get prepared:
Preheat the oven to 180C / 350F.
Line a baking sheet with non-stick baking paper.
Grind the linseed (if not pre-ground).
Coarsely chop the almonds.
Ready, set, go!
In a large bowl, whisk together the milk and linseed with a fork. Whisk in the oil, sugar and vanilla until smooth and caramel-like.  Sift in the flours, cocoa powder, baking powder and salt. Stir to form a smooth dough, then knead in the almonds and choc chips. Push any pieces that pop out back into the dough.
Place the dough on the prepared baking sheet and form a log about 25cm / 10 inches long by 10cm / 4 inches wide. Use a silicon spatula to level it out and round the edges. Bake for 30 minutes until the log is puffed and firm. Some cracking is okay. Place the baking sheet on a wire rack, turn off the oven and allow the log to cool for at least 45 minutes.
Preheat the oven to 160C / 325F. Very carefully slide the log off the baking sheet and onto a cutting board. With a sharp, heavy knife cut the log into ½-inch thick slices, using one quick and firm motion, pressing down into the log. Discard the end pieces if they are too browned. Very gently move the slices back onto the baking sheet, standing them on their bottom edge. Bake the slices for 26-28 minutes (they should appear dry, though the choc chips will still be wet and melted). Allow the biscotti to cool 10 minutes on the baking sheet, then carefully move them to a wire rack to complete cooling (warm biscotti will be fragile).
Check each biscotti slice and gently trim off any edges that are too browned using a sharp, heavy knife. I also like to slice the biscotti pieces in half again, as this makes a good size piece to enjoy with a cuppa (plus you can always go back for 'seconds' 😉 )
Store the biscotti in a loosely covered container (to prevent it going rock hard), where it should last a good couple of weeks.
[/print_this]
Products used in this recipe
Aasani almonds, found on the world food aisle in Tesco
Tesco Chapatti Flour, found on the world food aisle
Tesco Organic Rapeseed Oil
Morrisons Dark Choc Chips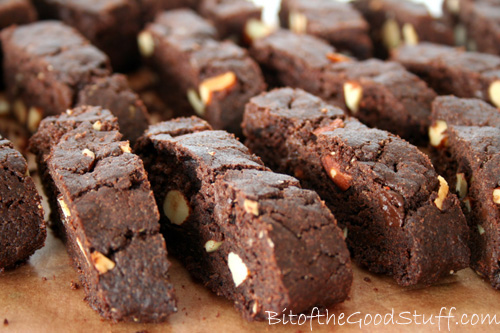 I've made lots of batches of biscotti this month. I don't know why, but I always think of December as 'biscotti month'!  I've really enjoyed sharing them with friends, family, my study group… and a homeless guy in Bath. His dog loved it too! (Don't worry, it wasn't the chocolate version 😉 )
I also made a batch today to give to Lil' L's teacher as a 'thank you' gift.
Do you like biscotti? If so, what's your favourite flavour?
Have you ever tried making it at home? If you've got any great recipes, please do link up below x