We're still loving our 'special' Sunday breakfast of freshly made pancakes. Lil' L now helps me in the kitchen and is enjoying making the pancakes as much (well, almost as much!) as he enjoys eating them. This week, we flavoured our pancakes with the same spices as our favourite
gingerbread cookies
. We couldn't wait for the taste test!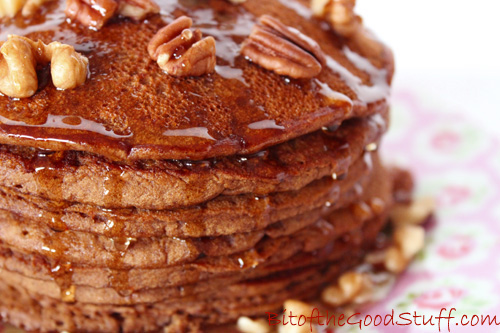 And the verdict? They were
utterly delicious!
And arguably the perfect pancake for this time of year. Spicy, warming and filling
♥
They also happen to be filled with goodness… The Blackstrap molasses fortifies the pancakes with iron, calcium and other trace minerals, while the addition of apple adds a healthy dose of antioxidants and dietary fibre. We used a gluten-free flour mix for these pancakes to see how it would hold up (it worked perfectly!), but they could easily be made with wheat flour too.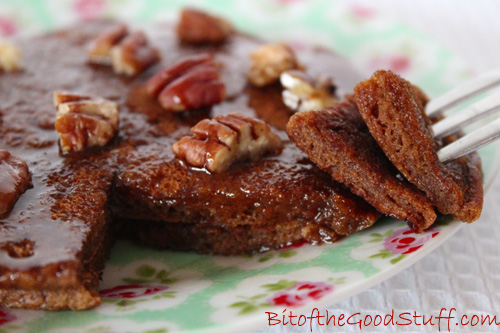 We like to top our pancakes with chopped walnuts and pecans, and a sprinkling of ground golden linseed. As well as adding a lovely texture, these toppings ramp up the nutrient factor, providing more antioxidants, protein and omega 3. And, of course, there's the obligatory drizzle of syrup 😉 The first pancake stack was devoured within minutes so, much to Lil' L's delight, I made a second batch to photograph. From the look of things, these won't be around long either 😉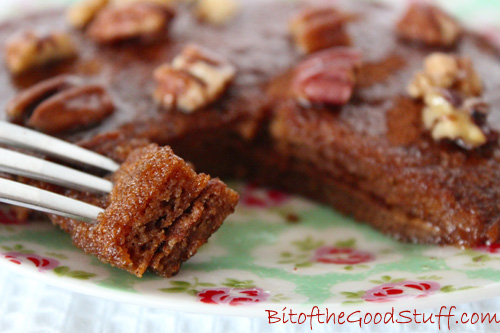 [print_this] Serves: 2-3 Hands-on time: 20-35 minutes    Ready in: 20-35 minutes Ingredients 1 ripe medium banana 250ml / 1 cup sweetened soya milk (see Notes) 2 TBSP Blackstrap molasses (or sub with black treacle/molasses) 70g / ½ cup wholemeal (whole wheat) flour, chapatti flour or gluten-free flour mix 35g / ⅓ cup rolled oats (quick oats not jumbo) 1½ tsp baking powder ½ tsp bicarbonate of soda (baking soda) 1 tsp ground cinnamon 1 tsp ground ginger pinch of salt ½ TBSP organic rapeseed (canola) oil (or other neutral tasting oil), for frying Suggested toppings Chopped walnuts and pecans Ground linseed (flaxseed) Maple syrup Method Peel and slice a banana. Blend the milk, molasses and banana until smooth, either using a jug blender or tall jug and hand blender. Add the flour, oats, baking powder, bicarbonate of soda, spices and salt, and blend until incorporated. If possible, use two non-stick frying pans (skillets) to halve the cooking time. Brush the bottom of the pan with oil and heat on medium heat. To check the pan is hot enough, flick some water drops into the pan. If it sizzles, the pan's ready. Pour ¼ cup of batter into the pan. Once the pancake starts to firm up round the edges, carefully flip over using a slotted turner. Continue cooking for a further minute or so, until the underneath is browned. Place the pancake in a warm oven while you prepare the rest. Any leftover pancakes can be stored in the fridge for up to three days. They make a great after-school or post-exercise snack! Gently heat through on the hob or in the microwave before serving. Notes * I've found soya milk to be the best milk for pancake making as it produces robust pancakes that are easy to flip over. You can substitute with almond milk in this recipe, but I would also highly recommend adding in 2 TBSP ground linseed (flaxseed) to help firm up the pancakes. [/print_this]
Products used in this recipe: Meridian Organic Blackstrap Molasses, available in health food shops and online stores Doves Brown Bread Flour
[This recipe has been submitted to Ricki Heller's Wellness Weekend]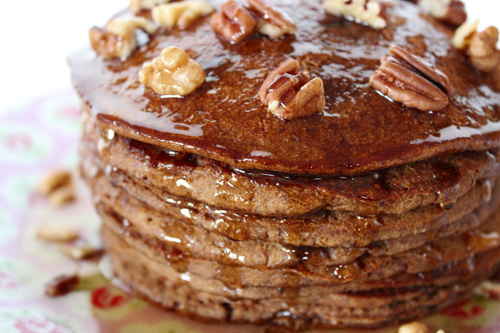 I'm sure these pancakes will make a regular appearance on Sundays now, in rotation with other favourites like
Apple Cinnamon
and
Banana
. We also love traditional crepes served with lemon and sugar. Lil' L reckons that our 'veganised' version tastes as good as the crepes he eats in France. Now that's a statement! I'll make sure I post the recipe in time for Shrove Tuesday 😉
Do you like breakfast pancakes? If so, what's your favourite flavour? If you've posted any recipes, please do share below.