Packed with an array of colourful, crispy vegetables that need only a brief moment in the pan, stir fries can be prepared, cooked and served far quicker than it will take you to order and pick up a take away!
Oh and did I mention, they're SUPER healthy too! ♥
For the majority of our dinners, I buy organic veg and chop it myself. However, when we need a super quick meal, I'll grab a couple of bags of the ready chopped stir fry veg from the chiller section in the supermarket. They're usually great value. My current favourite is the Essential Waitrose Vegetable Stir Fry which comes in at 92p for 300g.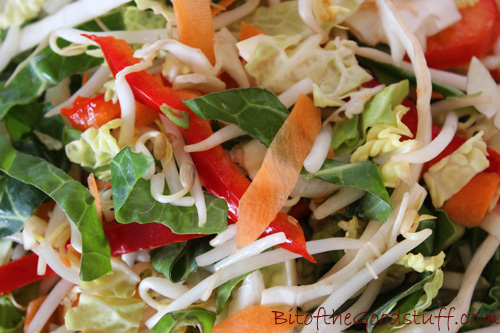 We tend to have a stir fry once a week, and one of our all-time favourites is served in a very simple, tangy peanut sauce. I absolutely love this sauce and have to resist spooning it into straight into my mouth (okay, I admit, there's been the odd slip up!)
Lately, I've been using Meridian natural peanut butter in the sauce. This is a fairly new-to-me product, but I'm already hooked on it. It's made with 100% nuts, so no sugar, salt or oil.  I actually prefer it to any other peanut butter I've ever bought. And so does M! In fact, the first couple of jars vanished so quickly, that I've just purchased 2 x 1kg tubs from GNC. That should keep him going a while 😉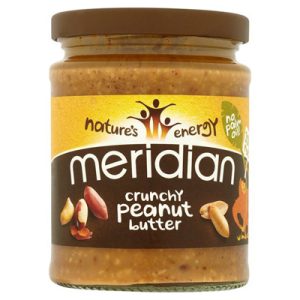 I made this stir fry for our evening meal on Christmas Eve. We arrived fairly late to my mum's in Dorset, so this was the perfect dish to throw together. It was cooked and on the table in 15 minutes flat. Not a conventional Christmas Eve dinner, but we loved it none the less!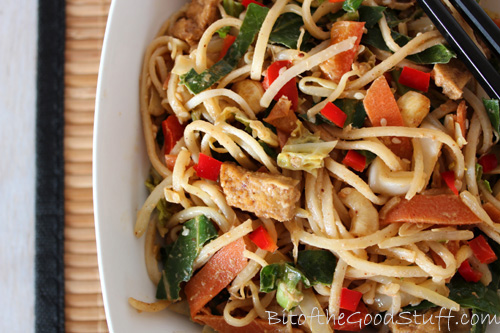 [print_this]
Serves 4
Hands on time: 15 minutes (if using ready chopped stir fry vegetables)
Cooking time: 8 minutes    Ready in: 15 minutes
Ingredients
Peanut Sauce:
2 TBSP tamari sauce (or reduced-salt soy sauce)
2 TBSP rice vinegar
1 TBSP maple or agave syrup
3 TBSP peanut butter
Stir fry:
1 TBSP groundnut oil (or oil of choice)
2 garlic cloves, crushed
5cm / 2 inch piece of root ginger, peeled and finely grated*
600g / 21 oz / 5-6 packed cups mixed stir fry vegetables (shredded white cabbage, beansprouts, sliced red pepper, finely julienned carrot, shredded Spring greens or pak choi, sliced onion)
27g / 1oz / ¼ cup cashews
80g / 3 oz / ½ packed cup marinated tofu pieces (e.g. Cauldron Organic Marinated tofu pieces), or substitute with another ¼ cup cashews
Sprinkling of toasted sesame seeds or shelled hemp seeds, for garnish
250g / 9 oz brown rice (or other wholegrain) noodles
*I peel my ginger, chop it into 1 inch pieces and store it in the freezer. I then finely grate it, straight from the freezer.
Method
Get prepared:
Prepare the peanut sauce by vigorously whisking together the ingredients in a small bowl using a fork, until fully combined.
Wash and prepare the vegetables.
Heat a large pan of water for the noodles.
Ready, set, go!
Heat the oil in a large non stick wok or deep-sided frying pan (skillet) on a low-medium heat and cook the garlic and ginger for a minute or two. Add the vegetables, turn up the heat to medium-high and stir fry for a couple of minutes. Add the peanut sauce, cashews and tofu, and stir fry for a further 5 minutes.
Meanwhile, cook the noodles according to the instructions on the packet, then drain and add to the pan. Gently stir through to coat in the peanut sauce. Serve on warm plates with a sprinkling of toasted sesame seeds or hempseed.
This dish is best eaten straight away. Leftovers can be refrigerated and eaten the next day, but the noodles may break up when reheated.
[/print_this]
Products we use in this recipe
Meridian Natural Peanut Butter, available in major UK supermarkets, health food shops and online stores
Cauldron Foods Organic Marinated Tofu Pieces, available in the chiller cabinets in Waitrose, Asda, Tesco and Sainsbury's
Clearspring Organic Tamari Sauce, available from Waitrose, Asda, health food shops and online stores.
King Soba Organic Brown Rice and Wakame Noodles, available in health food stores and online, including Amazon (with free delivery!) or Clearspring Organic Udon Noodles, available from Waitrose, health food shops and online stores.
Essential Waitrose Vegetable Stir Fry
This recipe has been submitted to Ricki Heller's Wellness Weekend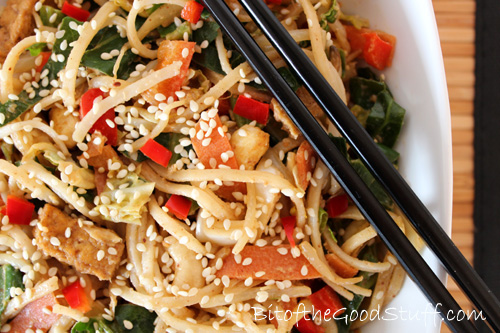 Next I need to seek out some packs of organic stir fry veg. I can't seem to find them in any of the main supermarkets in the UK. If anyone knows a store that stocks them, please let me know!
Do you regularly eat stir fries? If so, what's your favourite vegetable, sauce and noodle combination? If you've posted any recipes, please do link up below x
Disclaimer: This post contains an Amazon affiliate link. If you click on a link and purchase something, I will receive a small commission which will go towards the development of Bit of the Good Stuff. Many thanks in advance!