In 1992, Annie  and Giles Henschel, founders of the Dorset-based business Olives Et Al, set out on a year-long journey through the Mediterranean Middle East and North Africa. They fell in love with the regional food flavours and, upon their return, began a process to capture and recreate the authentic flavours of the Mediterranean and bring them to the UK.
On their website you'll see the vast array of food items they currently sell including olives, marinades, sauces, oils, nuts and snacks, as well as hampers and gift boxes.
Recently, I was lucky enough to receive a complementary Lord Love a Dukkah Hat Box. Inside this super stylish box, I was delighted to find the following:
– Moroccan Inspired Tapenade Marocaine with Preserved Lemons
– Sunshine Rosemary & Garlic Olives
– Very Deli Herbed and Pitted Olives
– Extra Virgin Olive Oil
– Egyptian Style Spiced Dukkah
Retailing at £25, this stylish quality box would make a fantastic gift for 'foodie' friends. This is the type of gift that I love to receive – a treat that I can share with others ♥
Mezze has got to be my favourite dining style, so this box couldn't have been more perfect for me! For get-togethers with friends and family, I love to whip up some houmous, baba ganoush, roasted almonds and chickpeas, lay out some dishes of olives, tapenade, oils, and salad leaves, and serve it all with a big pile of warm flat bread. While the conversation's flowing, everyone enthusiastically tucks in. Mezze is incredibly tasty, and very moreish!
Though Olives Et Al didn't know this, Dukkah is actually one of my all-time favourite spice mixes! I would describe its flavour as "warmly aromatic". Though the ingredients vary depending upon brand, I've always found Dukkah to be mild rather than hot. This makes it perfect for people (like me!) that can't handle much heat. The ingredients in the Olives Et Al Dukkah spice mix are: sesame seeds, coriander, cumin, almonds, hazelnuts, salt, garlic, thyme and black pepper.
Traditionally, Dukkah is served as a starter with bread and oil, but I also use it to flavour home-made breads and houmous. One of my current obsessions is Dukkah spiced roasted chickpeas. They're so simple to make and really versatile! They make a great addition to pasta, rice and salad dishes, can be mashed and used as a sandwich or wrap filling, or simply eaten straight up. They make a great snack too! I really should start making bigger batches as I can easily eat a can's worth of chickpeas in one sitting!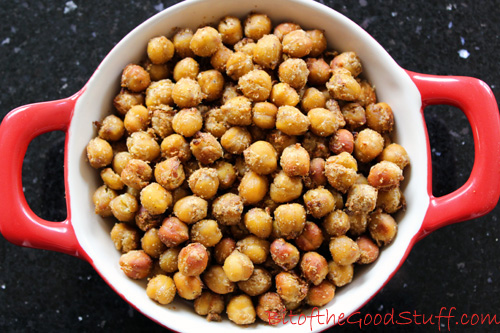 I absolutely love the nutty taste and texture of chickpeas. They're also super good for you! They provide slow release energy, help to control blood sugar levels and lower bad cholesterol levels. They're packed full of protein, dietary fibre, phytonutrients, B vitamins and minerals. Just one cup of cooked chickpeas provides 84% of the recommended daily amount of manganese, and 26% of iron!
The Dukkah spices also have great health benefits. Sesame, cumin and coriander seeds are packed with antioxidant and anti-inflammatory compounds, and rich in minerals including calcium and iron. Just one tablespoon of cumin seeds provides 22% of the recommended daily amount of iron!
[print_this]
Dukkah Roasted Chickpeas
Hands on time: 5 minutes    Cooking time: 25-30 minutes
Ready in: 35 minutes
Ingredients
400g / 14 oz can chickpeas (or 1½ cups cooked chickpeas)
1 tsp extra virgin olive oil
1 tsp maple syrup
1 TBSP Dukkah spice mix

Method
Get prepared:
Preheat the oven to 190C / 375F.
Line a large baking sheet with non stick baking paper.
Grind the Dukkah spice mix into a powder using a mortar and pestle or grinder.
Ready, set go!
Thoroughly drain the chickpeas and place in a bowl. Add the oil, syrup and spice mix. Stir to coat then spread them out on the prepared baking sheet. Using a silicon spatula, scrape out any remaining spice mix from the bowl and spread it onto the chickpeas. Roast for 25-30 minutes, stirring half way through the cooking time. After 25 minutes roasting time, I find that the chickpeas have a slightly softer, chewier texture (which I personally prefer), while after 30 minutes they become harder and crunchier.
Leave to cool and store in an airtight container in the refrigerator, where they will last up to five days. Over time, I find the chickpea texture changes and becomes chewier (it's different but still nice!)
Notes
Roasted chickpeas are great in pasta and rice dishes, or roughly mashed for a sandwich or wrap filling, served with salad and avocado. They can also be eaten straight up as a snack.
I highly recommend making a double or triple batch as they go quick!
[/print_this]
Products used in this recipe
Tesco Organic Chickpeas (they're packaged in a tetra pak)
Olives Et Al Extra Virgin Olive Oil
Clarks Original Maple Syrup
Olives Et Al Spiced Dukkah
Have you heard of Dukkah or used it yourself? If so, what's your favourite way to serve it? If you've published any recipes, please do link up below x