Today I am delighted to share a guest post from Ash, who works for the animal charity Viva! I first came into contact with Ash after eyeing up his Muffaletta on Twitter! I was so wowed by it that I asked if he'd share the recipe, along with an insight into his work at Viva! Wait till you check out that sandwich. Lil' L & M are going to be so impressed when I make it for them!
Over to Ash….
Hello Good Stuff readers, I'm Ash and I work for Viva! – one of the few animal charities out there who actually tell the ugly truth and are motivated exclusively by improving the quality of life of ALL animals. Have a look at our current campaigns.

I am lucky that when I'm not doing techy stuff I get to be involved with other things like fundraising and foodie things. For instance some of us made a series of instructional food videos – showing people that vegan cooking is not rocket science. This is part of our initiative to extent the success of Veganuary, and give people a wealth of cooking tips and recipes for a whole month. It's called the 30 Day Vegan.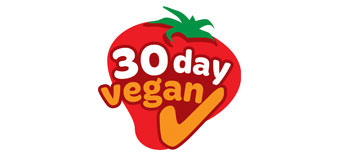 Another awesome thing I get to do is co-ordinate supporters' fundraising challenges. This comes under the heading of Team-Viva!. This year we are building up the number of people taking part in running events – an activity dear to my heart after training my little legs off last year for the Bristol Half Marathon. It's not just about running though, so if you want to partake in any sponsored activity (cake bake, sponsored silence, world's largest vegan sausage, for example) please get in touch!
I became acquainted with BitOfTheGoodStuff through Twitter, after being complimented on a particular food post I uploaded one lunchtime. It was for a vegan muffaletta which (as well as having a funny name) is a deliciously impressive, and speedy dish to whip up.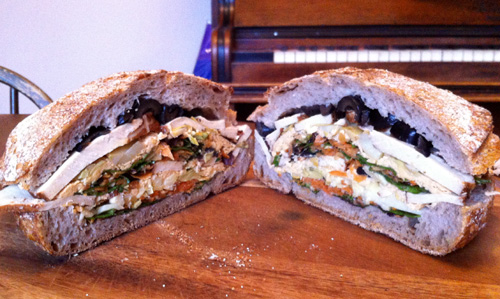 Ash's Vegan Muffaletta
The word Muffaletta is Italian for "Massive Sandwich". Of course what you fill your massive sandwich with is a question of personal preference, however I can certainly vouch for the fillings below.
Round sour dough (approximately the size of your head)
Taifun smoked tofu
Lettuce
Carrot
Tomato
Toasted Sesame Seeds
Sliced vegan cheese
Black Olives
Artichoke
Cut your sourdough loaf in half lengthways.
Pull out some of the soft bread in the middle to allow room for the maximum amount of filling.
Prep your ingredients, slice your cheese and tofu. Make the lettuce, carrot, tomato and sesame seeds into a little salad.
Start layering onto the bottom half of the loaf – Tofu, olives, salad, cheese, artichoke – repeat until the fillings protrude out the top of the loaf.
Carefully squish down the fillings with the top of the loaf. But if you think there's room for more filling don't hold back – open it up and try and fit more in!
For maximum aesthetics, cut in half. And cut like a cake into eighths and serve.
Thanks for checking out this recipe. You can read and contribute to Viva!'s database of 1000's of vegan recipes at veganrecipeclub.org.uk
Thank you so much Ash for guest posting today and sharing your awesome recipe ♥
Viva! is an incredible charity and one that is very close to my heart. I've been a supporter for many years now and Lil' L and I actually volunteered at the Incredible Veggie Roadshow when it came to Bath in 2010. We had such a blast handing out leaflets, chatting to people and encouraging people to check out the event. I promise you, no one could resist that Lil' cutie 😉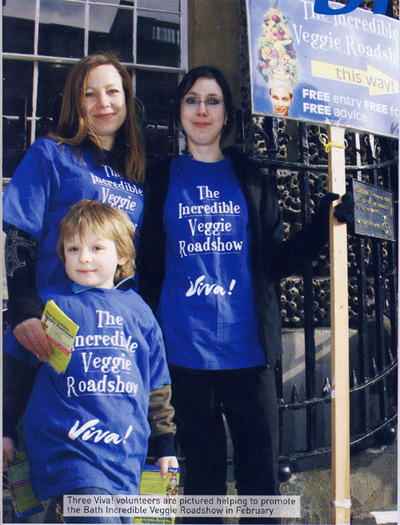 The next Incredible Veggie Roadshow is in Gloucester on Saturday 26 April 2014 so, if you're within the vicinity, do check it out!