During the Easter school holidays, we were fortunate enough to be able to escape wet England and spend a couple of weeks on the volcanic island of Lanzarote. This is is our fourth visit to the Canary island. There's clearly something special about this place that keeps drawing us back  ♥
Regardless of how busy the main resorts are, within a few minutes you can get away from it all and find complete peace and solitude.
All three of us 'unplugged' for the trip (no phones, iPads, computers, video games) and it was utter bliss! Lil' L never run out of things to keep him occupied. In his 'down time' he sketched and read (the NERDS series by Michael Buckley was popular this holiday) …
… while the rest of the time he was swimming, playing tennis, exploring, rock climbing, or playing on the beach.
When I asked him to name his 'top three' holiday highlights he said 'swimming in the sea with the beautifully coloured fish'; 'the Aqua Park'; and 'spending time as a family' ♥
It's funny how the littlest of things can totally captivate me….
… like finding this tiny yellow flower happily growing on the beach in a volcanic rock shelter ♥
During our time away, I was studying for a Buddhist exam but luckily I could do this anywhere – at the cafes, on the beach, sitting on a rock, in a lava tunnel.
Most days I went for a morning run along the sea front which was totally exhilarating (the winds were seriously strong!) M also hired a mountain bike and went exploring in the volcanic national park.
Once he'd pedaled to the top, he paused for a moment to take in the views…
… then munch his box of home-made trail mix (see even he's started taking food photos now!)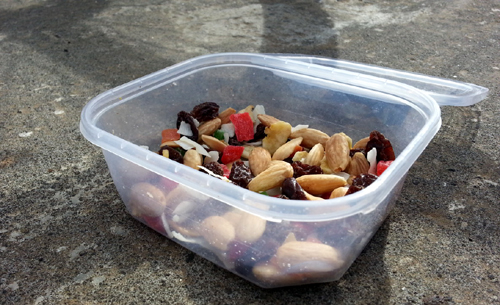 Talking of food, we ate really well this holiday. Most days, we prepared our own lunches. We ate lots of fresh salads, accompanied by six-seeded multigrain bread that was so fresh from the bakery that it was still warm ♥
All the restaurants we visited had veggie options on their menu or were happy to accommodate us. I'm so grateful for this as I don't think demand for veggie food is very high in Lanzarote! Pretty much everyone I saw was tucking into meats – steaks and racks of ribs the size of plates (literally!) – and chips. Not a veggie in sight!
In the Italian restaurants we asked for vegetarian pizzas without cheese, and they were utterly delicious! When you ask for a cheeseless pizza, they tend to substitute the cheese with lots of extra yummy grilled veggies 🙂
Another favourite was the veggie fajitas at the Mexican restaurant. A huge plate of sizzling veggies came accompanied with a bowl of chilli beans, rice, salsa, guacamole, sour cream (which I left) and tortillas. While M and Lil' L ate a small amount of eggs and dairy this holiday (mainly ice creams), I chose to stay 100% plant based. It just suits me better.
All three of us agreed that this trip was easily as good as our previous trips to Lanzarote, if not better! I think we all cherished every moment of it ♥
Back home, life's returned to its usual level of 'busyness', but I'm still determined to strip back and 'declutter' my life in pursuit of the 'simple life' that I yearn for. I'm still very far from that place but if I keep steering myself back on track, hopefully I'll get there one day.
SaveSave