One of my first ever blog posts, back in June 2011, was about 'crispy kale' and, to this day, it remains one of my all-time favourite snacks ♥
While a lot of health food bloggers are currently enjoying raw kale salads or kale smoothies, my taste buds aren't quite there yet. I do, however, LOVE crispy kale and will happily munch my way through handfuls of the stuff.
Crispy kale is also one of the best ways I've found to encourage Lil' L to eat kale. I often put a bowl out as a starter or as a side dish and, before I even get to sit down at the table, the whole lot's been demolished!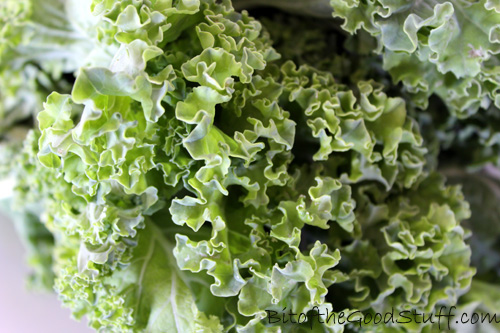 Over the past three years, I've been refining the way I make my crispy kale. In the early days, I had the oven temperature too high, so the kale would quickly burn on the edges. I've slowly lowered the temperature from 180C, and found 150C to be spot on – the kale becomes totally crispy with no burned edges or soggy leaf in sight.
Roasting the kale at the lower temperature also makes it stay crispier for longer. In an airtight container, it will stay crispy for days. (I've only trialled storing it for test purposes mind you, as there's never any leftovers in my house!)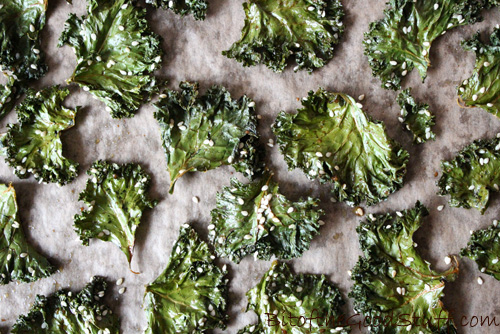 My favourite way to serve crispy kale is with a touch of salt, sugar and sprinkling of toasted sesame seeds. I tend to grind the sesame seeds first, as it helps them to stick to the kale leaves. As you probably know, ground toasted sesame and salt is a Japanese seasoning called 'gomasio'. You can buy it ready made in health food stores, but it's super simple and cheap to make yourself.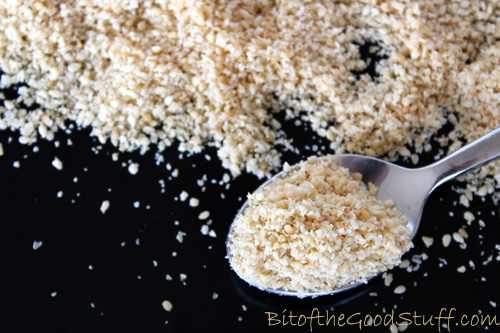 I use gomasio as a seasoning for lots of our Asian dishes, including stir fries. Since I like to liberally sprinkle it on, I only add a small amount of salt. I find that toasted sesame has a great flavour anyhow. It just needs a touch of salt to make the flavour 'pop'.
Thanks to the two main ingredients – kale and sesame – this is one super healthy snack! Just one cup of cooked kale provides 354% of the recommended daily amount of vitamin A, 89% of the vitamin C, and 1328% of vitamin K! Kale also provides good amounts of calcium and iron, as well as protein, dietary fibre and omega 3 essential fatty acids. Sesame seeds are also packed with antioxidant and anti-inflammatory compounds, rich in minerals including calcium and iron, and a good source of protein, dietary fibre and B vitamins.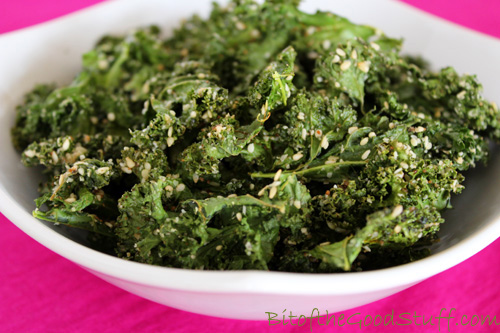 Here's the recipe for what is, for me, the perfect crispy kale. I hope you enjoy it as much as I do!
[print_this]
Crispy Kale (aka Kale Chips)
Great as a starter, side dish or as a snack on its own, its taste is not dissimilar to the crispy seaweed served in Chinese restaurants. We love to flavour our crispy kale 'sweet and salty', but feel free to experiment with your favourite spice mixes.
Serves 2-3
Hands on time: 6 minutes    Ready in: 20 minutes
Ingredients
4 large handfuls of curly kale, thick stalks removed (about 100g)
½ – 1 TBSP coconut sugar or unrefined caster sugar
¼ tsp salt
½ TBSP olive oil
3 TBSP gomasio (see below) or sesame seeds
Method
Preheat the oven to 150C (130C fan) / 300F. Line two large baking sheets with non stick baking paper.
Wash the kale and tear into large bite-size pieces (the kale will shrink as it cooks). Use a salad spinner (or kitchen paper) to dry the kale. Place the kale in a bowl and give it a final dab with kitchen paper. Sprinkle in the sugar, salt, oil and sesame seasoning. Massage the kale with your hands until it is fully coated in oil.
Spread out the kale out on the prepared baking sheets. Make sure that none of the leaves overlap or are folded over,  otherwise they will steam (rather than roast) and won't crisp up. Depending on the amount of kale you have and the size of your baking sheets, you may need to cook the kale in two batches.
Place in the oven and cook for 14 minutes. Check the leaves. If they are not 100% crispy, continue cooking and check at 2 minute intervals.
Crispy kale is most delicious eaten warm, straight from the oven. However, it can be stored in an airtight container where it will keep for up to a week.
[/print_this]
[print_this]
Gomasio
This makes a wonderful seasoning for stir fry dishes as well as crispy kale. The authentic version is made with unhulled sesame seeds but I tend to use the hulled variety (as that's what I have in my store cupboard!) The traditional ratio of seeds to salt is about 15:1, but I prefer to use slightly less salt so I can sprinkle to my heart's content!
Makes: about 80g / ¾ cup
Hands-on time: 5 minutes    Ready in: 10 minutes
Ingredients
80g / ¾ cup sesame seeds
¼ tsp salt
Method
Toast the sesame seeds in a dry frying pan (skillet) on a medium heat, stirring continuously until they start to turn golden and fragrant. Tip onto a plate and leave to cool. Roughly grind the sesame and salt with a mortar or pestle, or electric coffee/spice grinder. If using an electric grinder, you will only need a couple of quick blasts and the gomasio is ready (too much grinding and you'll end up with sesame butter!)
Store the gomasio in an airtight container in the fridge, where it will keep for weeks.
[/print_this]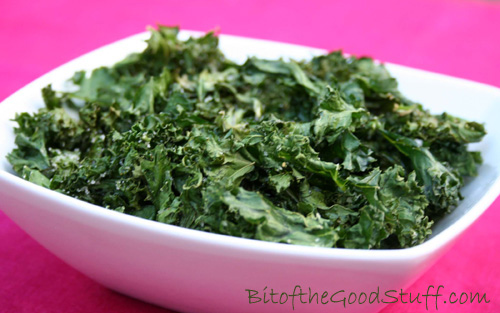 Do you make crispy kale / kale chips? If so, I'd love to hear what your favourite seasoning is. Have you tried Chinese, Mexican or Indian spices yet?
SaveSave
SaveSave
SaveSave