For my second submission to the Suma Bloggers Network, I thought I'd share our Sweet Potato, Red Lentil and Coconut Curry. I've been making this dish since Lil' L was a toddler and, to this day, it remains one of his favourite dinners. Every time I make it, his chatter stops and all you hear is 'mm… mm' as he woofs it down.
Lil' L has never really liked white potato (he finds it bland), but he loves sweet potato. With its sweet taste and beautiful orange colour, I bet it's a hit with a lot of kids.
And another great thing about sweet potato is its nutritional profile. It's literally packed with antioxidants. Just one medium potato contains 438% of the vitamin A RDA and 37% of the vitamin C RDA. It's also rich in vitamin B6, manganese, potassium, and a good source of dietary fibre. [Source]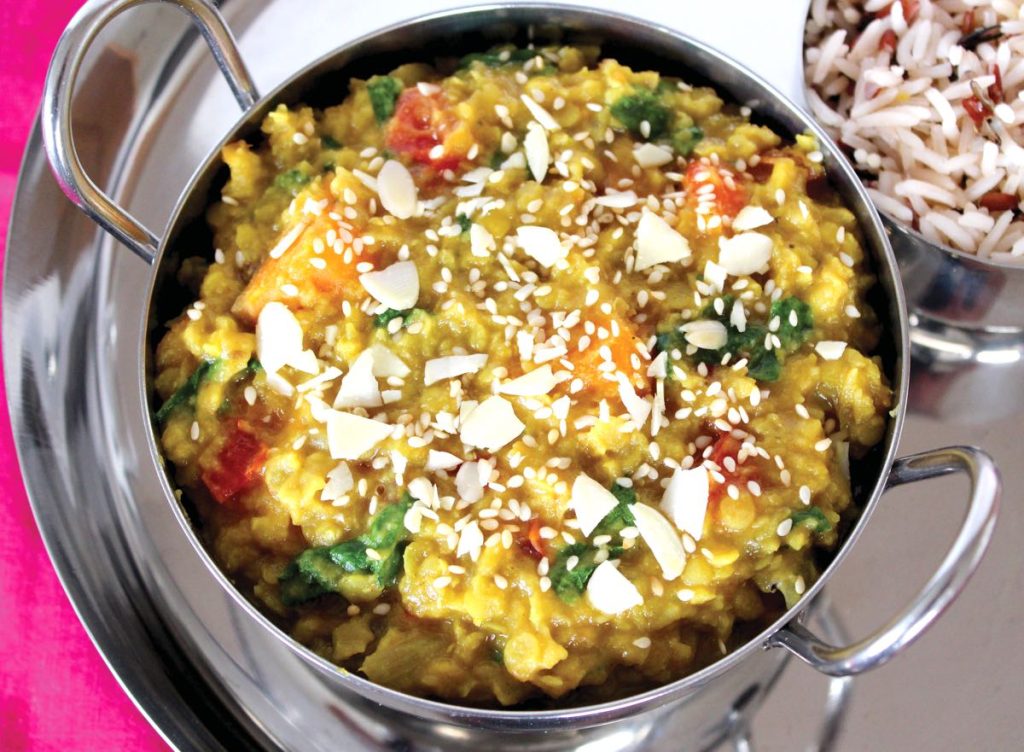 For a protein and iron boost, I add red lentils to this curry which all but disappear into the sauce (perfect for picky kids). I also throw in a couple of handfuls of spinach. With its soft texture and neutral flavour, this has to be one of the most kid-friendly greens.
To keep this curry quick and simple to prepare, I use a ready-made curry paste. Pataks Korma Paste is my favourite as it's mild enough for kids, and the spice blend is a perfect compliment to the sweet potato and coconut. You can also buy this paste in little 'travel' size pots which is really handy for self-catering vacations. (This is what we took on our road trip to France).
For creaminess and a beautiful hint of coconut flavour, I use creamed coconut. I really like this ingredient as it's 100% coconut, cheap to buy and lasts ages. Here in the UK, Creamed coconut is available from large supermarkets in the UK (on the world food aisle) and health food shops. It's also available online.
[print_this]
With its sweet, mildly spiced flavour and soft, creamy texture, this curry is perfect for all the family. It's quick and easy to prepare, so great for busy week day nights. For a full-blown Indian feast (perfect for weekends and dinner parties), serve with side dishes of rice and chappatis or naan bread, and an entrée of poppadoms, onion bhajis and fresh mango chutney.
Serves 4-5
Hands-on time: 20 minutes
Ready in: 35 minutes
Ingredients
1 TBSP oil
1 large onion, finely chopped
3 medium sweet potatoes (about 500g), scrubbed and cut into bite size chunks (peeling is optional)
2 TBSP curry paste (use mild curry or korma paste for children)
140g / ¾ cup red lentils
1-2 TBSP mild curry paste
750ml / 3 cups hot vegetable stock
1 large tomato, finely chopped (or you can substitute with tomato puree (paste)
50g / ¼ cup creamed coconut, finely chopped
2 handfuls of spinach, roughly chopped
Suggested garnish
Handful each of flaked almonds and sesame seeds, lightly toasted
Method
Heat the oil in a large heavy-bottomed pan and cook the onion and sweet potato on a medium-low heat for about 6 minutes, stirring occasionally.
Meanwhile, place the lentils in a fine mesh sieve and rinse under cold running water, agitating with your hand until the water runs clear. Prepare the vegetable stock.
Add the curry paste to the pan and cook for a couple of minutes. Add a touch of water, if needed, to loosen the mixture. Stir in the lentils until coated in curry paste. Add the stock, tomato and creamed coconut. Bring to the boil, then reduce the heat and simmer, uncovered, for 15 minutes. When the potato and lentils are tender, stir in the spinach and continue cooking until it has wilted.
While the curry is simmering, prepare the garnish. Place the flaked almonds and sesame seeds in a dry frying pan (skillet) and cook on a medium heat, stirring continuously. As soon as they start to brown and become fragrant, remove from the heat.
Remove the curry from the heat and leave to rest for a couple of minutes. Taste test and adjust the seasoning to suit. Sprinkle on the garnish and serve.
Any leftover curry can be stored in the fridge for five days or for weeks in the freezer.
TIP
Sometimes the block of creamed coconut can have a layer of coconut oil in it. It's easy to spot as it's bright white in colour. In curries, use only the opaque cream-coloured section of the block. The coconut oil can be saved for other recipes.
Notes for serving to young children
For really young children, I would recommend giving their curry a quick blast with a stick (immersion) blender to make a chunky purée. For children that have an aversion to onion or spinach, whizz them in a mini food processor before adding them to the pan (the veggies, not the children!) That way, they're so small they won't detect them.
[/print_this]
This curry is so easy to prepare and cheap (it costs literally a few pence per portion). It's also far healthier and less calorific than take-outs. So, next time you're craving a curry, head into the kitchen and make your own. In less time than it takes to get a take-out, you'll be tucking into your own delicious curry and have saved yourself a small fortune. Now that's my idea of the perfect fast food!
With love,

SaveSave