As part of their Healthy Smiles campaign, SimplyHealth invited me to take part in a competition to design a recipe using ingredients featured in their Infographic for healthy teeth. As soon as I saw the list, the recipe that sprung to mind was my family's favourite Chinese stir fry ♥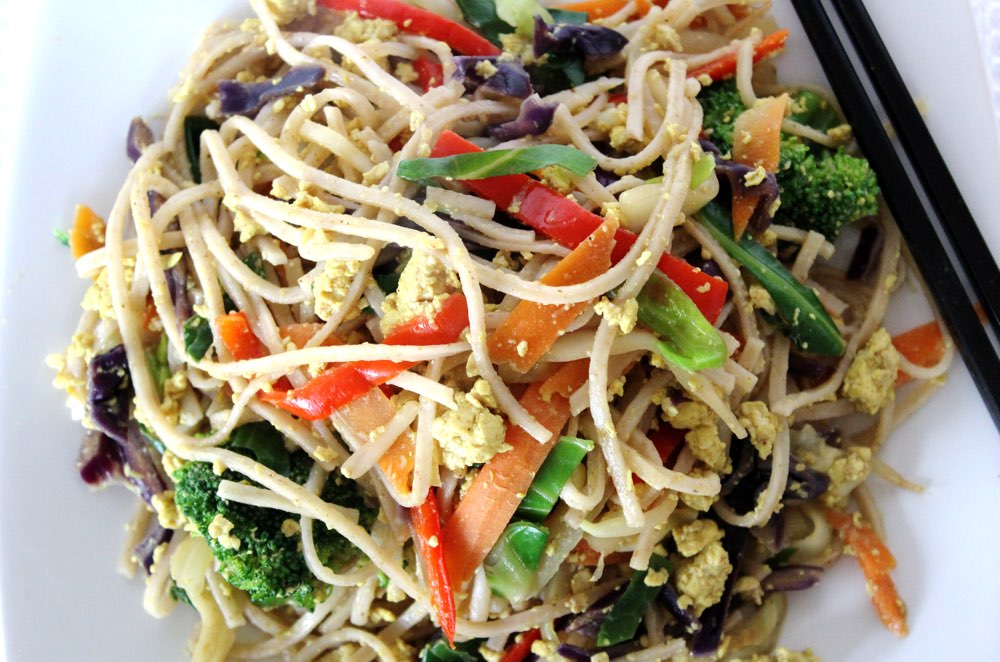 It features three of the six ingredients listed in the Infographic's 'Eat It' column – purple cabbage, carrot and ginger. If you drink a glass of water with the meal, then follow it with a cup of green tea, then we've got all bar one of the ingredients covered (we'll forget about the last one, salmon!)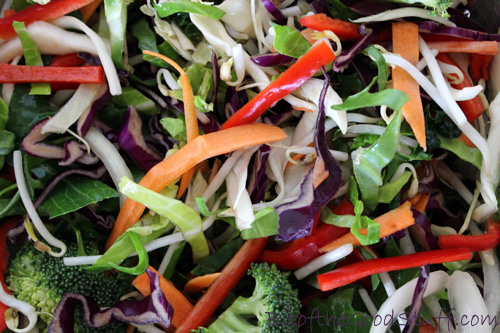 This stir fry takes 20 minutes or less, so it's perfect for busy week day nights or as a cheap, tasty (and healthy!) alternative to a weekend takeaway. It has a beautiful, distinctive Chinese flavour thanks to the Five Spice seasoning, which is a blend of star anise, fennel, cloves, cinnamon and black pepper.
Instead of eggs, we much prefer the texture and flavour of scrambled tofu in this stir fry. It's so easy to make. You simply squeeze the excess water from the tofu (no need to press it), and crumble it into a wok…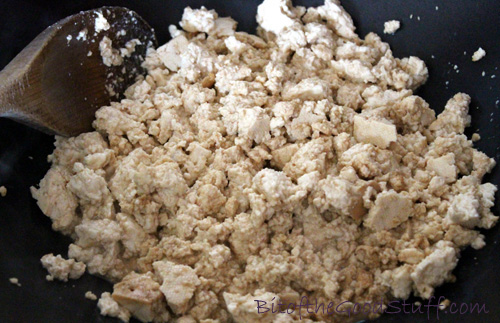 … then stir in some soy sauce, garlic, ginger and a touch of turmeric to give it a lovely golden yellow hue.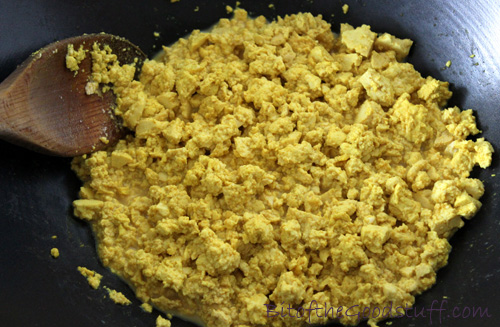 The stir fry vegetables are then added to the wok, along with a sprinkling of Chinese Five Spice, some cashews and a little vegetable stock.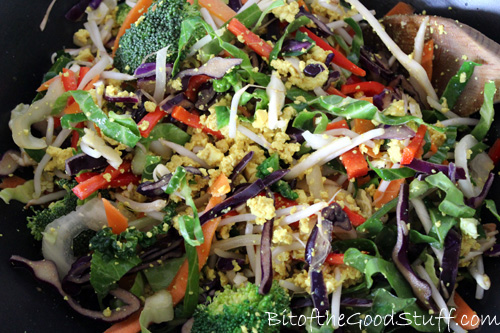 After a couple of minutes, the noodles are stirred in. (We prefer to use wholewheat noodles in this stir fry as they have a chewier texture which works well in Chinese dishes, but do sub with rice or other GF noodles if needed).
We add a final drizzle of soy sauce, then it's done!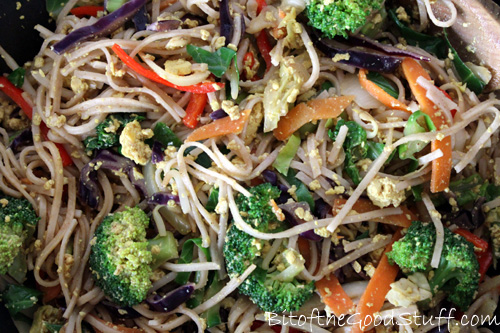 This meal is so speedy and simple to make. It has to be the perfect Chinese Fast Food!
[print_this]Serves 4
Hands-on time 20 minutes   Cooking time 10 minutes
Ready in 20 minutes
Ingredients
200g / 7 oz wholewheat noodles (or use rice or other GF noodles, if needed)
½ TBSP oil
1 TBSP soy sauce (or tamari for a GF option), divided
1 block of firm tofu (about 400g / 14oz)
2 garlic cloves, minced
thumb-size piece of root ginger, peeled and finely grated
¼ tsp ground turmeric
1 tsp vegetable bouillon powder
1 large bag of mixed stir fry vegetables (about 480g / 17 oz / 6 cups of beansprouts, white cabbage, red cabbage, carrot, broccoli, onion, red pepper)
70g / ½ cup cashews (optional)
½ – ¾ tsp Chinese Five Spice
Method
Prepare a large pan of boiling water. Cook the noodles for 4 minutes, or until al dente. Drain and return them to the pan. Drizzle in ½ TBSP oil and stir through to coat the noodles. Set to one side.
While the noodles are cooking, prepare the stir fry. Drain the tofu and squeeze to remove excess water. Crumble the tofu into a non stick wok or deep sided frying pan (skillet). Drizzle ½ TBSP soy sauce into the pan and stir fry on a medium-high heat for a minute or two. Add the garlic, ginger and turmeric, and stir fry for a couple of minutes. Dissolve the vegetable stock in 4 TBSP of boiling water and add it to the pan along with the vegetables, cashews and Chinese Five Spice. Stir fry for 4 minutes. Add the noodles to the wok along with the remaining ½ TBSP soy sauce. Stir to thoroughly combine. (I add the noodles in small batches rather than in one go as I find it easier to combine them this way). The stir fry's now ready to serve.
Any leftovers can be stored in the fridge for a day or two. Heat through in a non stick wok or frying pan before serving.
[/print_this]
Products used in this recipe (UK Stockists)
Cauldron Foods Original Tofu, available from the chilled aisle in most major UK supermarkets
Kikkoman Less Salt Soy Sauce, available from most major UK supermarkets
Suma Five Spice Seasoning, available from health food stores and via Amazon (Other Chinese Five Spice blends can be found on the spice aisle in supermarkets).
Blue Dragon Wholewheat Noodles, available from Waitrose, Sainsbury's, Morrisons
Chopsticks are optional 😉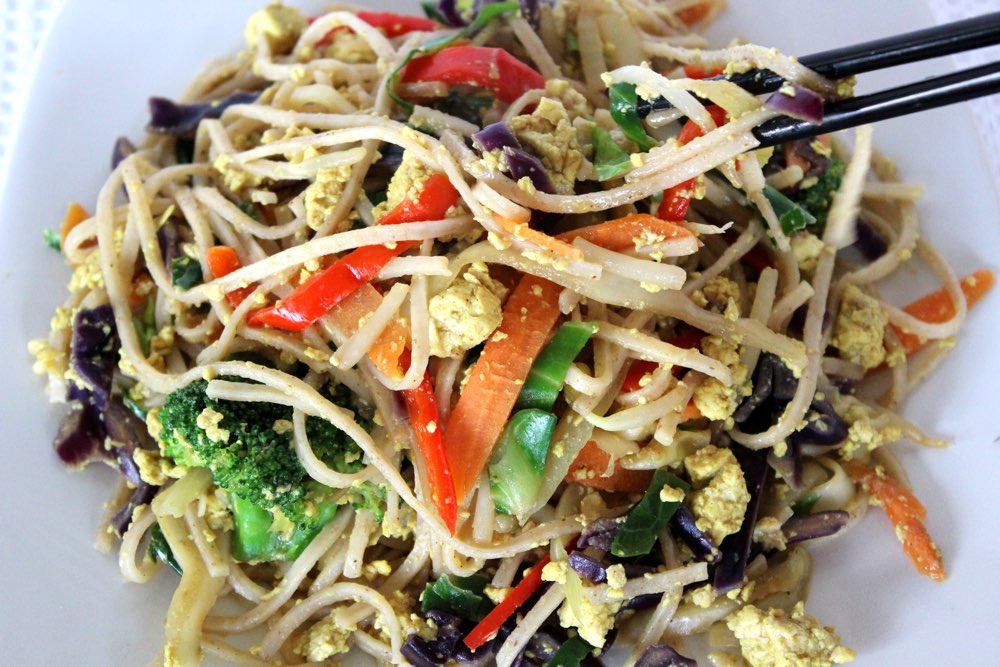 I would LOVE to be able to use chopsticks. I've tried so many times but I'm utterly useless. I'm the one in Chinese restaurants that has to put their hand up and ask for a fork. Shame on me!
SaveSave
SaveSave
SaveSave
SaveSave
SaveSave