I was going to share a recipe for my favourite almond breakfast smoothie today, but chocolate cookies seem far more appropriate for a Friday 😉
I also had a special six year old in mind when I made the switch. Like me, he has a dairy allergy, but he's also allergic to nuts and seeds. I've been posting lots of recipes with nuts lately, so it's high time I redressed the balance.
This time of year, I love using dried cranberries in my baking. In cookies, they glisten like little rubies, especially when set against a backdrop of dark chocolate.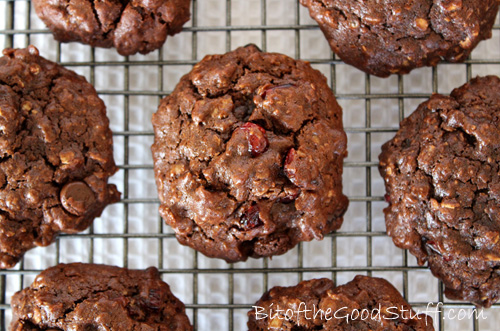 Until recently, I found it difficult to find dried cranberries that weren't laden with cane sugar. However, I'm really pleased to see that the supermarkets like Tesco and Waitrose are now stocking cranberries sweetened with pineapple juice in their wholefood sections. To me, they taste far nicer than the sugar coated fruits.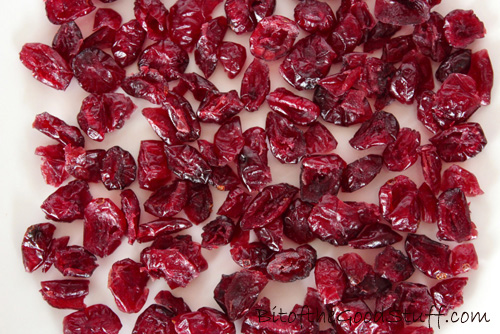 These double choc chip cookies taste pretty decadent, but they contain lots of good stuff. The wholegrain flour and oats provide protein, fibre and slow release energy, while the cocoa and cranberries add antioxidants, vitamins and minerals.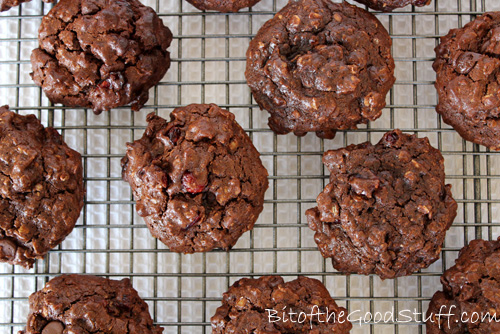 Freshly baked, the cookies have a crisp outer shell and warm, fluffy interior. They firm up in time, but are equally delicious. The cookies freeze really well too. I often freeze half of the batch so I've got a ready supply for lunchbox treats, afterschool snacks and coffees mornings with the girls.
These cookies have been a big hit with friends and family. I hope you enjoy them as much as we do.
[print_this]
Makes 20 cookies (freezable)
Hands-on time 20 minutes   Cooking time: 15 minutes
Ready in: 38 minutes
Ingredients
135g / 4¾ oz / 1 cup fine wholemeal (whole wheat) or chapatti flour
43g / 1½ oz / 1/3 cup cocoa powder
¼ tsp baking powder
¼ tsp bicarbonate of soda (baking soda)
½ tsp salt
100g / 3½ oz / 1 cup rolled oats
85ml / 2¾ fl oz / 1/3 cup soya milk (or other non dairy milk)
74ml/ 2½ fl oz / 1/3 cup organic rapeseed (canola) oil (or other neutral-flavoured oil)
1½ tsp vanilla extract
160g / 5½ oz / ¾ cup unrefined caster sugar (or 1 cup coconut sugar)
50g / 1¾ oz / ¼ cup dark choc chips
78g / 2¾ oz / ½ cup dried cranberries
Method
Preheat the oven to 180C (160C fan) / 350F / Gas 4. Line two large baking sheets with non stick baking paper.
Sift the flour, cocoa powder, baking powder, bicarbonate of soda and salt into a large bowl. Add the oats and stir to combine.
In a separate bowl, whisk together the milk, oil, vanilla extract and sugar until smooth and fully combined.
Mix the wet and dry ingredients together. Stir in the choc chips and cranberries.
Scoop heaped tablespoons of dough onto the prepared baking sheet. Lightly press the tops to flatten slightly. Bake for 15 minutes, or until the top of the cookie is dry to touch. Leave the cookies to cool (they will firm up as they cool) then transfer to a wire rack.
When completely cooled, store in an airtight container where they will keep for up to a week. These cookies also freeze well.  Stored in a bag or container with greaseproof paper between each layer, the cookies should keep for weeks. [/print_this]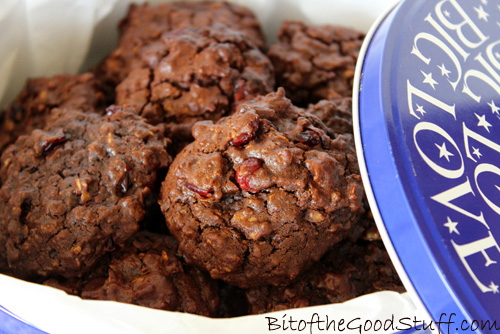 I just need to work out how to gluten free these cookies now, and we can all tuck in. If any GF vegan bakers can share their wisdom, it would be very much appreciated!
Have a wonderful weekend everyone xx