When Vegan Life launched in September, I don't know if anyone anticipated just how well the magazine would be received. It was such a hit that it won this year's VegfestUK Awards for best publication, and that accolade was purely based on the first issue!
I couldn't wait to get my hands on Issue 2, and was especially excited that it would be the Christmas edition. When it arrived, I was hoping to savour it over a few days but alas, once I got started I couldn't put it down.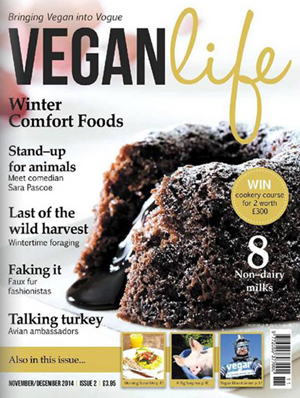 Just like the first issue, this one is packed with articles that I found both inspiring and thought-provoking. One feature in particular that caught my eye was the debate on whether vegans should feed pets meat. This is one issue that I've been struggling to get my head round. The Vegan Life article prompted a lively debate amongst my Twitter friends. I think I've finally decided my stance, but it's a very tricky issue, and definitely one that people need to decide for themselves ;o)
I'm looking forward to trying all the recipes in Issue 2, but the one that immediately grabbed my attention was the Christmas Pudding Cakes by Harriet Emily. I love Christmas Pudding and Christmas Cake, but I've never had a Christmas Pudding Cake before! I was intrigued to see how it would turn out. I had a quick scan down the recipe and it didn't look too tricky at all.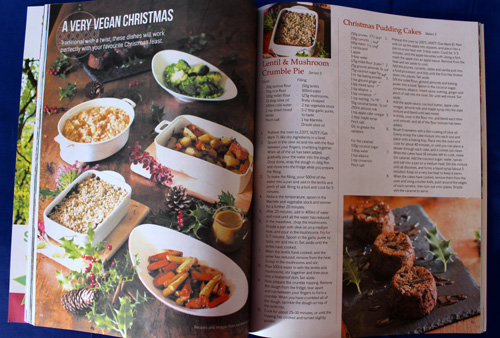 The recipe is gluten free, cane sugar free, dairy free, egg free and soy free, so it ticks lots of allergy friendly boxes. It does include almonds, but I'm sure these could be subbed to make it nut free too.
The recipe uses two of my favourite ingredients – coconut sugar and coconut butter. I tend to buy these online as they're not always available in my local health food shop. If you're not so fussed about making these cakes super healthy, then I'm pretty confident you could sub them with cane sugar and non dairy spread. The recipe also calls for millet flour which I couldn't find locally, so I used buckwheat flour instead. It worked absolutely fine. I'm sure you could use regular whole wheat flour too if you didn't need to make it gluten free.
And the verdict?
I was so happy with the way the cakes turned out. They were moist and flavourful, plus they made the house smell amazing while they baked! They were a huge hit with the family. Hubbie has already requested another batch, and Lil' L said they were absolutely delicious (and this is someone that usually avoids dried fruits!)
Hubbie preferred his pudding cake straight up with no toppings, while Lil' L and I enjoyed it drizzled in salted caramel. We used the Considerit Special Edition Salted Caramel from November's The Vegan Kind Box, but Harriet Emily also shared a recipe for home-made salted caramel, which looks super easy to make.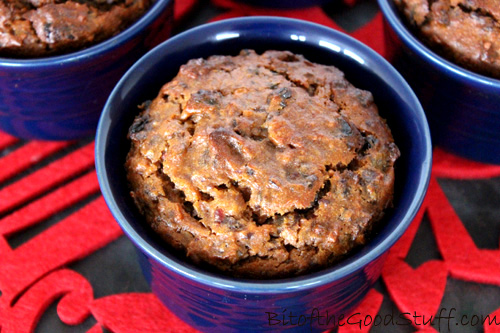 The treats certainly live up to their name. I really can't decide whether they are a cake or a pudding. Definitely somewhere in between. They're baked in ramekins, so you could serve them straight out of the oven, more like a pudding …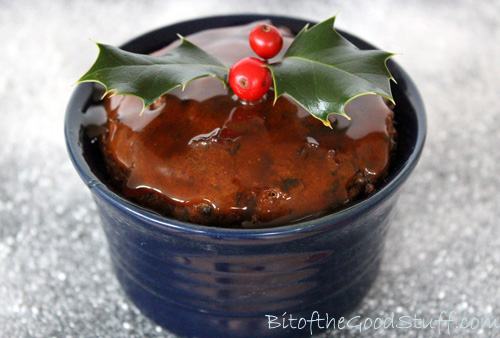 Or you could pop them out of the ramekins and serve them like cake. I did find that the portions were a little on the large side. While hubbie easily devoured a whole cake, I couldn't manage a whole one by myself (and believe me I tried). Next time I make them, I'll try baking six instead of five and see how the size compares.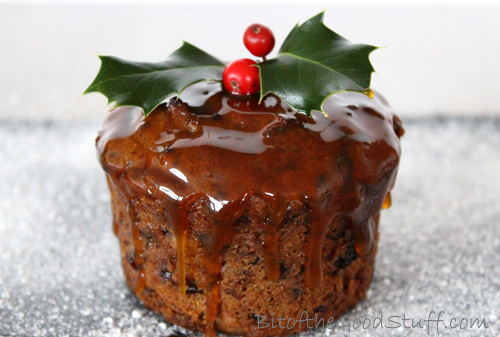 I did make a few tweaks to the recipe. I subbed a couple of ingredients that I didn't have on hand, and adjusted the spice quantities (I used ¼ tsp nutmeg instead of 1 tsp as I find the flavour of nutmeg really strong, plus I omitted the allspice as I didn't have any). I also reduced the baking temperature from 200C to 180C and the baking time from 40 to 30 minutes. They came out perfect, so I'm guessing the recipe is pretty flexible.
Big thank you to Harriet Emily for sharing her fab recipe ♥ If you're interested in vegan, sugar free and gluten free cooking, definitely go check out her blog. I can't wait to try her Chocolate Caramel Tarts. They look amazing!
(Adapted from Harriet Emily's recipe in Vegan Life Issue 2)
If you're daunted by the prospect of making Christmas Pudding or Christmas Cake, then these 'Pudding Cakes' make a delicious, easy, alternative. Serve them warm in ramekins as pudding, or turn out onto a plate and serve as cake.
Gluten free / Dairy free / Vegan / Cane sugar free
Makes 5 large cakes (8cm / 3 inches wide x 5cm / 2 inches high)
Hands-on time: 20 minutes    Cooking time: 40 minutes
Ready in: 60 minutes
Ingredients
1 apple
3 TBSP water
55g / ⅓ cup coconut butter (or vegan butter / non dairy spread)
250g / 1⅓ cups prunes
150g / 1 cup currants
100g / ½ cup soft pitted dates
1 tsp vanilla extract
250ml / 1 cup almond milk (or soya milk)
1 tsp apple cider vinegar
2 TBSP maple syrup
125g / scant 1 cup buckwheat flour (or use millet flour, as recommended by Harriet Emily)
25g / ¼ cup ground almonds
1½ tsp baking powder
1 tsp ground ginger
1 tsp mixed spice
1 tsp ground cinnamon
¼ tsp ground nutmeg
¼ tsp salt
75g / ½ cup coconut sugar (or unrefined caster sugar)
Oil, to grease the ramekins
Method
Preheat the oven to 180C / 350F. Brush 5 ramekins with a thin coat of oil.
Peel, core and finely chop the apple. Place in a pan on low heat with 3 TBSP water, and cook until the apple is soft. Mash the apple with a fork to make a purée. Add the coconut butter to the pan and gently heat to melt. Once liquefied, remove from the heat.
While the apple is cooking, add the prunes, currants, dates and vanilla to a food processor and blitz into small pieces. Add the apple purée, melted coconut butter, milk, apple cider vinegar and maple syrup to the food processor and pulse to combine.
Sift the flour, almonds, baking powder, spices and salt into a large bowl. Stir in the sugar and dried fruit mixture, until fully combined.
Evenly scoop the cake mixture into the ramekins. Use the back of a spoon to smooth the tops. Place the ramekins on a large baking tray in the centre of the oven. Bake for 30 minutes, or until a skewer inserted into the middle comes out clean. Remove from the oven and leave to rest for a few minutes.
The pudding cakes can either be served warm in the ramekins (like a pudding) or turned out onto a plate (like a cake). To remove the cakes from the ramekins, run a butter knife around the edge to loosen them, then turn out onto plates. Drizzle with caramel sauce or non dairy cream to serve.

Products used in this recipe (UK sources)
Biona Organic Coconut Sugar
Tiana Organic Coconut Butter (Aroma Free)
Clarks Original Maple Syrup
Doves Farm Wholemeal Buckwheat Flour (this does contain traces of gluten so use Doves Gluten Free Buckwheat Flour or Millet Flour for a 100% GF option)
In Vegan Life, Harriet Emily also shares a recipe for Caramel Sauce, which uses coconut sugar as its base. I'll update this post once I've had a chance to try it (sadly I've run out of coconut sugar, but it's on order).
I also have two caramel recipes by The Vegan 8 bookmarked, both of which I'd love to try with these Christmas pudding cakes. The first one – Caramel Sauce – has melted coconut butter as its base, and the second one – Salted Caramel – is made with sweet potato and coconut milk! It sounds weird but it's received rave reviews so I'm excited to try it!
Did you get Vegan Life Issue 2? If so I'd love to know what you thought of it. Have you tried any of the recipes yet?