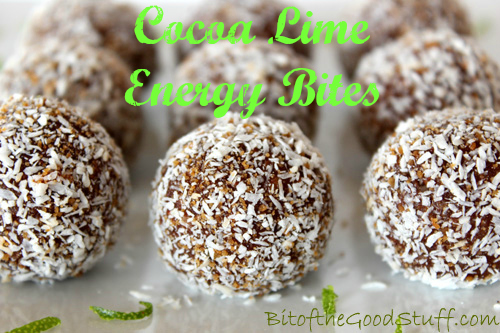 As we head into Spring, I've started to crave lighter foods and fresh citrus flavours. For me, these Cocoa Lime Energy Bites are spot on for this time of year. They're chocolatey but not too rich, they're fresh and zesty thanks to the lime, and they're lighter than the classic energy bite as I've cut down on nuts and substituted oats instead.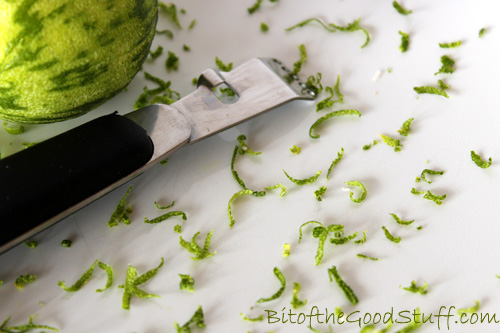 I toyed between calling them 'bliss balls' and 'energy bites'. They're packed with mood-enhancing nutrients like magnesium, zinc, iron, B vitamins and omega 3, as well as cacao which triggers bliss-like chemicals in the brain. I always feel amazing after eating them. For these reasons, they definitely belong in the 'bliss camp'.
However, whenever I mention 'bliss balls' to M, he cringes. Maybe the name's just too hippy or girly for him. 'Energy bites' got his approval though. It's not very attractive or sexy, but if this name makes it a 'man treat' too, then that's what we'll go with. Men definitely deserve their share of these yummy snacks.
Energy bites is an accurate description anyhow, as they're packed with fantastic ingredients like oats, nuts, seeds and dates that boost and sustain our energy levels.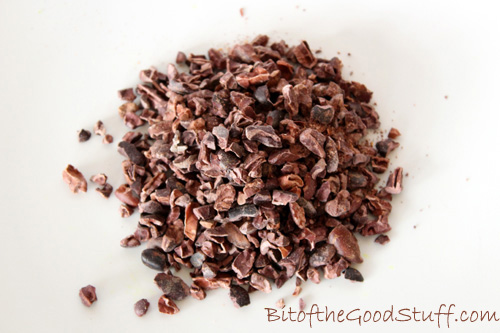 I also like to add a handful of cacao nibs into these bites. They provide a lovely chocolatey 'crunch', as well as more of those amazing raw cocoa nutrients.
These energy bites make a great mid morning snack, afternoon 'pick me up' or post-school snack (Lil' L loves them!) They're very filling, so I find that one is usually enough for an energy boost and to stave off hunger pangs. They're easy to transport too, so perfect for stashing in your bag for road trips and days out.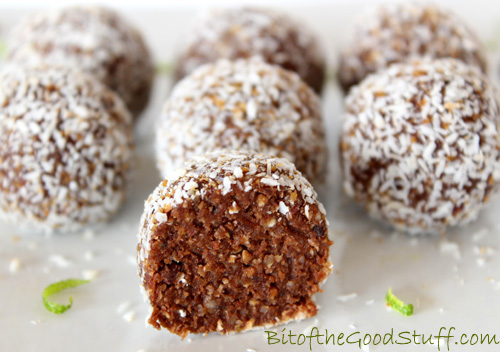 Makes 12
Hands on time: 15 minutes Ready in: 15 minutes
Ingredients
22g/ ¾ oz / ¼ cup desiccated coconut
1 TBSP coconut sugar
55g/ 2 oz / ½ cup rolled oats (use certified gluten free, if needed)
43g / 1½ oz / ¼ cup cashews
35g / 1¼ oz / ¼ cup walnuts
1 TBSP shelled hempseeds
2 TBSP cacao (or cocoa) powder
100g / 3½ oz / ½ packed cup soft pitted dates
½ – 1 tsp lime zest
2 TBSP freshly squeezed lime juice
1 tsp maple syrup
pinch of salt
2 TBSP cacao nibs
Method
Mix together the desiccated coconut and sugar in a shallow container, then set to one side.
Place the oats, nuts and seeds in a food processor and whizz into crumbs. Add the cacao powder, dates, lime zest, lime juice, maple syrup, and salt. Process until the dates are broken down. Add the cacao nibs, and continue processing until the mixture comes together in a ball. Taste test and add a touch more cacao/cocoa, lime zest or sweetener, if desired.
Scoop level tablespoons of the mixture. Roll into balls, then roll in the coconut sugar mixture. Repeat until all the dough is used. Chill in the refrigerator. As they chill, they will firm up.
These energy bites will keep for about a week in the refrigerator, or for weeks in the freezer.
Products used in this recipe (UK Stockists)
Mornflake Superfast Oats
Tesco Wholefoods cashews, walnuts and soft pitted dates
Sevenhills Organics shelled hemp seeds, cacao powder, cacao nibs
Clarks original maple syrup
East End desiccated coconut
Suma coconut sugar (available in health food shops) or Biona coconut sugar from Amazon
Magimix 3200 Food Processor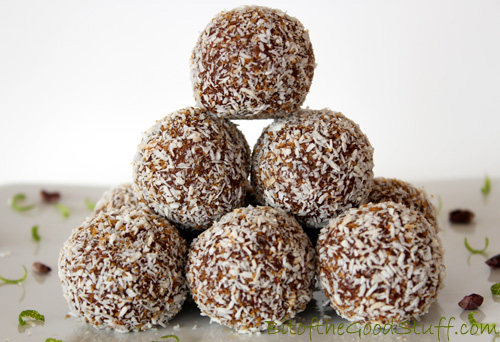 Do you crave different foods in Spring? As well as citrus, I'm loving fresh green flavours right now… mint, peas, asparagus, green beans. Two of my favourite Spring dishes are Mint Pea Soup and Risotto con Verdure. Hopefully I'll get to share them with you very soon! xx