Hi everyone! I hope you all had a great Easter. I've finally plugged back in after my extended break. It did me the world of good to have some time out but I missed you guys! Thank you so much to everyone that's emailed or left me feedback on the blog about recipes you've tried these past few weeks. You guys have made me smile so much!
To kickstart my return, I thought I'd share one of my all-time favourite baked treats…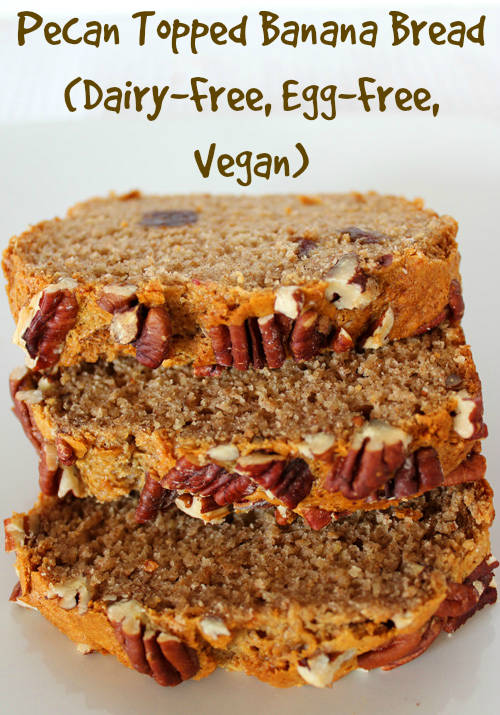 For banana bread, you want to use very ripe bananas – the blacker the better. So, if you've got some bananas languishing in the fruit bowl, this recipe is a great way to use them up.
Since banana bread can be a bit plain looking, I like to dress up our loaves by adding toppings or extra ingredients into the batter. In this loaf, I've sprinkled a handful of pecans on top which impart a delicious flavour and crunchiness when baked.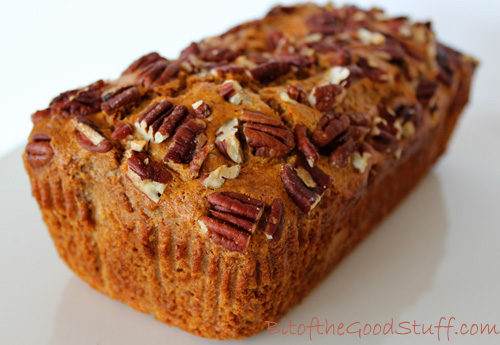 In the centre, I've added some chopped dates for a touch of caramel-like sweetness. If you wish, you could sub some of the dates for chopped nuts in the batter. Pecans or walnuts work especially well.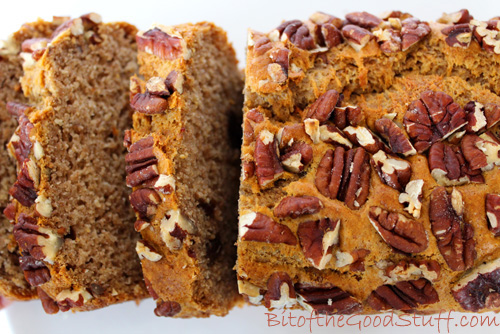 Since Lil' L is currently at primary school (where nuts are banned), I tend to leave the nuts out of the banana bread batter so that he can take a slice in his lunchbox. I simply slice off the pecan top and he eats it when he gets home from school :o)
Though I've given this loaf the traditional name of 'banana bread', it's so sweet and moist that it's definitely more cake-like than bread. I find it makes a lovely afternoon 'pick me up' with a cuppa. Kids love it too and it makes a great after-school treat.
Hands on time: 15 minutes   Ready in: 2 hours
Ingredients
3 over-ripe medium bananas, sliced
50ml / ¼ cup organic rapeseed (canola) oil or other neutral flavoured oil
80g /⅓ cup unrefined caster sugar or coconut sugar
1½ tsp vanilla extract
210g / 1½ cups fine wholemeal (whole wheat pastry) or chapatti flour
1½ tsp baking powder
½ tsp bicarbonate of soda (baking soda)
3 tsp ground cinnamon
¼ tsp salt
90g / ½ cup dates, chopped
45g /⅓ cup pecans, chopped
Method
Preheat the oven to 180C (160C fan) / 350F. Grease and line a 2lb loaf tin with non-stick baking paper or use a non-stick loaf liner.
Place the sliced banana, oil, sugar and vanilla extract in a food processor and whiz until smooth (alternatively use a bowl and hand blender).
Sift the flour, baking powder, bicarbonate of soda and salt into a large mixing bowl and stir to combine. Tip any remaining wheatgerm from the sieve into the bowl. Stir to combine. Make a well in the middle and pour in the banana mixture. Gently stir until thoroughly combined. Stir in the dates. Tip the mixture into the prepared tin and level with the back of a spoon. Sprinkle the pecans on top and lightly press them into the batter.
Bake for 55 minutes, or until a skewer inserted through the middle comes out clean. Leave in the tin for at least 30 minutes, then transfer to a wire rack until completely cooled. The loaf will keep for 5 days in the refrigerator. It also freezes well.
Have a lovely weekend everyone ♥