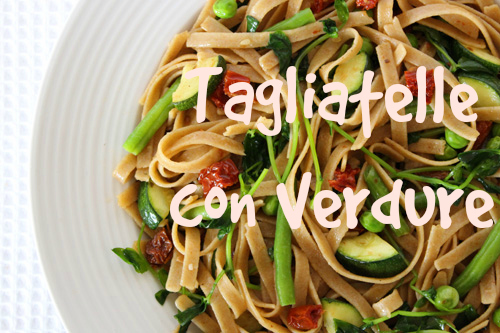 For this month's Suma Blogger's Network entry, I'd like to share one of my favourite quick 'n' easy evening meals. I've used the Italian name for this dish 'Tagliatelle con Verdure' as the English equivalent 'Ribbon Pasta with Green Vegetables' just sounds far too plain and boring for such a beautiful dish.
For me, Tagliatelle con Verdure is the perfect pasta dish for this time of year. It's much lighter than cheesy or cream-based pastas, and the addition of peas and tender green leaves make it taste fresh and Spring-like.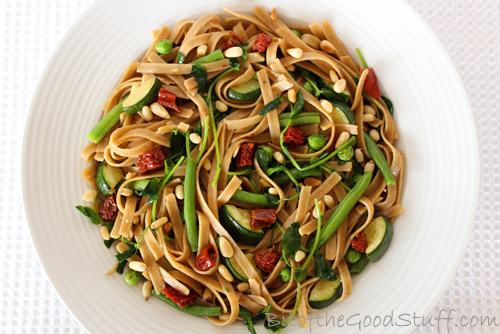 This dish also happens to be incredibly simple and quick to make. It's ready in just 20 minutes, and there's very little prep or chopping involved. It's perfect for busy week day nights, but also for weekends when you want to prepare something quick for friends and family.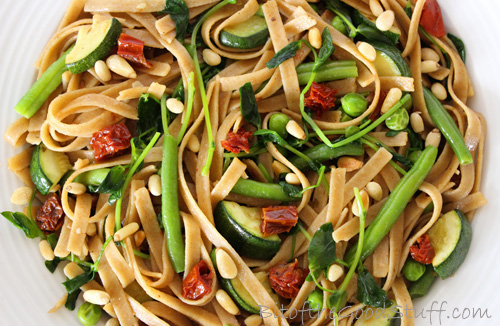 I always use wholegrain pasta as it contains more vitamins and minerals than white pasta (plus my family prefers the coarser texture and nuttier flavour of the wholegrain varieties). At the moment, the health food shops in the UK stock a much wider selection of wholegrain pastas compared to the supermarkets. Pastas made from ancient grains like spelt and kamut are amongst my favourites. For a gluten-free option, ribbon pastas made from maize are available (like this one from Le Veneziane).
In today's recipe, I used organic whole wheat tagliatelle from one of my favourite pasta companies – la BIO IDEA – which produces its pasta using traditional methods dating back to 1911.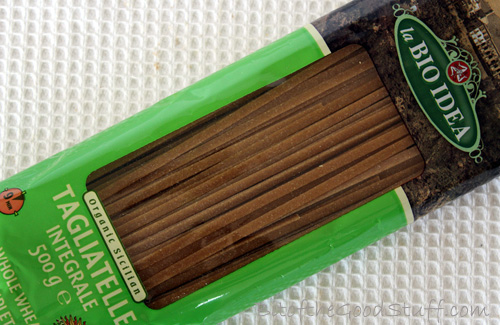 I often keep jars of antipasti in the fridge, as they're great for throwing into pasta dishes, salads and sandwiches. I especially love the jars of sun-dried tomatoes packed in herb-infused olive oil. The oil is great for loosening up pasta ribbons, as well as adding extra flavour.
Pea shoots are currently in season here in the UK and I adore their fresh pea flavour and tender texture. If you can't get hold of pea shoots, baby spinach or rocket (arugula) would make good substitutes.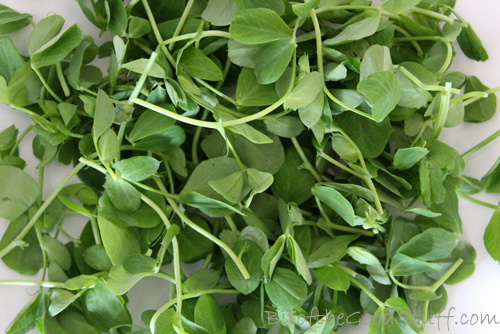 [print_this]
This pasta dish is full of the fresh flavours and colours of Spring. Ready in just 20 minutes, it's perfect for busy weekday nights or weekends when you're looking for a quick and easy dish to prepare.
Serves 4
Hands on time: 15 minutes Cooking time: 9 minutes
Ready in: 20 minutes
Ingredients
300g / 10½ oz wholegrain tagliatelle (e.g. whole wheat, spelt or kamut. For a GF option, use maize)
107g / 1 cup fresh or frozen fine green beans, trimmed and halved
75g / ½ cup fresh or frozen green peas
6 sun-dried tomatoes in herb-infused olive oil, drained and chopped (reserve the oil)
2-3 cloves of garlic, minced or pressed
1 medium courgette (zucchini), quartered lengthwise and sliced
40g / 2 cups pea shoots (or sub with baby spinach or rocket arugula)
Salt and freshly ground black pepper
2 TBSP pine nuts, toasted (or sub with sunflower seeds)
Method
Prepare a large pan of salted boiling water and cook the pasta according to the instructions on the packet. Three minutes before the end of the cooking time, add the beans and peas to the pan. Once the pasta is cooked al dente, drain and return to the pan. Drizzle in ½ TBSP of olive oil from the jar of sun-dried tomatoes and stir through.
While the pasta is cooking, dry fry the pine nuts in a large frying pan (skillet) on a medium heat, stirring regularly. As soon as they start to brown, remove from the heat and set to one side.
Heat 1 TBSP of olive oil (from the sun-dried tomato jar) in the frying pan and cook the courgette until it starts to brown. Stir in the garlic and continue cooking for another minute or so. Stir in the pea shoots until they just start to wilt then remove from the heat.
Once the pasta is cooked, combine it with the contents of the frying pan. Stir in the sun-dried tomato pieces. Season with salt and freshly ground black pepper, to taste. Divide between four warm bowls, add a sprinkling of pine nuts and serve.
This pasta dish can also be eaten cold and any leftovers make a great addition to lunch boxes.
[/print_this]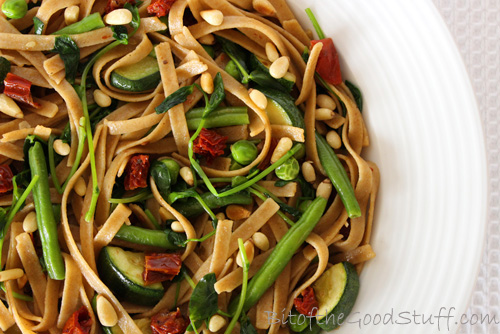 If you make this recipe, I'd love to hear your feedback ♥ Do leave me a comment below or post a photo on my Facebook or Twitter pages. Hearing from readers always makes me smile xx
What's your favourite Spring-time dish?