Today I'm sharing a recipe for a quiche that would be great for sharing in the upcoming season. Check out the festive red and green veggie decoration. You're bound to attract a 'wow' response if you show up at a friend's party with this clutched in your hands.
The filling is encased in a pastry which is robust enough to be sliced and handled without crumbling, making it suitable for serving as finger food at parties and buffets. It's dairy-free and egg-free, so perfect for your vegan friends and family. I've also made the recipe nut-free, so anyone with nut allergies can safely tuck in.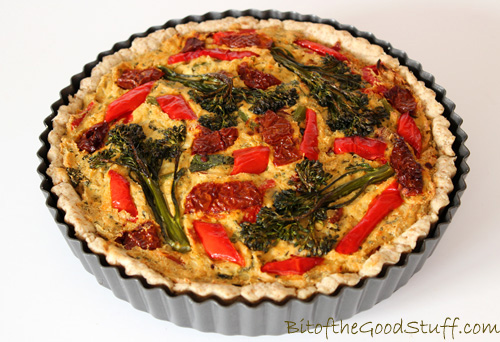 Filled with roasted onion, red pepper, sun-dried tomatoes, herbs and nutritional yeast, this quiche is packed with flavour. However, the 'star' of this recipe has to be the roasted Tenderstem broccoli. It looks so pretty set in the top of the quiche (like mini Christmas trees!) It also tastes amazing and gives great texture to the dish.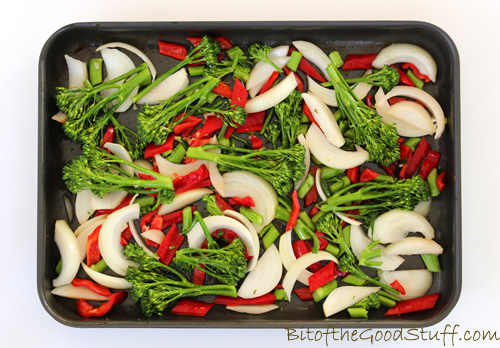 Growing up, I was never a fan of quiche as I really dislike the 'eggy' flavour, but these tofu-based quiches I adore. Everyone has different taste buds though, so if you're a fan of 'eggy' flavour, you can always add in a touch of black salt to replicate it.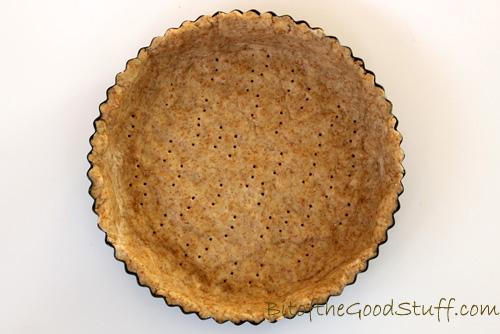 If you wish, you can  cheat and buy ready-made pastry but I promise you, my pastry recipe is incredibly easy to make and super cheap too.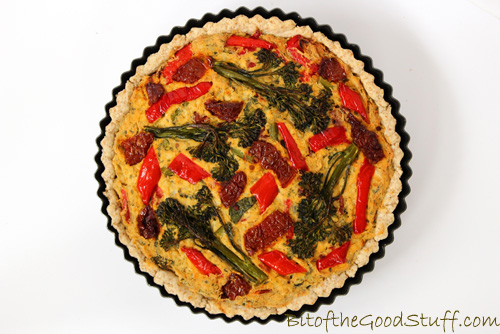 [print_this]
Serves: 6
Hands on time: 30 minutes   Cooking time: 60 minutes
Ready in: 90 minutes
Ingredients
Pastry Crust:*
280g / 10 oz / 2 cups fine wholemeal (wholewheat) or chapatti flour (I use the latter)
¼ tsp salt
100g / 3½ oz / ½ cup aroma-free coconut butter (e.g. Tiana) or dairy-free spread/vegan butter
5-8 TBSP water
Filling
120g / 4 oz / 1 handful Tenderstem® broccoli, stems diced
1 large white onion, sliced into thin wedges
1 large sweet romano or red bell pepper, deseeded and sliced
1 garlic clove, minced
Olive oil, for drizzling
390g / 14 oz / 1 block firm organic tofu (e.g. Cauldron Foods)
1 tsp extra virgin olive oil (or oil from the sun-dried tomato jar)
½ tsp salt
1 tsp Dijon mustard
2 TBSP nutritional yeast (e.g Marigold Engevita)
1 tsp dried dill or oregano
Small handful fresh basil leaves, shredded
8 oil-packed sun-dried tomatoes, chopped
Method
Pre-heat the oven to 200C (180C fan) / 400F. Grease a 23cm / 9 inch loose-bottomed, non-stick quiche tin.
Prepare the pastry: Place the flour, salt and coconut butter/dairy-free spread in a food processor and whiz to combine. Add the water through the funnel, 1 TBSP at a time until the mixture just starts to come together. Press the pastry into the quiche tin. Be sure to press it right into the edges of the tin and all the way up the sides. You want a thickness of 0.6 cm / ¼ inch, so trim off any excess. Prick the pastry all over with a fork.
Place the broccoli, onion, pepper and garlic in a large roasting tin. Drizzle in olive oil and stir through.
Place both the pastry and veggies in the oven and bake for 20 minutes, or until cooked through. I find the pastry doesn't colour, but it should be firm and dry to the touch. The veggies should just be starting to brown.
Prepare the filling: drain the tofu and squeeze hard to remove as much water as possible. Crumble the tofu into the food processor. Add the oil, salt, mustard and nutritional yeast, and whiz smooth. Add the dried dill/oregano, basil leaves and roasted onion and pulse to combine. Tip the mixture into a large bowl.
Set aside four pieces of broccoli and some red pepper and tomato pieces for decorating the top of the tart, then add the remaining veggies to the mix and stir through to combine. Tip the mixture onto the pastry crust and press down to smooth and level. Press the last pieces of broccoli, pepper and tomato into the top.
Bake at 180C (160C) / 350F for 35-40 minutes, until the tofu is firm to the touch and lightly golden on top. Leave the quiche to cool before slicing. Store in an airtight container in the refrigerator, it will keep for up to 5 days.
Notes
* If you need a gluten free crust, check out this recipe by Coconut and Berries, which is made with oats and almonds.
[/print_this]