Have you tried polenta? I absolutely love the stuff! I love its texture and versatility. Plus it's super cheap, so perfect for budget-friendly meals.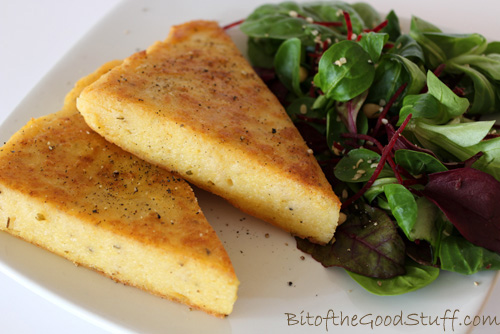 Since I'm such a fan of polenta, I was really excited to see it featured in the January/February Issue of Vegan Life magazine ♥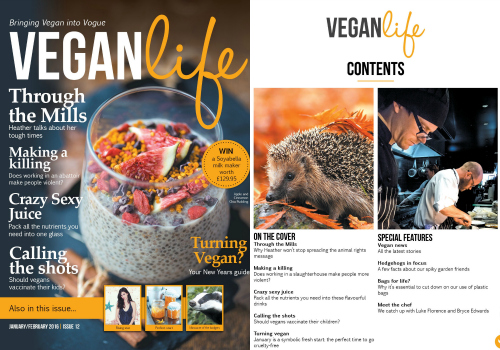 In my experience, polenta is incredibly easy to make from scratch, providing you use the right kind of cornmeal.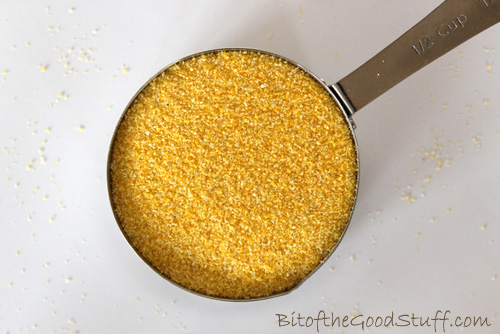 'Cornmeal' and 'polenta' are often used interchangeably; however for baked or fried polenta, you need to make sure you use 'coarse' cornmeal. A couple of times I've attempted to make polenta fries with fine cornmeal, but sadly it was a big fail. The mixture wasn't sturdy enough to keep its shape and I ended up with a tray of baked goo (tasty goo at that!)
Check out the difference between 'coarse' and 'fine' cornmeal in the picture below. The 'fine' has a similar consistency to flour (I use it to bake cornbread).
Learning from experience, I now always make sure I use 'coarse' polenta/ cornmeal for baking or frying. In the UK, it's available in Holland & Barrett and independent health food stores.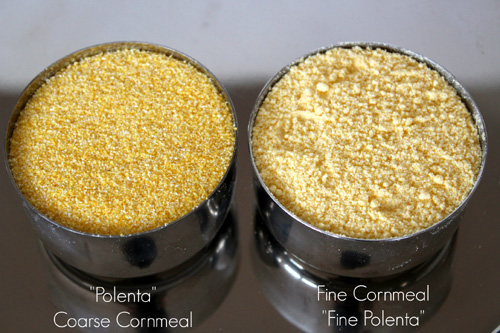 And the recipe that particularly caught my eye in Issue 12 of Vegan Life was this one: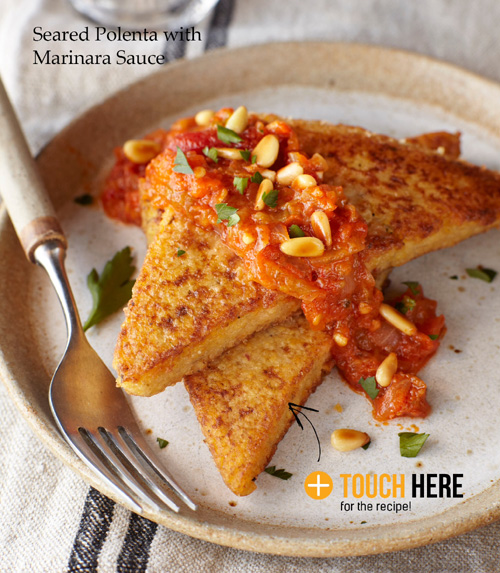 I tried it for the first time a few weeks ago, and since then I've made it multiple times. It is so delicious! It's been a huge hit with the family.
It's incredibly easy to make. It's simply a case of whisking the ingredients together over a gentle heat, scooping them into a square pan, refrigerating until solid, then slicing and pan frying.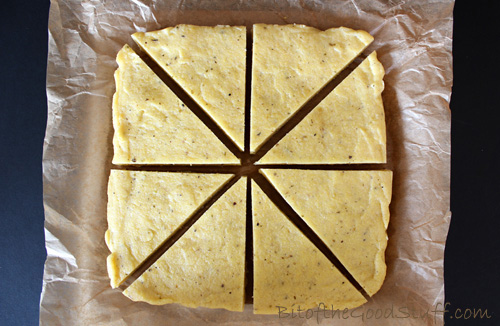 For lunches, we've served the Seared Polenta with a side salad of colourful leaves, a sprinkling of hemp seeds, pine nuts and a dollop of roasted tomato hummus.
For main meals, we love to serve it with this Quick Ratatouille.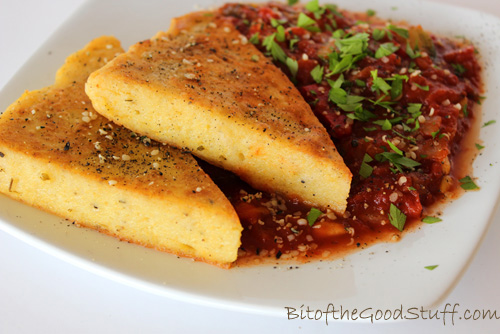 If you haven't made polenta before, you definitely should give it a try! And if you do so, please post your creations and tag me #BitoftheGoodStuff. I'd love to see them!
[print_this]
This recipe is lightly adapted from the Seared Polenta from Straight from the Earth by Myra & Marea Goodman, published in Vegan Life Issue 12 We love to serve it with a Quick Ratatouille.
Serves 4 (as a main meal)
Hands on time: 35-45 minutes
Chilling time: at least 1 hour (can be left overnight)
Cooking time: 25-35 minutes Ready in: 2 hours
Ingredients
480ml / 2 cups non dairy milk (I use soya milk)
480ml / 2 cups water
2 TBSP extra virgin olive oil
1 tsp dried oregano
1 tsp salt
½ tsp garlic powder or granules
½ tsp onion powder
175g / 1 cup polenta (coarse cornmeal)
Flour (any kind), for dusting
Organic rapeseed (canola) oil (or other neutral flavoured oil), for frying
Method
Grease a 20cm / 8 inch square baking pan or line with non stick baking paper (lining makes it easy to lift out).
Combine the milk, water, olive oil, oregano, salt, garlic powder and onion powder in a saucepan, and bring to a simmer over medium heat. Slowly whisk in the polenta. Reduce the heat to low to avoid splattering (on my electric hob, I reduce the heat to '2'). Cook for 15 minutes, stirring regularly to avoid it sticking).
Transfer the polenta to the prepared tin and smooth the top with a spatula. Cool for about 20 minutes, then transfer to the fridge and chill until solid (about one hour; but can be left overnight).
Once solid, slice the polenta into eight triangles using a sharp knife. To do this, first slice the polenta into four equal squares, then slice each square diagonally to create two triangles.
When ready to fry, place a large frying pan (skillet) over medium-high heat and add a thin layer of oil. (If you have two frying pans, use both to halve the cooking time).
Sprinkle flour onto a plate and coat both sides of the polenta triangle. Add them to the hot pan and fry for about 5 minutes, until golden brown on the underside. Flip over using a slotted turner and cook for a further 4-5 minutes. Transfer the cooked polenta to a paper-towel lined plate to absorb excess oil. Season adult portions with black pepper before serving.
Serving suggestions:
– Tomato sauce with Mediterranean chargrilled vegetables – simmer a can of organic chopped tomatoes, couple of handfuls of frozen Mediterranean chargrilled vegetables, 2 TBSP of sun-dried tomato paste or pesto, 1 tsp sugar for about 6 minutes. Season with salt and pepper. Add a sprinkling of nutritional yeast before serving.
– Warm marinara or roasted tomato sauce and a sprinkling of toasted pine nuts and chopped parsley.
– Big pile of colourful salad leaves, sprinkling of shelled hemp seeds and a big dollop of roasted tomato or red pepper hummus.
[/print_this]
Big thank you to Myra & Marea Goodman and Vegan Life for sharing this delicious recipe. I know I'll be making it time and again.