Apologies for the delay in posting this week's recipe, but Lil' L had the last week off school for half-term break. M managed to take four days off work so we really made the most of the family time together. We've been on bike rides in the beautiful Cotswold hills, forest and lake walks, a day trip to Cardiff, a couple of trips to the cinema and a visit to Hertfordshire to celebrate a family 50th wedding anniversary. It's been one amazing, fun-packed week!
I also managed to create a tasty new recipe during the half-term break. The recipe was inspired by these beautiful chives (gifted to me by my friend Vicky ♥) and some tasty cheese scones that Lil' L baked during a school cookery class.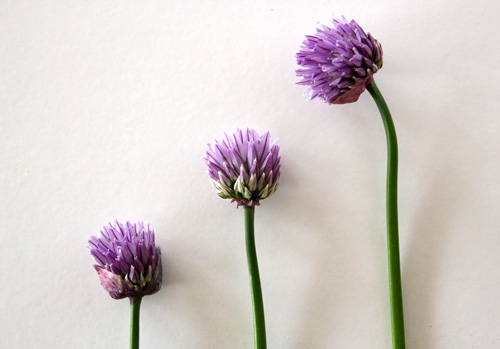 For me, 'cheese and chives' is one of those classic flavour combos, and I could just imagine how well the combo could work in a savoury English scone.
Using my sweet scone recipe as a starting point, I switched the sugar and raisins for vegan cheese and fresh chives. Since I was planning to use Violife Original (a mild tasting vegan cheese), I decided to add in some nutritional yeast to ramp up the cheesy flavour.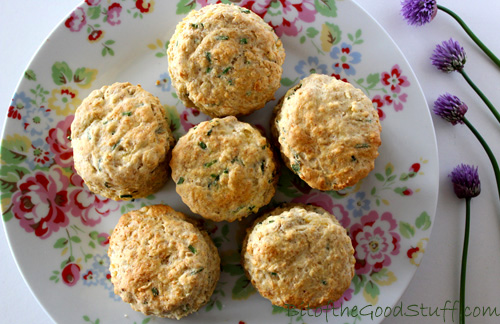 Freshly baked and still warm, Lil' L and I split open a 'test' scone and slathered it in vegan cream cheese. It tasted so good! Lil' L's friend arrived just at that moment and we gave one to him to try. He nodded his head in approval and then proceeded to tuck into a second.
Filled with encouragement, I immediately set to work baking a second batch. I stashed some in the freezer, and the remainder we've been enjoying these past couple of days. Last Friday we took them on our day trip to Cardiff and they made for a tasty lunch on the train. They're easy to transport and would be great for picnics.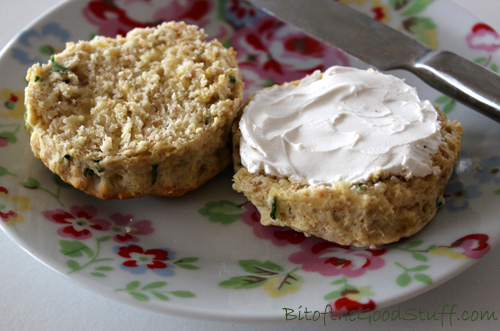 These scones turned out even better than I'd imagined! Though I was pretty confident that the bake would go okay since it was based on a 'tried and tested' recipe, I was surprised at how light they turned out for a cheese scone.
The flavour was amazing too. They were actually really cheesy. Unless they're 'in the know', I bet people would never guess that they're actually vegan!
The mild onion flavour of the chives was indeed the perfect compliment and I loved how they flecked the scones with green.
[print_this]
Makes: around 14 medium-size scones
Hands on time: 20 minutes Ready in: 35 minutes
Ingredients
300ml / 1¼ cups soya milk, plus extra for glazing
10ml / 2 tsp apple cider vinegar
270g / 2 cups plain (all purpose) flour
270g / 2 cups fine wholemeal (whole wheat pastry) or chapatti flour
20g / 4 tsp baking powder
¼ tsp salt
90g / 6 TBSP dairy-free spread/vegan butter
12g / 4 TBSP nutritional yeast flakes, optional but adds extra cheesiness and nutrients (I use Engevita Marigold with B12, available from independent health food stores or online)
80g / 1 cup grated vegan cheese (I used Violife Original)
20g / 1/3 cup fresh chives, finely chopped
Suggested filling
Vegan cream cheese (I used Tofutti Creamy Smooth Original, available from independent health food stores)
Method
Preheat the oven to 220C (200C fan) / 425F. Line two baking trays with non-stick baking paper.
Whisk together the milk and vinegar in a jug and set to one side.
Place the flours, baking powder and salt in a large bowl and stir through to combine. Using your finger tips, rub in the dairy-free spread/vegan butter until fully incorporated. Mix in the nutritional yeast flakes, grated cheese and chopped chives. Make a well in the centre and pour in about three quarters of the milk and vinegar mixture. Stir gently to combine. Add the remaining liquid, a little at a time and use your hands to bring the mixture together into a soft, slightly sticky dough (depending on the type of flour you use, you may not need all the milk – I usually have about 2 tsp left over). Do not overwork the mixture, as this will result in heavy scones.
Turn out the dough onto a lightly floured surface. Sprinkle a little flour on top and gently roll out to a thickness of 2.5cm / 1 inch. Cut out the dough using a 6cm / 2½ inch metal pastry cutter. Press down swiftly on the cutter, lift straight up and push out the dough onto the prepared tray. Do not twist the cutter as you press down otherwise you will end up with funny shaped scones. Repeat until all the dough is used up, re-rolling the scraps as needed.
Brush the tops of the scones with a little soya milk, if desired, for a golden glaze.
Bake the scones in the preheated oven for 15 minutes, until the tops are lightly browned and the scones sound hollow when tapped. After 10 minutes of baking, turn the tray round 180 degrees so that they brown evenly.
These scones are best served warm and fresh, but will last up to 3 days in an airtight container in the refrigerator. They also freeze really well. Before freezing, I cut the scones in half so that they defrost quicker.
Notes
Unfortunately these scones don't work with GF flour. They should work with spelt flour though. I have tried white spelt flour, but have yet to try wholemeal.
[/print_this]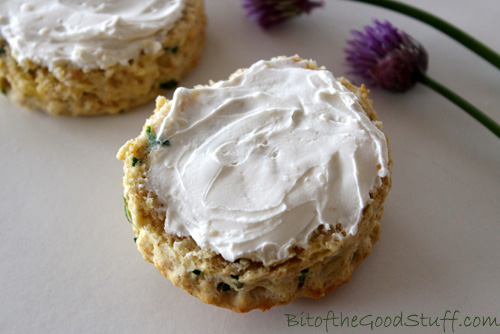 Thankfully, Lil' L's experience of cookery classes in his first year at senior school has been really positive. At the beginning of the term, he was given a list of the recipes he'd be making and the ingredients required. All the recipes were vegetarian, which was a great start, and since he had to provide the ingredients himself, he was able to switch the dairy and eggs for vegan alternatives. It was no trouble at all. I'm not sure the teacher even noticed that he'd 'veganised' them ;o)