I'm pleased to report that summer has finally arrived here in Bath. Hooray! And when the temperature's soaring, I like nothing more than starting the day with a cooling bowl of ice cream. Yes, ice cream for breakfast. Now we're talking!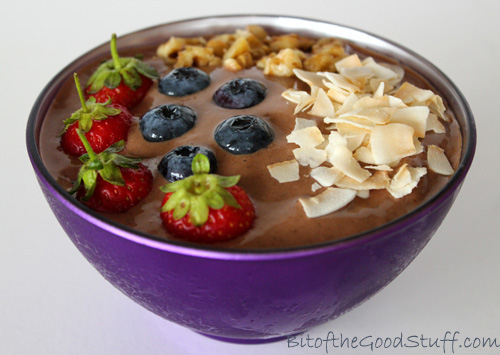 However, this is no ordinary dairy, sugar laden ice cream, but one made with nutrient rich bananas ♥ When frozen then blended, bananas transform into the most delicious, creamy ice cream. And it's super healthy, so you can indulge in it to your heart's content.
The recipe I'm sharing today is for a chocolate-flavoured banana ice cream bowl. Chocolate porridge, chocolate overnight oats, chocolate waffles, chocolate banana ice cream… rarely does a day pass where I don't eat chocolate for breakfast in some shape or form!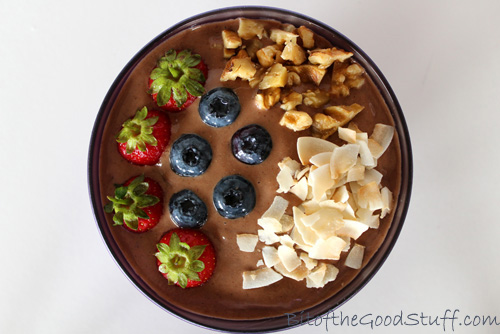 I love to use raw cocoa powder for the 'chocolate hit' in this bowl (commonly referred to as 'cacao powder'). In its raw form, cacao maintains more of its powerful nutrients. It's packed with antioxidants and minerals, including iron, magnesium, zinc and manganese. It also contains mood-enhancing serotonin, phenylethamine (PEA) (the 'love' chemical) and anandamide (the 'bliss' chemical). No wonder this breakfast makes me smile so much!
I also like to include a tablespoon of chia seeds and almond butter for added protein and heart-healthy fats, including omega 3. Adding these two ingredients also helps to make the bowl a more 'complete' breakfast and helps to keep you feeling full up for longer.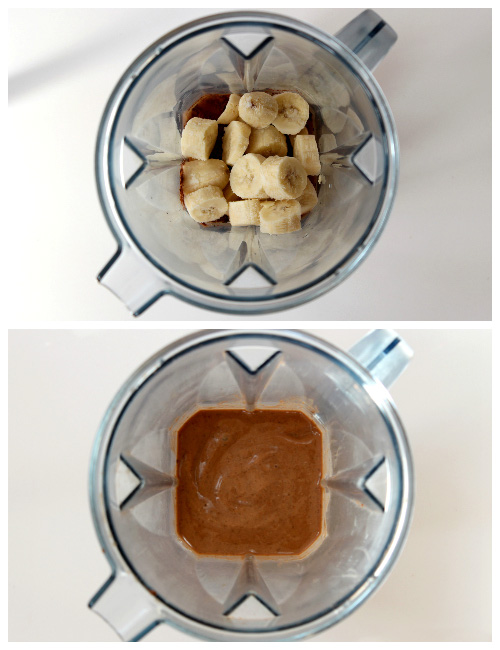 These ice cream breakfast bowls are so quick and easy to make. It's simply a case of freezing the bananas, then whizzing the ingredients smooth in a power blender or food processor (I use my Froothie).
It literally takes a couple of minutes to make!
Serves: 1
Hands on time: 5 minutes    Ready in: 5 minutes
Ingredients
120 ml / ½ cup non dairy milk
2 frozen bananas
1 TBSP cacao or cocoa powder
1 TBSP chia seeds
1 TBSP almond butter
½ TBSP maple syrup
Suggested toppings:
Fresh berries, nuts and seeds (I use strawberries, blueberries, chopped raw walnuts and toasted coconut chips)
Method
If your house is warm, place your breakfast bowl in the freezer for a few minutes.
Slice the frozen bananas into coins.
– In a power blender: Add the milk followed by all the remaining ingredients. Using a tamper tool, push the banana onto the blades. Start blending on low then move to high speed. Add a splash more milk, if needed, to get things moving.
– In a food processor: Add all the ingredients and whizz until smooth. Stop now and then to scrape down the sides and redistribute the banana round the bowl.
– Scoop the ice cream into your breakfast bowl. Add your desired toppings and serve immediately. If you are going to hold the bowl in your hands, wrap a tea towel round it to stop the ice cream from melting.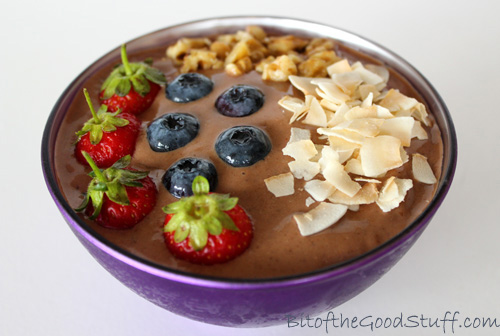 Ice cream, parfaits, chia puddings, pancakes, waffles…. we love interchanging breakfasts and desserts in our house, and it appears that having dessert for breakfast is one of the top food trends right now. Here are some 'desserts for breakfast' from my favourite bloggers that I can't wait to try out:
– Blueberry Bread Pudding Breakfast Cake by Blissful Basil
– 1-Hour Cinnamon Rolls with Aquafaba by Vegan Richa
– Peanut Butter and Jelly Muffins by Minimalist Baker
– Strawberry Cheesecake Mess by Wallflower Kitchen
– Cherry-Strawberry Chia Seed Fool with Vanilla Bean Coconut Whipped Cream from Oh She Glows
– Easy Peasy Pumpkin Spice Bread Pudding by Unconventional Baker