Here in the UK, the temperatures are starting to cool off and there is definitely change in the air. So to celebrate the start of another beautiful season, for this month's entry to the Suma Blogger's Network I'd like to share my Curried Vegetable Pasties ❤️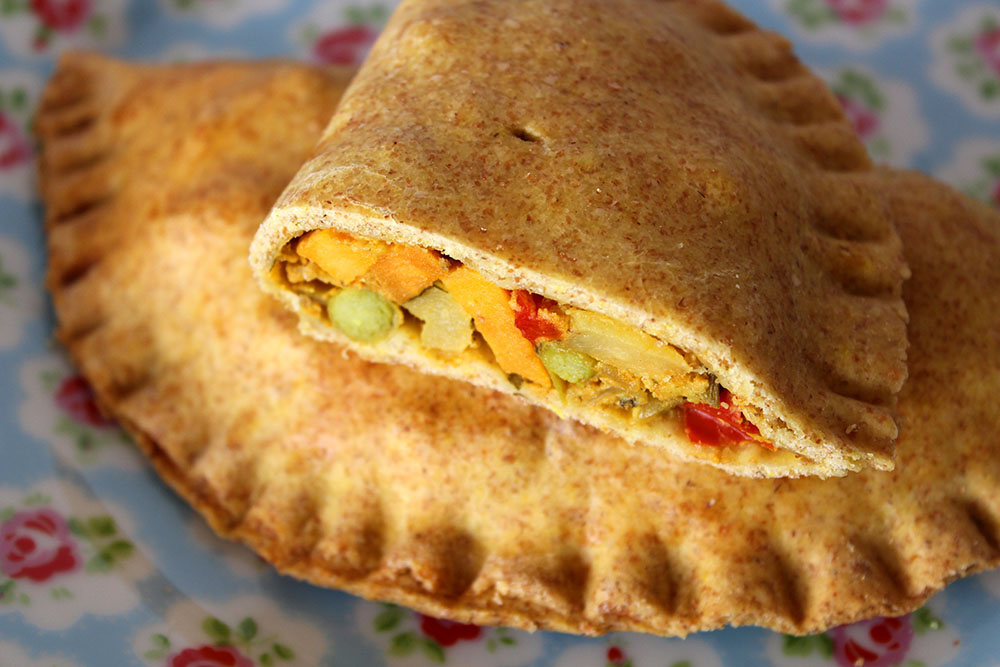 I'm a huge fan of pasties, especially the home-made variety. You can fill them with all manner of vegetables, herbs and spices. One of my all-time favourites is this curried pastie. With its warming flavours and beautiful golden and red hues, this has to be the perfect pastie for Autumn.
These pasties are delicious served straight from the oven as a warming weekend lunch, and can easily be elevated to main meal status with the addition of side dishes, such as baked beans and Crispy Kale. They can also be eaten cold and make a lovely treat for lunchboxes. Lil' L has been enjoying for his school lunches and I've been stashing one in my bag when heading out on bike adventures or shopping trips. They're such a tasty way to refuel!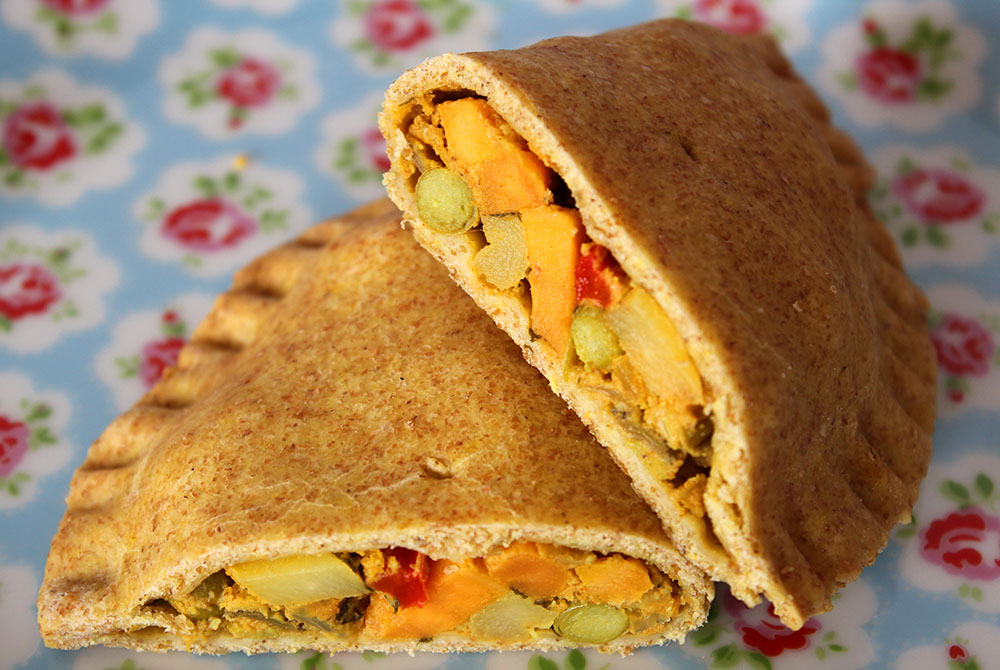 As I've mentioned in previous posts, I love to use culinary (aroma-free) coconut butter for pastry making. I find it gives the pastry a lovely crisp texture and doesn't leave an oily residue on your fingers like oil pastries can. I use the Tiana Organic Fair Trade Coconut Cooking Butter which is available in the UK from health food shops. If unavailable where you live, vegetable spread/vegan butter can be used instead.
For the filling, I simply dice some veggies and simmer them for a few minutes in a mixture of water, curry paste and creamed coconut. This is then left to cool while the pastry is chilling. As it cools, the curry flavours infuse into the veggies. I use the Pataks Korma Curry paste which is very mild, so suitable for children.
To add a touch of creaminess and sweetness, I add in some creamed coconut. This comes in a block, which I finely chop before adding to the pan. Creamed coconut is the pure pulverised flesh of the coconut, so I guess it's classed as a whole food. Creamed coconut can be found on the world food aisles of supermarkets and health food stores, as well as in ethnic stores.
[print_this]
Filled with sweet-tasting veggies cooked in a mild curry sauce, this pastie makes a delicious lunch or light dinner option.  Both the pastry and the filling can be made up to a day in advance. Just remember to remove the pastry from the fridge 15-20 minutes before rolling.
Makes 6 pasties
Hands on time: 35 minutes    Ready in 1 hour 45 minutes
Ingredients
Filling:
2 TBSP mild curry paste (e.g. Pataks korma paste)
240 ml / 1 cup water
1 medium sweet potato (140g), finely diced (peeling is optional)
1 medium carrot (120g), finely diced
1 large onion (150g), finely diced
1 red bell pepper or sweet romano pepper (190g), deseeded and finely diced
1 celery stick (65g), trimmed and finely diced
70g / ½ cup frozen green peas
50g / ¼ cup creamed coconut (or coconut butter), finely chopped*
2 TBSP fresh coriander leaves (cilantro), finely chopped
* Sometimes the coconut oil can separate from the butter. For this recipe, use only the creamy, opaque butter. The coconut oil (bright white in colour and softer in texture) can be saved for another recipe.
Pastry:
140g / 1 cup chapatti flour or fine wholemeal (whole wheat pastry) flour
140g / 1 cup plain (all purpose) flour
¼ tsp salt
¼ tsp ground turmeric
100g / ½ cup aroma-free coconut butter (e.g. Tiana) or dairy-free spread/ vegan butter
5-8 TBSP cold water
Soya milk, for glaze
Method
Prepare the filling: Heat the curry paste and water in a pan. Add the vegetables and creamed coconut. Bring to the boil then reduce the heat and simmer, uncovered, for 10 minutes. Stir in the coriander. Transfer to a large, wide bowl and leave to cool. Once ready to make the pasties, tip the veggies into a colander over the sink and drain off the excess sauce.
While the vegetables are cooking, prepare the pastry: Place the flour, salt, turmeric and coconut butter/dairy-free spread/vegan butter in a food processor and whizz to combine. Add water through the funnel, one tablespoon at a time until the crumbs start to come together. Scoop the crumbs into a ball, wrap in cling film (plastic wrap) and chill in the fridge for 30 minutes.
Preheat the oven to 190C (170C fan) / 375F. Line two large baking sheets with non-stick baking paper.
Divide the pastry into six balls (I weigh my dough to divide it equally). On a lightly floured surface, roll a ball into a circle with an 18cm / 7 inch diameter (I use a side plate as a template). Place ½ cup of vegetables on one half of the circle, leaving a small border. Brush the pastry edge with water. Fold the other half of the pastry over the filling to form a half moon. Crimp the edge using a fork handle to seal. Repeat for the remaining five pasties. (You may find you have enough pastry scraps and filling left over to make a mini seventh pastie).
Place the pasties on the prepared baking sheets. Brush the top of each pasty with soya milk and pierce twice to allow the steam to escape. Bake for 40 minutes until the pasties are firm to the touch. Stored in an airtight container, the pasties will keep for up to five days in the fridge.
[/print_this]
Big shout out to Suma for supporting and encouraging my kitchen experiments! What to find out what the other Suma bloggers have been up to? Check out this Pinterest board.
If you make the pasties I'd love to see your photos! Be sure to tag me using #BitoftheGoodStuff

Another pastie on the blog…
SaveSave
SaveSave
SaveSaveSaveSave
SaveSave