In today's post I'm sharing two recipes. The first is for a delicious, quick and easy Ratatouille. It's a versatile dish which can be served myriad ways. My family's current favourite way to serve it is with Seared Polenta. The polenta does need preparing in advance but it's most definitely worth it. If time is of the essence though and you need a quick meal, how about serving it with some crusty pesto-topped bread, stirred through pasta or with a side helping of butter bean mash (recipe below).
So many options!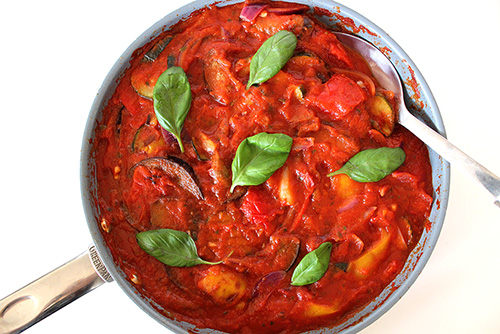 Both the ratatouille and butter bean mash recipes are from Kate Ford's new cookbook Vegan in 15.  You've probably already heard of the lovely Kate. She writes the blog The Veg Space which she fills with gorgeous veggie recipes. I was lucky enough to be sent a copy of Kate's book when it launched last month. It's a sweet little book full of ideas for quick, easy vegan meals. The book is mostly unillustrated (which is a bit of a shame as Kate's photography is stunning!) but Kate has been posting photos of the meals from her book on her Instagram page, which have been great to see.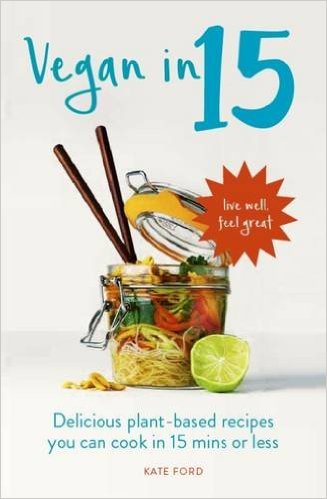 One of the first recipes in Vegan in 15 that caught my eye was the Quick Ratatouille.  I absolutely love Ratatouille but had always assumed that it was the kind of dish that needs to cook for a long time (in order for the aubergine to become soft and melty).  So when I spotted Kate's 15 minute Ratatouille recipe I had to give it a try.
The way Kate is able to reduce the cooking time to 15 minutes is to use pre-cooked frozen aubergine slices. This gave me a 'lightbulb' moment and I realised that I could probably get away with using a bag of mixed grilled Mediterranean vegetables in the Ratatouille and save myself even more chopping time. I spotted a bag of frozen Mediterranean vegetables in Sainsbury's which included grilled aubergine, red pepper, yellow pepper and courgette, which was just perfect for this dish.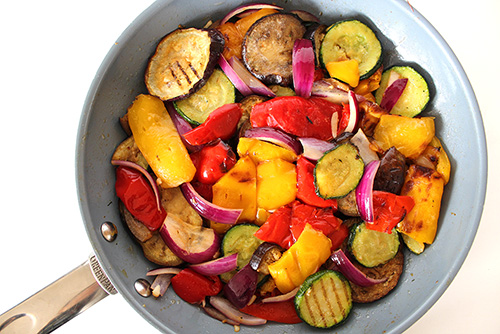 Another recent labour-saving discovery of mine has been frozen bags of ready chopped garlic, ginger and herbs. They are so handy and saved me so much time on grating, chopping and washing up (anyone else loathe washing up the garlic press?) not to mention the cost savings on all the pots of herbs I was buying that invariably died within a few weeks. Now I'm wondering why it has taken me this long to discover them!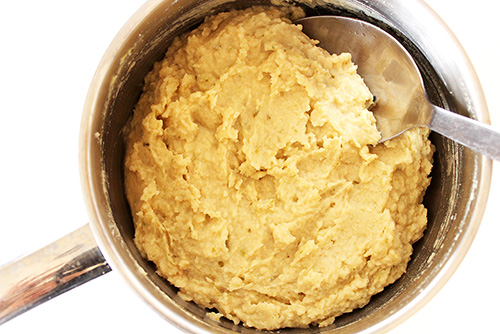 The Pesto Butter Bean Mash is another dish that my family's been enjoying from Vegan in 15. It only takes a handful of minutes to make and is far more nutrient-rich compared to white potato mash. It makes a great, quick accompaniment for the Ratatouille. I'm sharing the recipe below which I've tweaked slightly from the original (as my family were keen to have bigger portions).
[print_this]
15 Minute Ratatouille
Lightly adapted from Kate Ford's Quick Ratatouille in Vegan in 15
This quick and easy dish can be served a myriad of ways. My family loves to serve it with Seared Polenta (though the polenta does need preparing in advance). For busy weeknights, how about serving it with crusty pesto-topped bread, stirred through pasta or with a side helping of pesto butter bean mash?
Serves 4
Hands-on time: 10 minutes    Ready in: 15 minutes
Ingredients
2 TBSP olive oil
2 tsp ready chopped garlic/garlic puree
500g / 18 oz bag frozen Mediterranean grilled vegetables
700g / 3 cups tomato passata with basil (or finely chopped tomatoes with basil (e.g. Cirio) or use plain passata and 1 TBSP finely chopped fresh or frozen basil)
4 TBSP capers (optional)
2 tsp unrefined sugar
salt and black pepper, to taste
optional extras
1 red onion, sliced (pan fry with the garlic)
400g / 14 oz can of beans, drained
Method
Heat the oil in a large frying pan (skillet). Add the garlic and cook for a minute.
Add the frozen Mediterranean grilled vegetables and stir fry for a couple of minutes.
Add the passata, capers and sugar to the pan. Stir through. Bring to the boil then reduce the heat and simmer for 8 minutes or so, stirring occasionally. Season with salt and pepper, to taste.
This dish will keep for three days in the refrigerator.
[/print_this]
[print_this]
Pesto Butter Bean Mash
Serves 4
Hands-on time: 10 minutes    Ready in: 10 minutes
Lightly adapted from Kate Ford's recipe in Vegan in 15
Ingredients
3 x 400g can butter beans, drained
120ml / ½ cup water
1 tsp vegetable bouillon powder (e.g. Marigold)
1 TBSP vegan basil pesto (e.g. Sacla free-from pesto)
pinch of salt
Method
Place all the ingredients in a food processor and blitz into a smooth puree. Add a splash more water, if needed, to reach the desired consistency. Taste test and add a touch more pesto or salt, if desired.
Transfer to a small pan and gently heat through, stirring regularly.
This dish will keep for three days in the refrigerator.
[/print_this]
Are you a fan of ratatouille? What's your favourite way to serve it?