In today's post, I'm sharing a recipe for a delicious curry that's simple to prepare and ready in just 30 minutes. It's budget friendly too, costing less than £1 per portion. It's mild enough to serve to all family members and contains an abundance of nutrients to keep them in tip-top condition, including plenty of protein, complex carbohydrates, fibre, vitamins, minerals and antioxidants. It's proven to be a winner with my family and we hope you enjoy it too!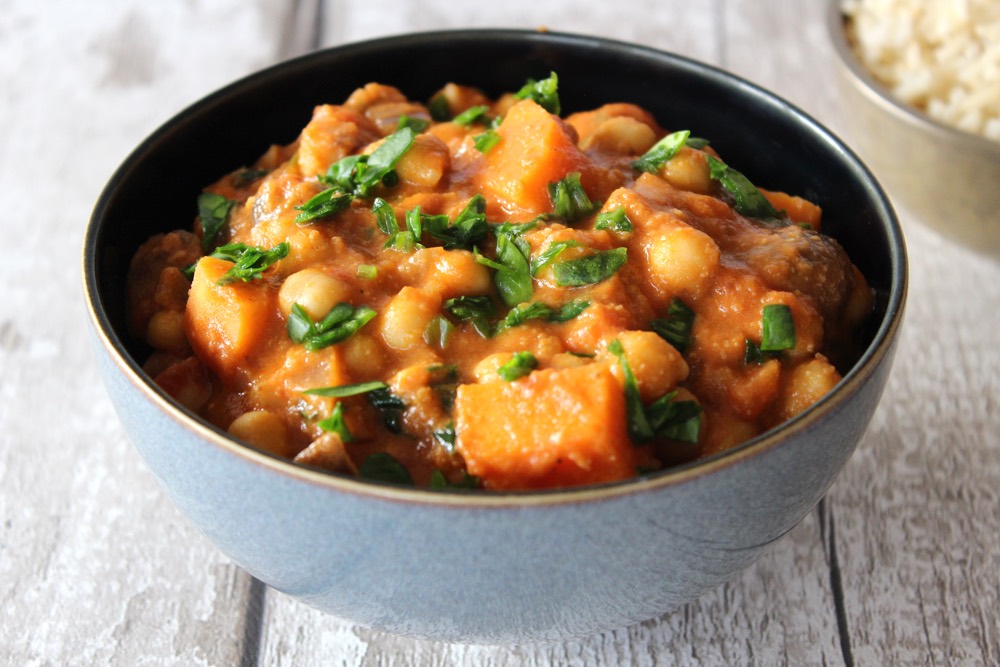 Friday night is Curry Night in our house. I always look forward to Friday evenings as the boys venture into the kitchen and help prepare the dinner. There's music, chat and always lots of laughter. We used to buy Indian take-aways or ready meals from the supermarket on a Friday, but for the past year or so we've preferred to make our own. Not only is it much cheaper, but we actually prefer the flavours and fresh tastes of home-made curries.
Our all-time favourite Friday night dish is Coconut Dhal with Butternut Squash (p166 Bit of the Good Stuff cookbook) and this is the one we typically go for. However, from time to time, we do like to mix things up and try a new dish.
As I was flicking through January's edition of Vegan Life magazine, there was one photo in particular that caught my eye and it was for a Peanut Butter and Chickpea Curry. It looked so tantalising that I couldn't wait to give it a try. We made it one Friday night and we did enjoy it, but it wasn't long before my head was buzzing with ideas of how I could tweak the recipe to ramp up the nutrient goodness (by adding in extra veg) and adjusting the spice blend to give it a more traditional Indian curry flavour (which I love).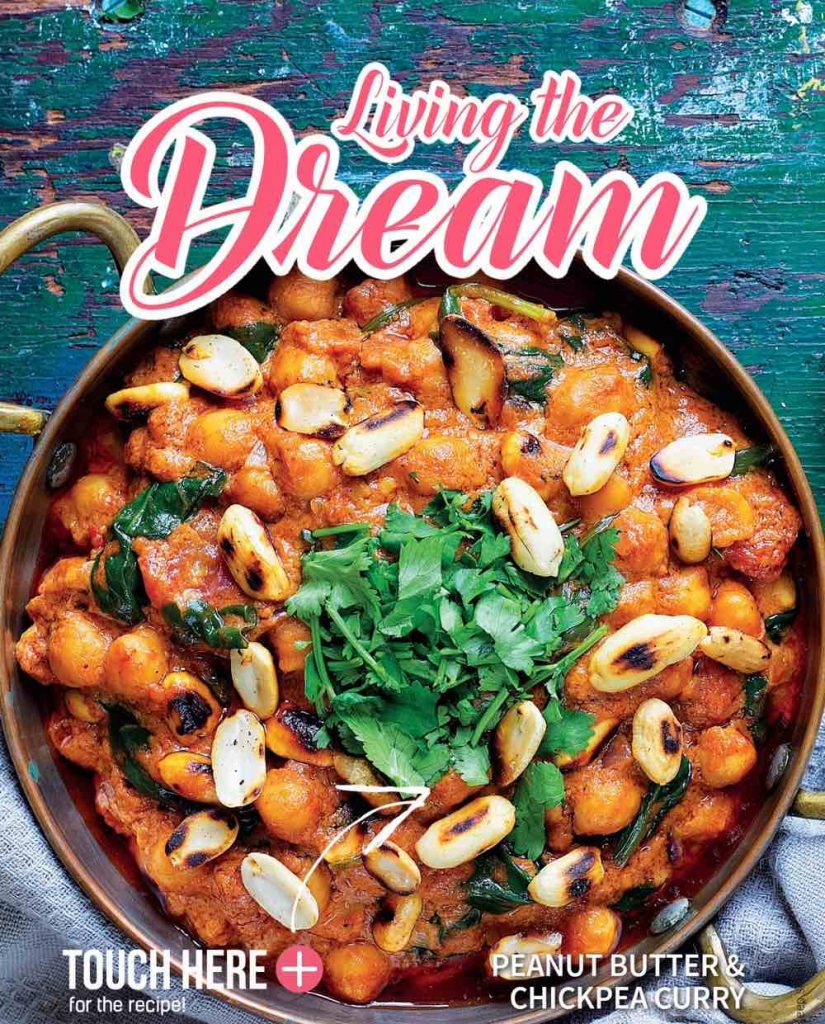 For my Indian curries, I prefer to use creamed coconut rather than coconut milk. Unfortunately, most of the coconut milks available in mainstream UK supermarkets have weird-sounding ingredients like 'Polysorbate 60'. In contrast, creamed coconut is simply made of dehydrated coconut meat. I only use a quarter of a 200g block so the overall fat content of the curry is less than using a can of coconut milk. It also works out far cheaper. The creamed coconut in this curry cost just 20p compared to £1.35 for a can of coconut milk (without weird ingredients). Creamed coconut can be found on the world food aisles in UK supermarkets, as well as health food shops and ethnic stores. It comes in a solid block, so not to be confused with coconut cream which comes in a can.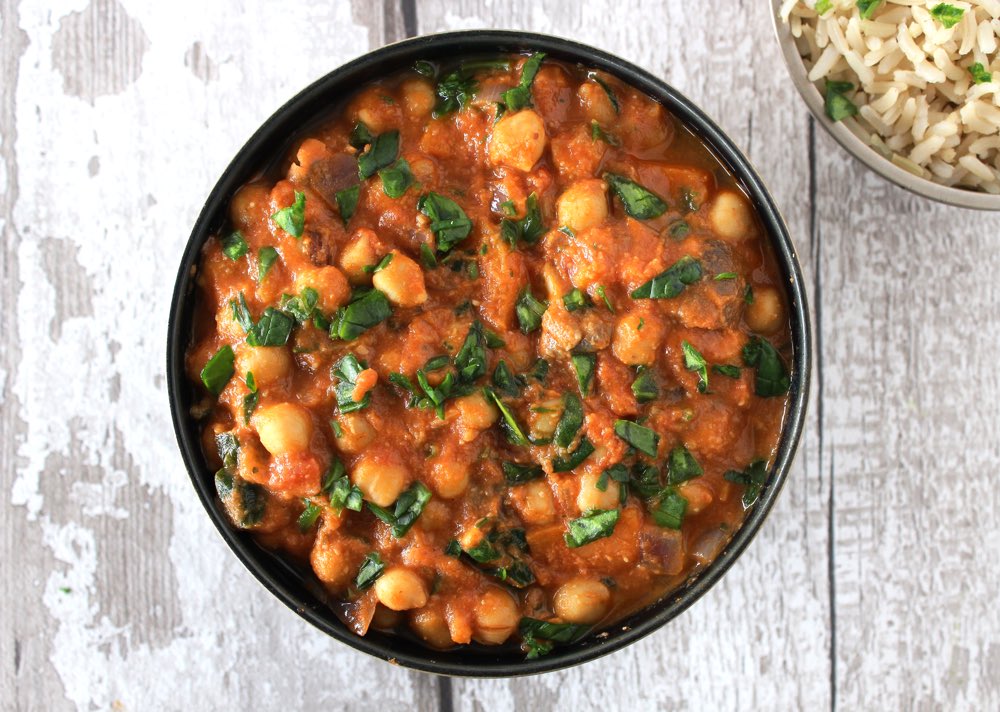 On Friday nights, we love to serve our curries with vegan naan. Until fairly recently, these were hard to come by, however Morrisons and Asda now stock them. Hopefully more supermarkets will come on board soon.
This curry is perfect if you're on a tight budget. I used organic vegetables and chickpeas in this curry and it cost £4.46 for 4 people. Shopping at a mainstream UK supermarket with non-organic ingredients, it costs £2.75. And I bet you could make it even cheaper if you shopped at a budget store.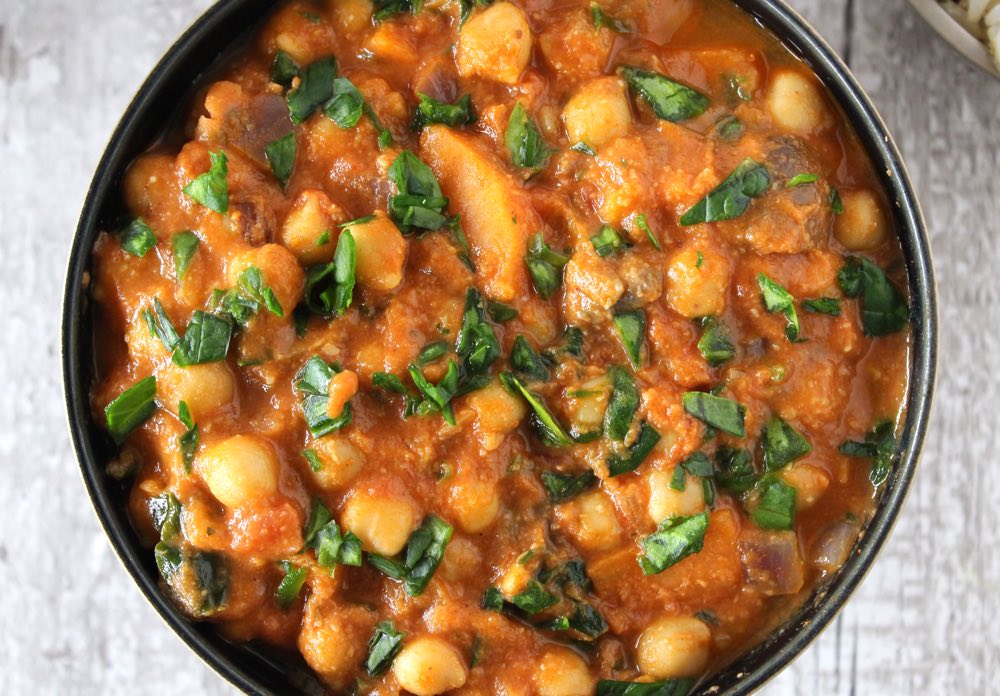 This curry is easy and quick to prepare. It's also super cheap to make! I've kept the spices mild so that it's family-friendly, but feel free to crank up the heat by adding extra cumin and cayenne pepper.
Inspired by 'Peanut Butter and Chickpea Curry' by Healthy Living James in Vegan Life magazine, January 2018.
Serves 4
Hands on time: 20 minutes Ready in: 30 minutes
Ingredients
½ TBSP olive oil
1 large onion, finely chopped
2 garlic cloves, minced
18g ginger (1 inch piece), finely grated
1 tsp smoked paprika
½-1 tsp ground cumin
½ tsp ground coriander
¼-½ tsp cayenne pepper (depending how spicy you want it)*
400ml / 14 oz can chopped tomatoes
360ml / 1½ cups vegetable stock (broth)
2 x 400ml / 14 oz cans chickpeas, drained
2 medium sweet potatoes (340g), peeled and diced
50g (¼ of a 200g / 7 oz block) creamed coconut, chopped
125g / 1½ cups mushrooms, chopped
large handful spinach leaves, chopped
1-2 TBSP natural peanut butter (preferably one with no sugar or salt added)
salt, to taste
Method
1. Gently heat the oil in a large heavy-bottomed pan over medium-low heat. Cook the onion for 4 minutes.
2. Add the garlic and ginger and cook for a further minute.
3. Stir in the spices.
4. Add the chopped tomatoes, vegetable stock, chickpeas, diced sweet potatoes, creamed coconut and mushrooms. Bring to the boil then reduce the heat, cover with a lid and simmer for 15 minutes or until the potato is tender.
5. Remove from the heat. Reserve a small amount of the chopped spinach as a garnish, then stir the remainder into the curry.
6. Stir 1 TBSP peanut butter at a time into the curry, taste testing until you reach the desired level of nuttiness. (I personally prefer just 1 TBSP). Season with salt and pepper to taste.
7. This curry is delicious served with brown rice, naan bread or chapattis. Any leftovers can be stored in the fridge for up to five days. I haven't tried it yet, but I'm pretty confident that this will curry will be freezable.
* If serving to small children, omit the cayenne pepper and stir it into the pan once the children's portions have been removed.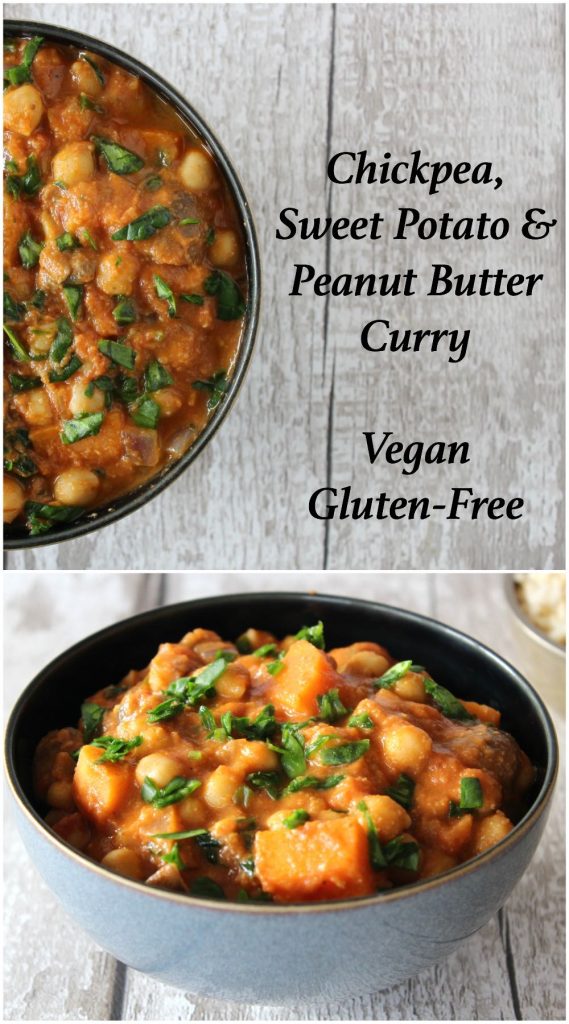 With love,

Do you have a Curry Night in your house? If so, what's your favourite curry dish?
SaveSave
SaveSave
SaveSave
SaveSave
SaveSave