Hi everyone! I hope you're managing to stay warm! Here in Bath, it's snowing pretty heavily, which is a rare occurrence round these parts. The last big snowfall was in 2013, which I recorded here on the blog, along with a recipe that's just perfect for this kind of weather… Sweet Chestnut Casserole with Herby Dumplings. I can't believe that was five years ago already!
Well today, I have another comfort food recipe for you… Jacket Sweet Potato with Dhal and Pomegranate. It's such a beautiful dish, packed full of flavours and colours, as well as lots of immune-boosting nutrients.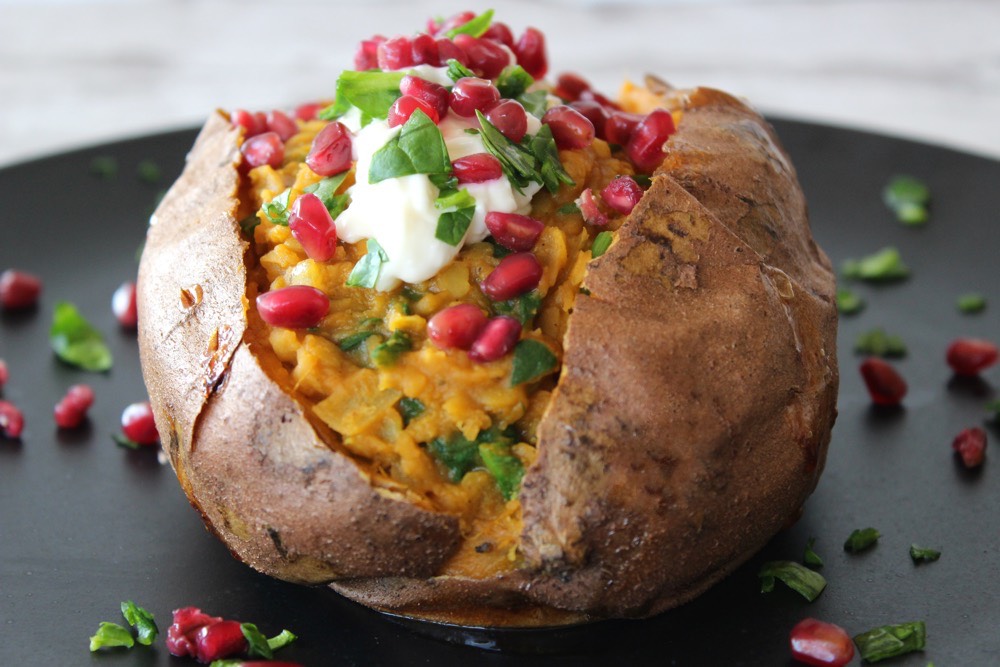 The inspiration for the dish came from the December issue of Vegan Life magazine. As soon as I laid eyes on the picture below, I couldn't wait to try it out. I love jacket sweet potatoes and dhal, but I'd never have thought of putting the two together. Genius!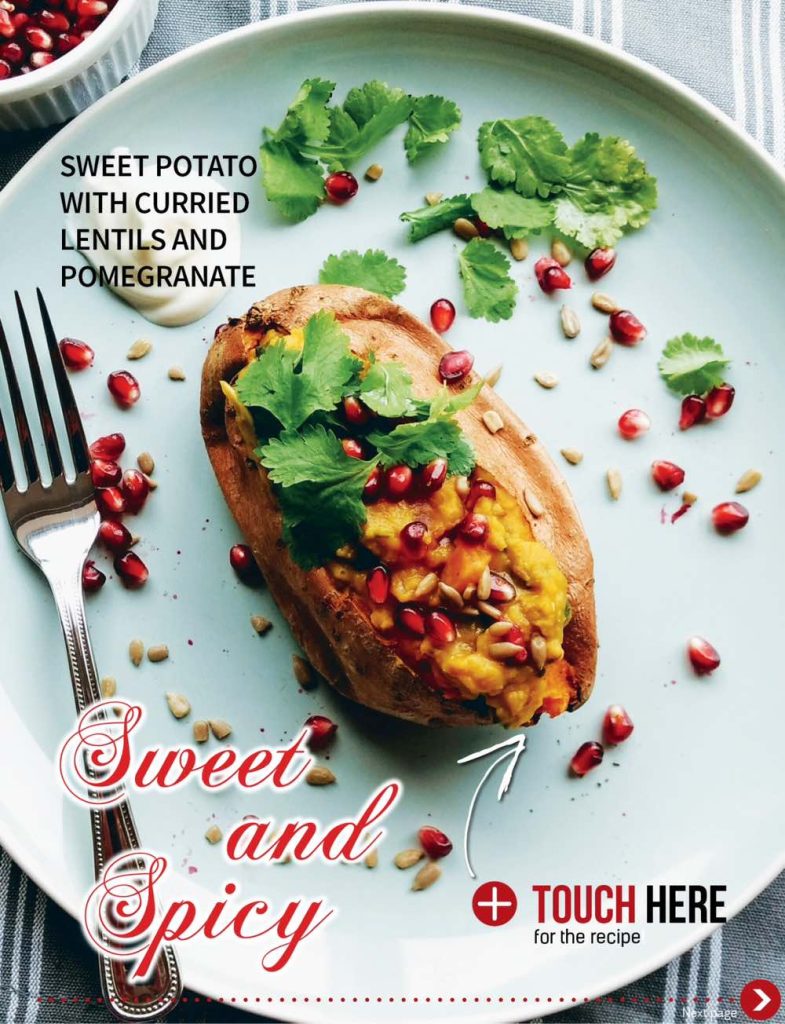 It's really easy to make too. I did tweak the original recipe a little, adjusting the cooking time and recipe quantities, and also switching a few ingredients based on what I had available, but the resulting dish looks pretty similar to the original don't you think? Lucien can't bear fresh coriander so I used baby spinach instead, which worked perfectly in the filling and as a garnish too.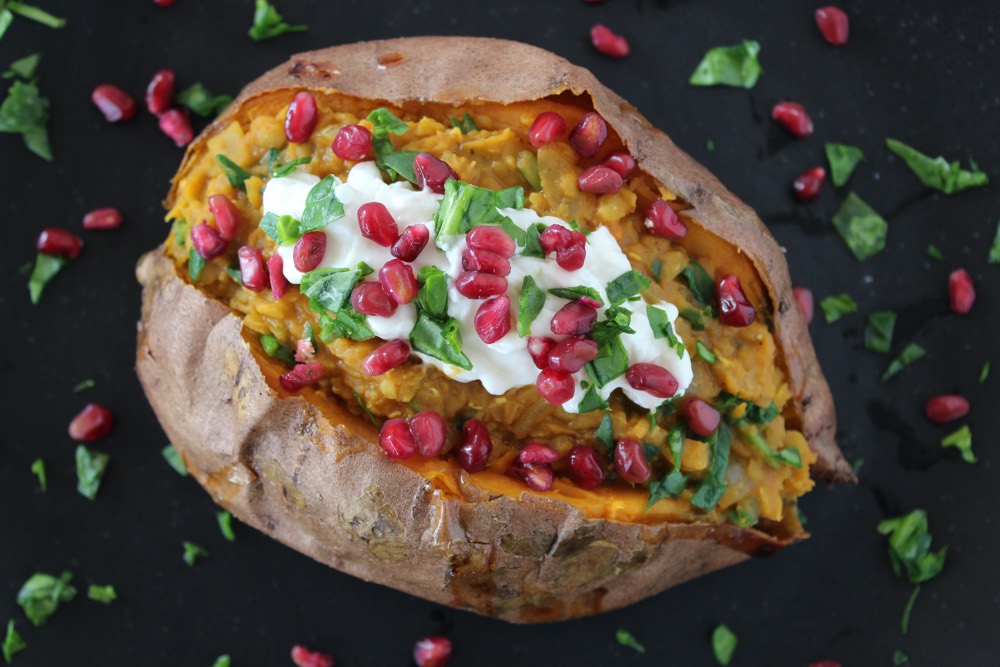 I know pomegranate seeds can be expensive but they are definitely worth adding if you can find them at a good price. In my experience, they tend to be cheaper in independent grocer shops compared to supermarkets. Last time I purchased them, I managed to get 3 for £1 at a grocers in Trowbridge.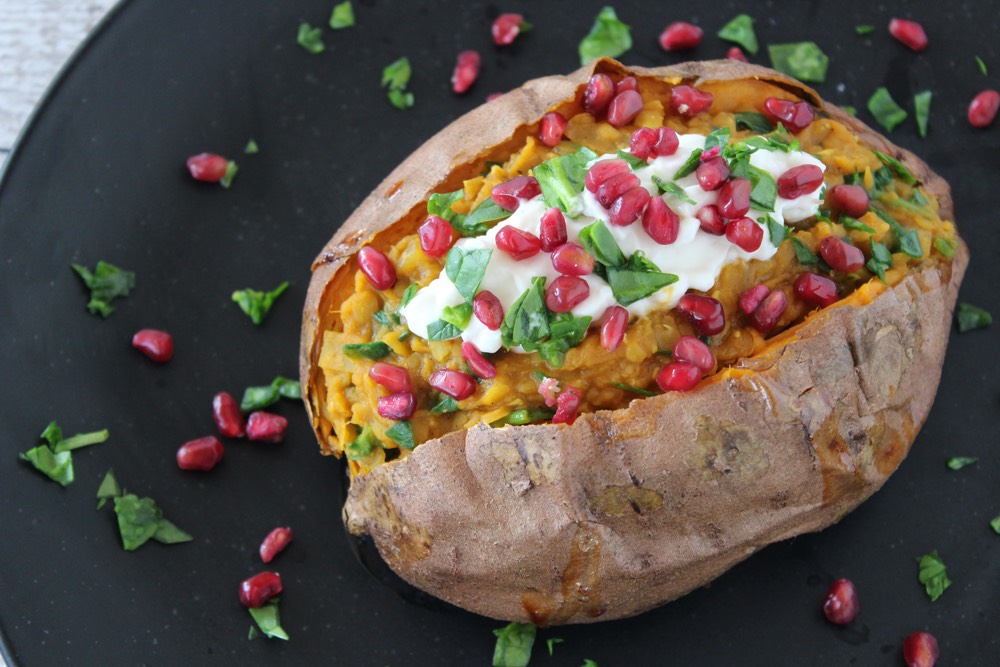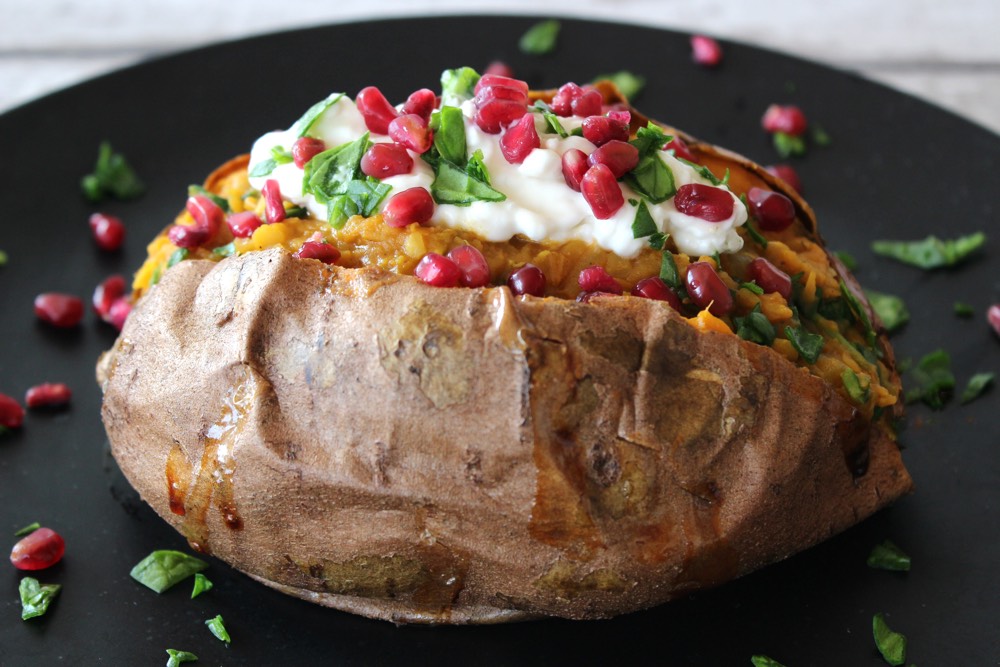 [print_this]
This dish makes a great weeknight meal. The dhal filling can be prepared while the potatoes are roasting, or it can be made in advance. I tend to double the dhal recipe and save half for another meal later in the week, to which we add extra veggies like red bell pepper and mushrooms, then serve with naan or rice.
[Adapted from Sweet Potato with Curried Lentils and Pomegranate featured in Vegan Life magazine, Issue 33]
Serves 4
Hands on time: 20 minutes    Ready in: 65 minutes
Ingredients
Jacket sweet potatoes
4 large sweet potatoes, scrubbed clean
olive oil
Dhal
½ TBSP olive oil
1 large brown onion, finely chopped
1 cup red lentils
2 garlic cloves, minced
2cm / ¾ inch piece ginger, finely grated
1 tsp ground cumin
1 tsp garam masala (or your favourite curry powder)
¼-½ tsp ground turmeric
480ml / 2 cups vegetable stock (broth)
2 TBSP tomato puree (tomato paste)
2 handfuls baby spinach, finely chopped (reserve some for a garnish)
For garnish
pomegranate seeds
vegan mayonnaise (I love Vegenaise, currently available in the UK from health food shops, online stores and Sainsbury's)
Method
1. Pre-heat the oven to 200C (180C fan) / 400F.
2. Prick the top and sides of the sweet potatoes with a knife. Rub a little olive oil all over the potato skin then place them on a baking tray. Bake for 1 hour, or until the potatoes are very soft inside.
3. Gently heat the oil in a large pan. Cook on the onions on medium heat until they start to soften (about four minutes).
4. Meanwhile, thoroughly wash the lentils by placing them in a fine mesh sieve and rinsing under cold running water, agitating them with your hand until the water runs clear.
5. Add the garlic, ginger and dry spices to the onions and cook for a further minute. Add the lentils and stir through.
6. Add the vegetable stock and tomato paste to the pan. Bring to the boil, then reduce the heat, cover with a lid and simmer for 15 minutes or until the lentils are soft. Stir now and then. Towards the end of the cooking time, check the liquid levels and add a splash more water or stock if needed. This is meant to be a thick dhal so you just want sufficient liquid to prevent the lentils drying out.
7. When the lentils are soft, stir in most of the spinach (reserve some for a garnish). When the spinach has wilted remove the pan from the heat. Check the seasoning and add some salt, pepper or additional spice, if desired.
8. When the potatoes are ready, cut them open and fill with dhal. Add a dollop of mayonnaise and sprinkle on some chopped spinach and pomegranate seeds as a garnish.
The potatoes are best served immediately. The dhal will keep for five days in the fridge. It is also freezable.
[/print_this]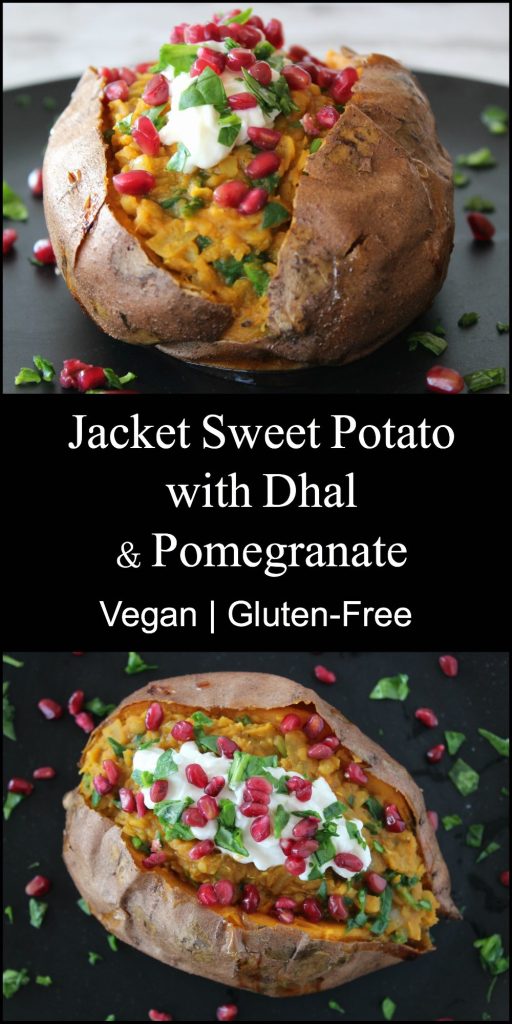 This meal has been a huge hit with the family. We've made it three times already and I can see it becoming a staple in our house. I hope you enjoy it as much as we do!
Stay warm everyone!

SaveSaveSaveSave
SaveSave
SaveSave
SaveSave
SaveSave
SaveSave
SaveSave
SaveSave