In today's post, I'm sharing a delicious 'quick and easy' Thai red curry that is ready in just 20 minutes! It features vibrant veggies like red onion, sugar snap peas, bell peppers and baby corn that require minimal preparation and cooking. Not only do they add beautiful colours and crisp textures to the curry, but they are packed full of nutritional goodness, including lots of antioxidants for a strong immune system. This curry has been a huge winner in our house. We hope you love it too!
The inspiration for today's recipe was the December issue of the Vegan Life magazine. It might seem a little unusual to have a curry recipe featured in the Christmas cooking section, however I totally get it. While I enjoy indulging in the traditional festive fare, it's not long before I start to crave lighter, more nutrient-rich dishes, just like this Thai curry.
Quick dinners with minimal preparation are also high on my list during the festive season as I want to maximise my time with the family, rather than slaving away in the kitchen preparing food and washing up.
While the original recipe includes a curry paste made from scratch, I decided to cheat and use a shop-bought paste for speed, convenience and cost. When it comes to Thai curry pastes, I find that that shop-bought versions tend to work out cheaper than buying the individual components, like lemongrass and kaffir lime leaves.
My current favourite brand of red curry paste is Thai Taste, which is made with fresh ingredients, including red chilli, lemongrass, galangal, and kaffir lime peel. Unlike other brands of Thai curry paste, this one is suitable for vegans as it doesn't contain dried shrimp or fish sauce.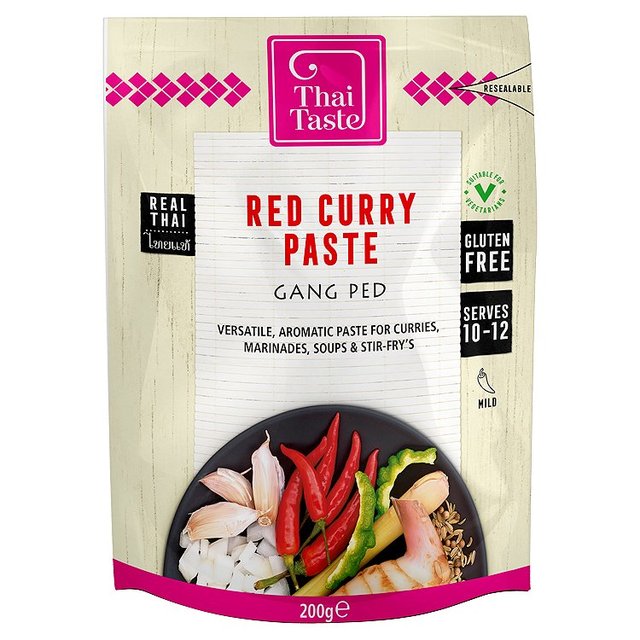 The Thai Taste red curry paste is classed as 'Mild' but I still find it pretty hot. Older children may be able to handle the heat but for younger children, I would recommend making a mild curry Thai paste from scratch (like the one featured on p111 of the Bit of the Good Stuff cookbook … it's mild, but still full of the lovely, fragrant spice flavours that we associate with Thailand).
[print_this]
This Thai red curry is packed full of beautiful colours, textures and flavours. It's quick and easy to prepare, making it the perfect 'fast food'!
Serves 4
Hands on time: 10 minutes — Ready in: 20 minutes
Ingredients
1 TBSP oil
1 red onion, sliced
2 bell peppers, deseeded and sliced
2 TBSP vegan-friendly Thai red curry paste
400g / 14 oz can coconut milk
about 350g / 12½ oz pan-fried seitan, tofu or other meat-free alternative*
100g / 1 cup fine green beans, trimmed and halved
8 baby corn, halved
100g / 1 heaping cup sugar snap peas
Method
1. Gently heat the oil in a large deep-sided frying pan (skillet). Slice the onion and add it to the pan.
2. Slice the peppers and add them to the pan.
3. Add the Thai curry paste and about a quarter of the can of coconut milk to the pan. Stir until the paste has dissolved into the milk.
4. Add the seitan or other meat-free alternative, the fine green beans and baby corn. Bring to the boil then reduce the heat and simmer for 7 minutes.
5. Finally, add the sugar snap peas and continue cooking for a couple of minutes until warmed through.
6. Serve with a whole grain like brown rice, quinoa, whole-wheat couscous or some granary bread. Any leftovers can be stored in the fridge for up to five days.

Ingredients used in this recipe
Thai Taste Red Curry Paste
Chaokoh Coconut Milk
* I use Basic Home-Made Seitan, pan-fried in a little olive oil with 1 tsp each smoked paprika and ground cumin. *If you prefer to use a ready-made meat-free alternative, try Fry's Thick Cut Chunky Strips , Iceland's No Chick Strips or Oumph's The Chunk

[/print_this]
Pin for later ⬇️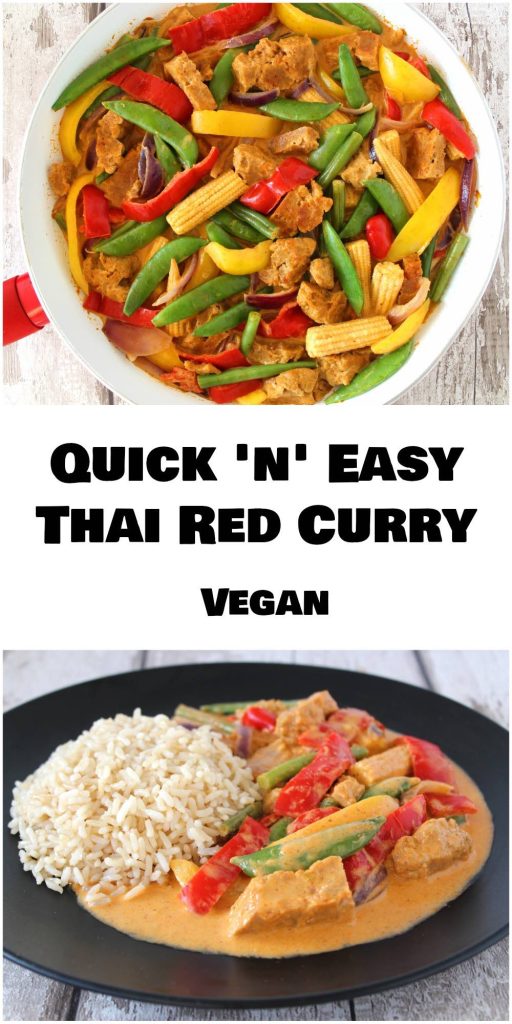 If you make this recipe, I'd love to hear your feedback and any suggestions for adaptations. Tag your photos with #bitofthegoodstuff on social media and they'll find their way to me. You can also connect with me on my social media channels here: Instagram, Twitter, Facebook, Pinterest.
Wishing you all the very best for this holiday season and the upcoming New Year ✨ May it be filled with peace, good health and happiness!

With love,