Today I'm sharing a vegan 'cream cheese' that's delicious, nutritious and so easy to make! You can whip it up in five minutes or less! We love to use this cream cheese as a filling for bagels and sandwiches, and for topping warm toast. It's nut-free too, so perfect for packing into school lunchboxes.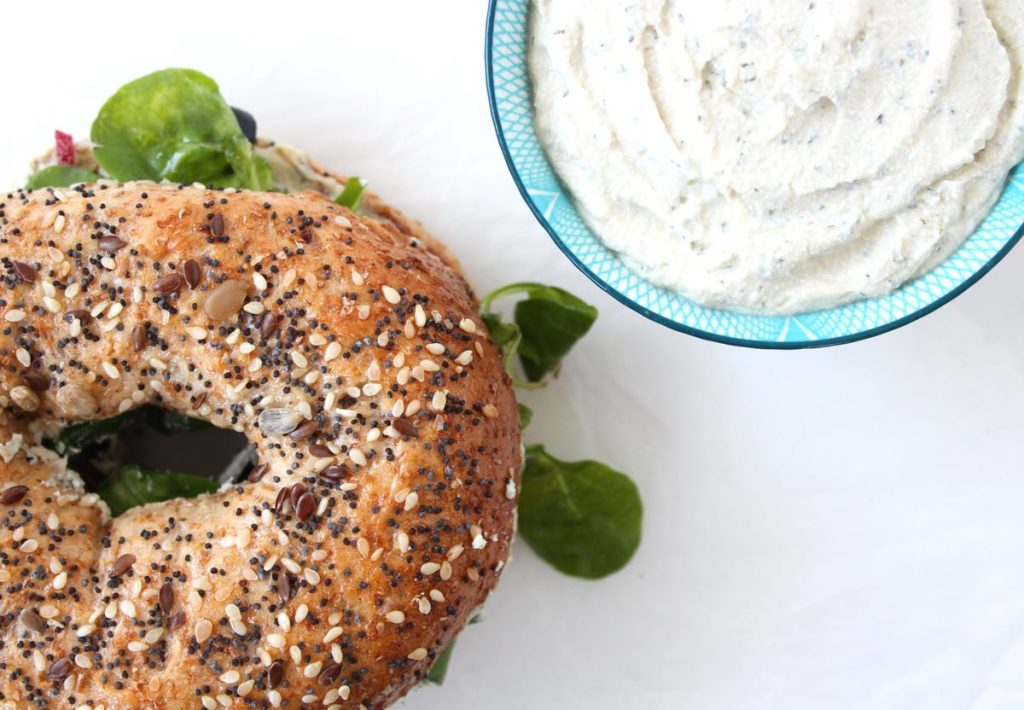 In recent years, the big supermarkets and health food shops in the UK have started stocking a range of vegan cream cheeses, which has been wonderful to see! I've been slowly working my way through them, trying the different brands and flavours, and most of them have been really, really good!
However, the downside for me is that they tend to be highly processed and made of ingredients with little nutritional value; the kind of product that I'm happy to use occasionally, but wouldn't want to be consuming on a regular basis.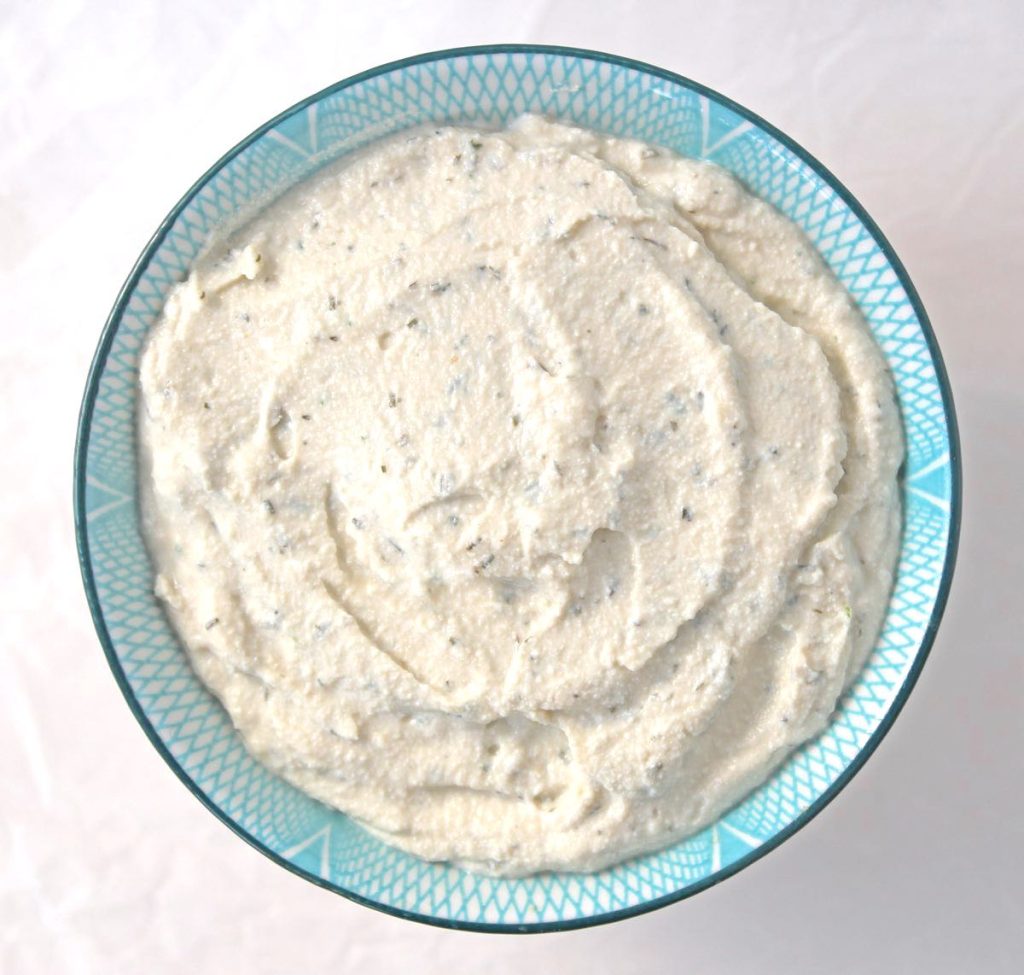 And since I have a soft spot for cream cheese, but also love to fill our family meals with nutrient-rich ingredients, I decided to have a go at making my own vegan cream cheese alternative. And it was so much easier than I imagined!
I used firm tofu as the base ingredient. When blended with a little oil, I discovered it had the perfect consistency for a savoury cream cheese. It also happens to be packed full of nutritional goodness. Not only is it a great source of protein, but it also contains a whole host of vitamins, minerals and phytonutrients that support good health.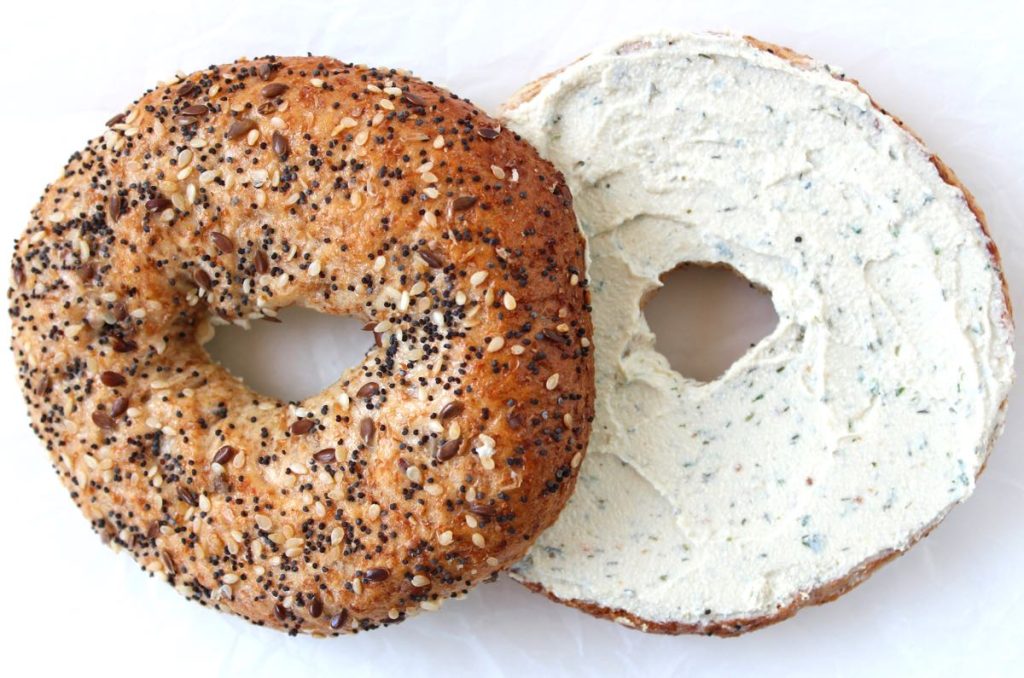 Whenever possible, I like to use calcium-set tofu as it's such an easy way to boost our calcium levels. Here in the UK, the only brand I've found (so far) that's set in calcium, is Cauldron. Luckily, this is the one that's most widely available in our supermarkets. According to their website, just a quarter of a block of their Original Organic tofu contains a whopping 40% of the calcium RDA!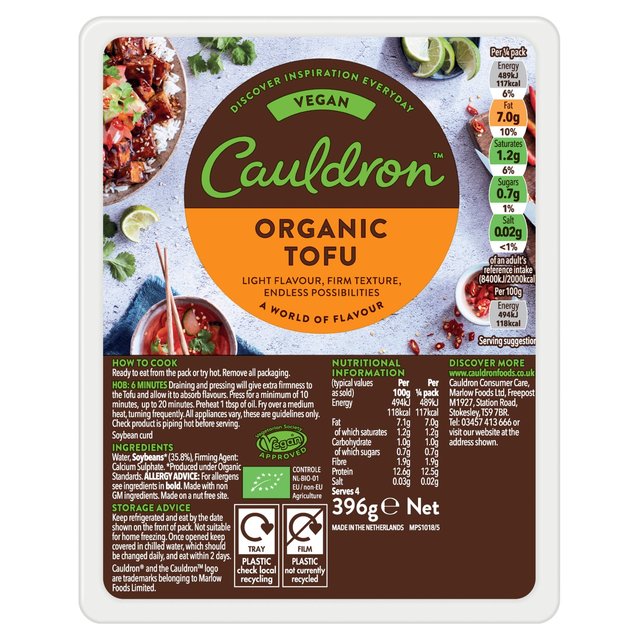 As well as being nutritionally rich, another great thing about making your own cream cheese is that you can flavour it however you wish. As a nod to an old favourite of mine from my dairy-munching days – Boursin – I chose to flavour this one with a mix of fresh and dried herbs, garlic granules and onion powder.
The onion powder adds an incredible 'cheesy onion' flavour. It's amazing stuff! 
Sadly, at present, onion powder isn't available in UK supermarkets, but you can buy it from health food shops or online. A lot of independent health food shops (like Harvest in Bath) stock onion powder in their bulk jars. If you do buy it from a bulk jar, be sure to transfer it to an airtight container as quickly as possible, otherwise the moisture in the air makes the onion powder lump together (I learnt this the hard way!) Fortunately, even if it does go lumpy, it's still usable.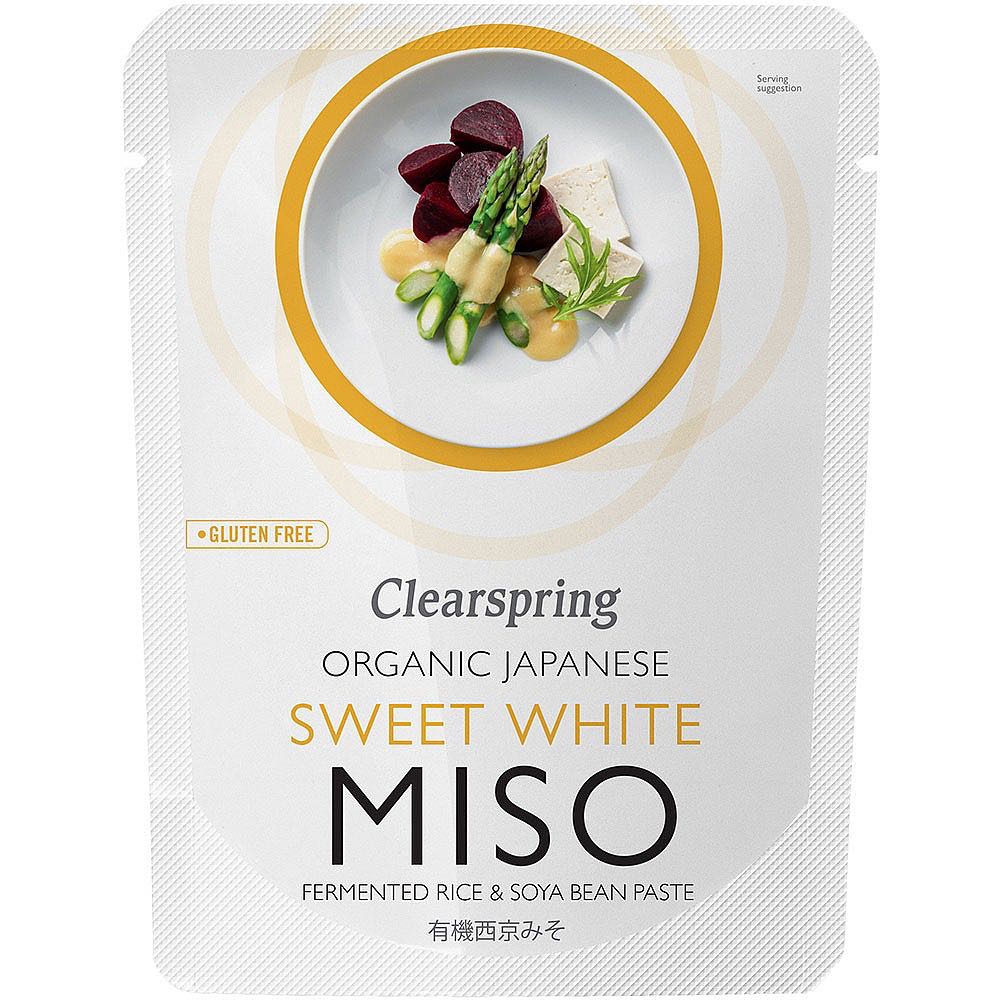 I also love to add some sweet white miso into this cream cheese. It adds a hint of 'umami' flavour, taking this cheese to a whole new level of deliciousness. I buy the Clearspring Japanese Sweet White Miso which is available from Waitrose, Ocado or online. I use this miso in a lot of my recipes including the Creamy Vegan Carbonara, Quinoa Winter Bowl with Roasted Vegetables, Cranberries and Balsamic Glaze and Cauliflower 'Mac n Cheeze' (p104 in the Bit of the Good Stuff Cookbook), so if you don't usually buy white miso, there are plenty of recipes to try it in, and it definitely won't go to waste.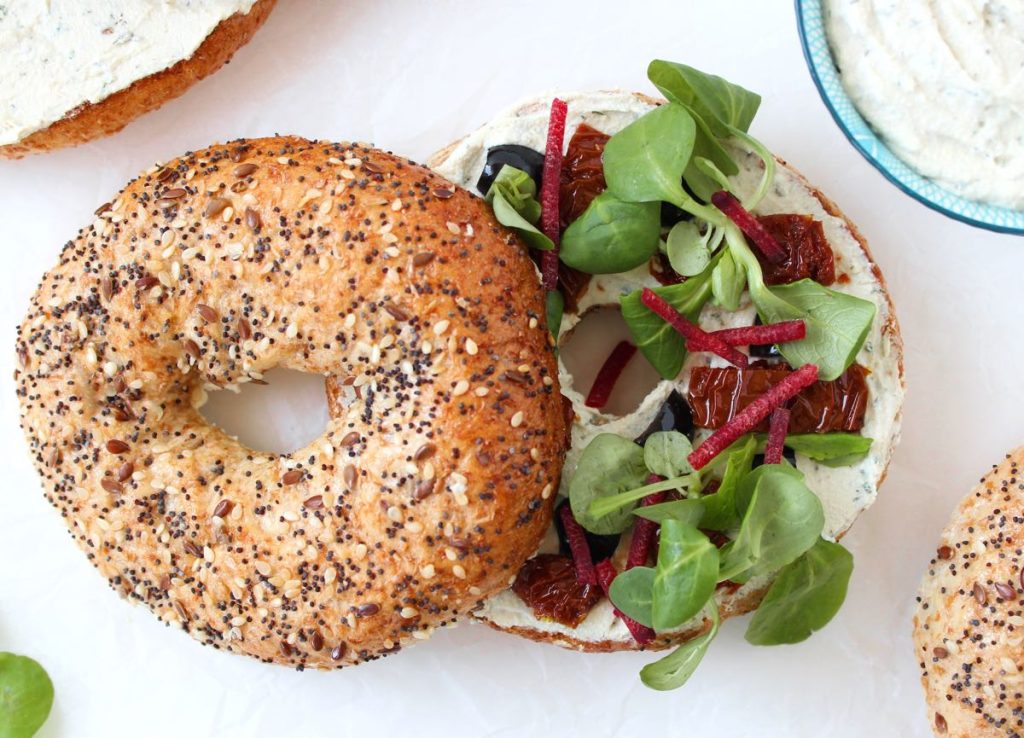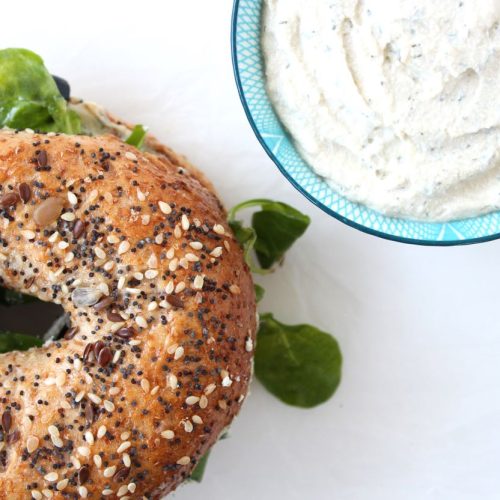 Quick and Easy Vegan 'Cream Cheese'
This vegan 'cream cheese' is delicious, nutritious and so simple to make!
Inspired by my favourite cream cheese from my dairy eating days – Boursin – I've flavoured this one with a mix of herbs, garlic and onion, but feel free to adapt the flavourings to suit your personal tastes. If possible, I would definitely recommend adding in the sweet white miso though. With its delicious 'umami' flavour, it takes this cheese to the next level!
Ingredients
1

block (about 400g / 14 oz) firm tofu*

2

TBSP

light olive oil (or any neutral-tasting oil)

4

tsp

rice vinegar (or other white vinegar)

2

TBSP

sweet white miso**

¾

tsp

onion powder

½

tsp

garlic granules

½

tsp

salt

½

tsp

dried dill

½

tsp

dried parsley

2

TBSP

fresh basil leaves

roughly chopped
Instructions
Drain the tofu and squeeze out as much water as possible.

Crumble the tofu into a food processor. Add the oil, vinegar and miso and whizz until smooth. Add the remaining ingredients and whizz until fully combined. Taste test and adjust the seasoning, if desired.

As a sandwich or bagel filling, we love to serve this 'cream cheese' with pieces of sun-dried tomatoe, black olives and baby salad leaves. It is also delicious spread thickly on warm toast.

Stored in an airtight container, it will keep for five days in the fridge.
Pin for later ⬇️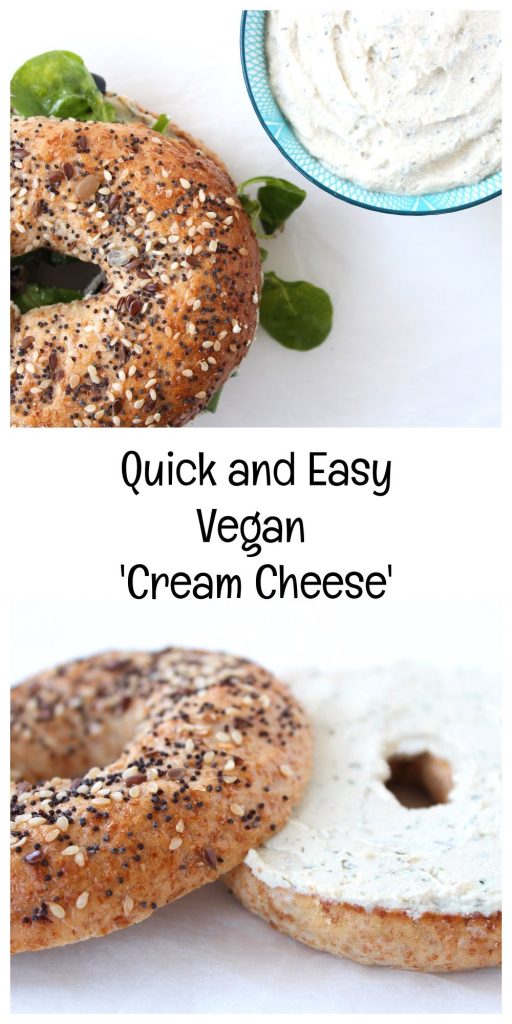 If you make this Quick and Easy Vegan 'Cream Cheese' (or any other recipes on my blog), I'd love to hear your feedback and any suggestions for adaptations! Tag your photos with #bitofthegoodstuff on social media and they'll find their way to me. You can also connect with me on my social media channels here: Instagram, Twitter, Facebook, Pinterest.
With love,