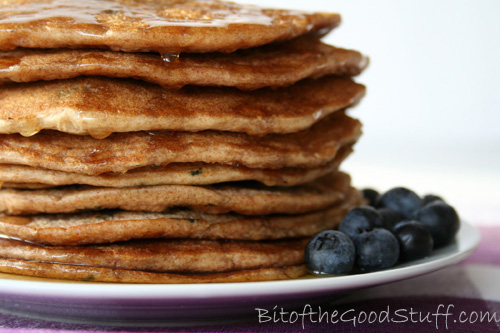 These pancakes are one of the family's all-time favourite weekend breakfasts.  I also find that they're a great (sneaky) way to get a certain boy with a soft fruit aversion to enthusiastically eat blueberries 😉
While people often make pancakes by separating the dry and wet ingredients then gently combining, I simply throw all the ingredients into my blender.  This might be a cheat's way of making pancakes but it works a treat for me.
[print_this]
Makes 6 pancakes (13 cm / 5" in diameter)
Hands-on time: 20-35 minutes Cooking time: 15-30 minutes
Ready in: 25-40 minutes
Ingredients
Batter
250ml / 8½ fl oz / 1 cup soya milk (or almond milk)
95g / 3½ oz / 2/3 cup fine wholemeal (wholewheat) or chapatti flour (or gluten-free flour mix, e.g. Doves gluten-free brown bread or plain flour mixes)
33g / 1¼ oz / 1/3 cup rolled oats (use certified GF oats, if needed)
2 tsp baking powder
¼ tsp salt
1 tsp vanilla extract
1 TBSP maple syrup
130g / 4½ oz / 1 cup fresh or frozen blueberries
Organic rapeseed (canola) oil (or other neutral-flavoured oil), for frying
Suggested toppings:
Chopped pecan nuts and walnuts
Ground linseed (flaxseed) (for an omega 3 boost)
Blueberries
Maple syrup
Method
Place the milk, oats, flour, baking powder, salt,  vanilla extract and syrup in a blender, and blend smooth. Transfer the batter to a jug and allow to rest for a few minutes (this can happen while the pans are heating).
If possible, use two non stick frying pans (skillets) to halve the cooking time. Brush the bottom of the pans with oil (I use a silicone pastry brush) and heat on a medium heat. Flick water onto the pan and if it sizzles, the pan is ready. Pour ¼ cup of batter into the pan. Sprinkle blueberries into the batter. Once the pancake starts to firm up at the edges, carefully flip it over using a thin spatula. Cook for a further minute or so, until the underneath is lightly browned.
Sprinkle with your favourite toppings, a drizzle of syrup and serve.
Any leftover pancakes can be stored in the refrigerator for a day or two. Gently heat through before serving.
[/print_this]