When I was young, I used to love the tins of Quality Street that we shared as a 'treat' at Christmas. My eyes lit up every time I opened the lid and saw all those shiny, bright wrappings. Usually people have a Quality Street 'favourite' but not me… I loved all of them bar one… and that was the hard toffee penny in the gold wrapper. In fact, I'm wondering whether anyone actually likes those toffees. In my house, they were always the last ones left in the tin.
My taste buds have changed a lot since I was a kid and now, even the thought of eating a Quality Street chocolate makes me feel queasy. I just don't like the taste of cane sugar anymore, nor the nauseating feeling it leaves me with for hours after I've eaten it. However, as you'll have seen on my blog, I do still love chocolates A LOT. It's just that these days, I prefer to make my own and fill them with ingredients that make me (and everyone else) feel great.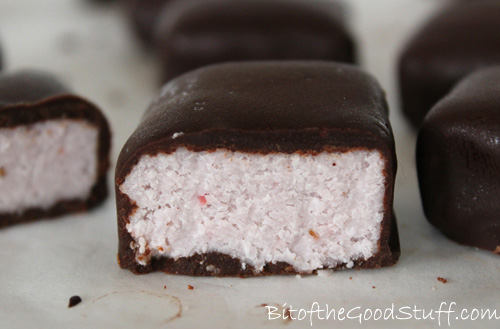 This week I've been having fun creating a new chocolate to share with friends and family this weekend. I daren't admit how many I've eaten this week but it's well into double figures. Good thing I'm running a lot at the moment!
This new chocolate is a healthy hybrid of two of my favourite Quality Street chocs – the Strawberry Delight and Coconut Eclair.  Its flavour and texture is not dissimilar to 'coconut ice' (or a strawberry flavoured bounty!) but it tastes fresh and 'real' rather than sugary and processed. It's really yummy!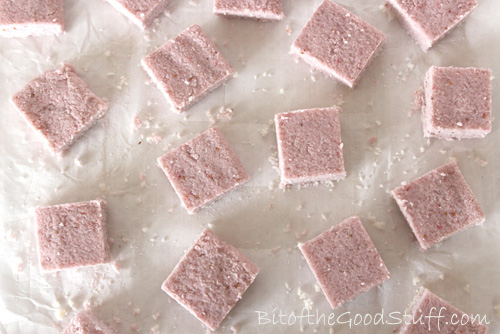 It's super easy to make too! It's simply a case of whizzing coconut and strawberries together in a food processor, popping them in the freezer to firm up, then coating in dark chocolate. I like to make my own raw chocolate, but you could easily melt down a bar of chocolate or some choc chips if you prefer.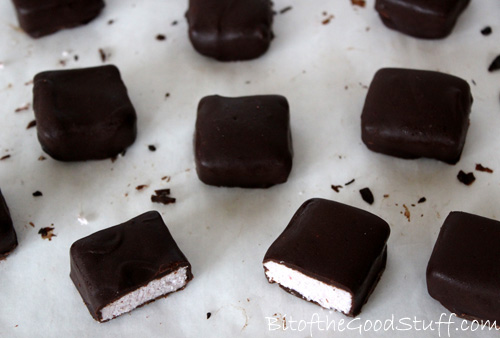 At Christmas time, I was really lucky to win a Twitter giveaway hosted by Sevenhills Organics. The prize was £250 worth of superfoods! In my amazing haul, was some beautiful cacao powder and cacao butter, which I used to make these chocs.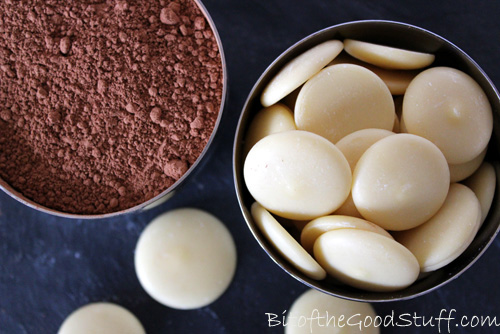 I've never seen cacao butter in buttons before. As well as being super cute, they're much easier to use than the solid blocks that I normally buy. You simply pop them straight in the double boiler – no messing about with chopping or grating. I'll definitely be buying these again!
The sweetener I used for these chocolates was Clarks Carob Fruit Syrup. If you've read my other raw choc posts, you'll know that I love the subtle flavour of carob fruit syrups in my chocs. I've used Sweet Freedom before and the Clarks Carob Fruit Syrup is similar in taste, though much lighter and thinner in texture. It's a fairly new product and currently only available from Ocado (I was sent some samples to trial). If you can't get hold of carob fruit syrup, or you wish to make the chocolates raw, then organic agave nectar is a good substitute.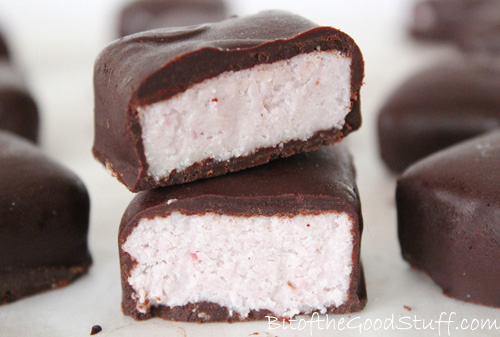 [print_this]
Makes about 20 chocolates (freezable)
Hands on time: 30 minutes    Freezing time: 1 hour 30 minutes
Ready in: 2 hours
Ingredients
Strawberry 'Coconut Ice'
100g / 3½ oz / 1 cup desiccated coconut
3 TBSP virgin coconut oil, melted
2½ TBSP carob fruit syrup (or organic agave nectar)
1 tsp pure vanilla extract
37g / 1¼ oz / ¼ cup fresh or frozen strawberry slices
Raw Chocolate
55g / 2 oz / ½ cup & 2 TBSP cacao powder
60g / 2 oz / ½ cup cacao butter (finely chopped or grated if in a solid block)
2½ – 3 TBSP carob fruit syrup (or organic agave nectar)
Method
Whizz the desiccated coconut in a food processor for a few seconds to make it finer. Add the remaining ingredients and process until completely combined and it starts to stick together (this will take a couple of minutes). Stop now and then to scrape down the bowl.
Transfer the mixture to a sheet of parchment paper and shape into a rectangle about 1cm / ½ inch thick. (I aim for a rectangle 18cm x 9cm (7 x 3½ inches) so it's easy to divide into equal pieces). If your mixture is too firm to smooth and level by hand, place another sheet of paper on top and use a rolling pin. Freeze for at least an hour.
To make the chocolate, prepare a double boiler by placing a small amount of water in a saucepan and a heat-proof bowl on top. Gently heat the water. Place the cacao butter in the bowl and leave it to melt. Once melted, whisk in the cacao powder followed by the syrup. Taste test and add more sweetener, if needed.
Remove the 'coconut ice' from the freezer and slice into squares. Drop one square into the chocolate bowl and quickly coat it in chocolate (I use two teaspoons for this). Shake off the excess, then place it back on the parchment paper. Repeat until all the pieces are coated in chocolate. Place in the fridge or freezer until set. They will keep for up to five days in the fridge or for weeks in the freezer stored in an airtight container. Remove from the freezer and leave for a couple of minutes to defrost before eating.
[/print_this]
Products used in this recipe (UK stockists)
East End Desiccated Coconut
Essential Organic Virgin Coconut Oil
Clarks Carob Fruit Syrup (Sweet Freedom and Organic Agave Nectar will work too)
Steenburgs Organic Fairtrade Vanilla Extract
Sevenhills Organic Cacao Powder
Sevenhills Organic Cacao Butter
Magimix Food Processor
Did you have a favourite Quality Street as a kid? If so, let me know as I'd love to try my hand at recreating it at home! 😀