Lil' L was recently invited to take part in the MattressOnline Monster Drawing Competition.  The challenge was to design a monster, name it, and explain what it is and what it does. The monsters will be judged on their originality, and the three winners will be able to select their own monster-related prizes. Lil' L has already got his eye on some awesome Monster Lego sets, if he's lucky enough to be selected 😉
He's worked really hard on his monster this past week and is finally ready to reveal him. I'll hand you over to Lil' L so he can introduce him to you.
Hello! I'm Lil' L and today I'm taking over my mom's blog to tell you about my monster. His name is Curio and he is a problem- solving monster. He helps with all sorts of problems. For example, he can clean up spillages, tidy your room, find something you've lost or help with homework. He's also really friendly and likes to play games and when it's dark he glows like a little night light.

As you can see in my picture, he has lots of features which make him really useful. He has a body that glows at night, eyes that see in the dark, large ears that can hear everything, a big nose for smelling stuff and a big pocket in his tummy for storing pens, pencils other useful stuff. He even has sponges on his feet for mopping up spills!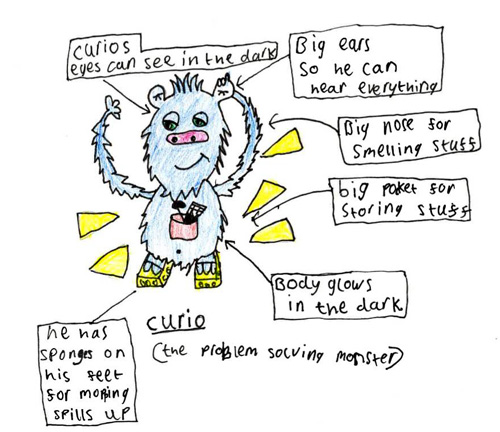 What a helpful little monster eh? I definitely wouldn't mind having him around the house, keeping everything neat and tidy!
I'd like to wish all the children taking part in this competition the best of luck ♥
The competition closes at midnight tomorrow (Tuesday 16th September). A selection of the entries submitted so far can be viewed in the Monster Gallery. I would also like to express my thanks to MattressOnline for hosting this fab competition! x